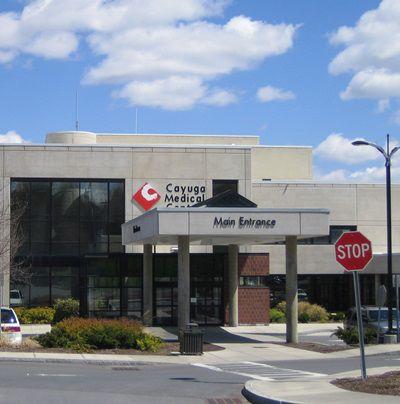 Three more nurses took the stand Thursday, headlined by Loran Lamb, a day after Anne Marshall delivered her testimony. Marshall and Lamb are two of the key witnesses for the National Labor Relations Board in their case against Cayuga Medical Center for wrongful termination after both violated a blood transfusion protocol. 
Marshall and Lamb contend they were fired after Marshall's union organizing efforts, which Lamb publicly supported. On Thursday, the NLRB used Lamb and the other two nurses, Anita Tourville-Knatt and Jacki Thompson, to further posit that Marshall and Lamb's dismissals were out of the ordinary discipline pattern for CMC. 
Lamb's testimony consisted mainly of her recounting of the events that led to her termination and the termination itself. Lamb said she was crying and distraught during the meeting in which she lost her job, worried about her nursing license while feeling like she hadn't actually done anything wrong. Lamb said she felt like the hospital wanted her and Marshall gone, and that's why she was fired. 
Ray Pascucci, counsel for CMC, pointed out that Lamb had testified she was worried about losing her license as soon as the termination process began, which meant she must have known her conduct was unacceptable for any nurse, regardless of the hospital's specific policies. Lamb stuck to her story, though Pascucci was clearly not convinced. 
Lamb additionally said she didn't mention that the violation was common around the ICU because she wanted to avoid endangering the jobs of other nurses. Lamb contested that definitions of policies are blurred in the ICU because nurses are frequently having to turn their attention to another dire patient situation. Pascucci raised the point, however, that ICU patients are also the most vulnerable and thus deserve the most attentive care, to which Lamb agreed.
Lamb also said she was unaware that, despite repeated previous blood transfusions, this was the only instance the patient had complained about. At times close to tears, Lamb was allowed to leave the stand after about four hours. 
Tourville-Knatt said she was shocked at the termination of her two co-workers, and changed her blood transfusion practices afterwards out of fear of being fired. She had never heard of termination for that transgression before, especially since the patient was unharmed. 
Tourville-Knatt made it further clear that none of these nurses considered their misdeeds grave or dangerous, though Pascucci and the hospital countered that since people's lives were on the lives, the nurses' actions were inherently dangerous. 
Tourville-Knatt's testimony was derailed during cross-examination after irregularities were discovered with some of the submitted evidence of blood transfusions she had conducted, but the judge ruled that the evidence was still valid. 
She joined other nurses in saying she did not think there needed to be a management report when blood transfusion policy was violated, since that was just the way it was always done, she said. 
Another nurse, Jackie Thompson, provided similar testimony. She said she was surprised when told that Marshall and Lamb were fired for that violation, since Thompson saw that happen often when she worked in the ICU. Thompson said nobody she had ever hung blood with had done it absolutely correct according to the policies before the incident in September that resulted in Marshall and Lamb's ouster. Like Tourville-Knatt, Thompson said she has changed her blood-transfusion process to align with company policies since the firings. 
The hospital's case plans to start tomorrow, at 8:30 a.m. at the Tompkins County Courthouse.