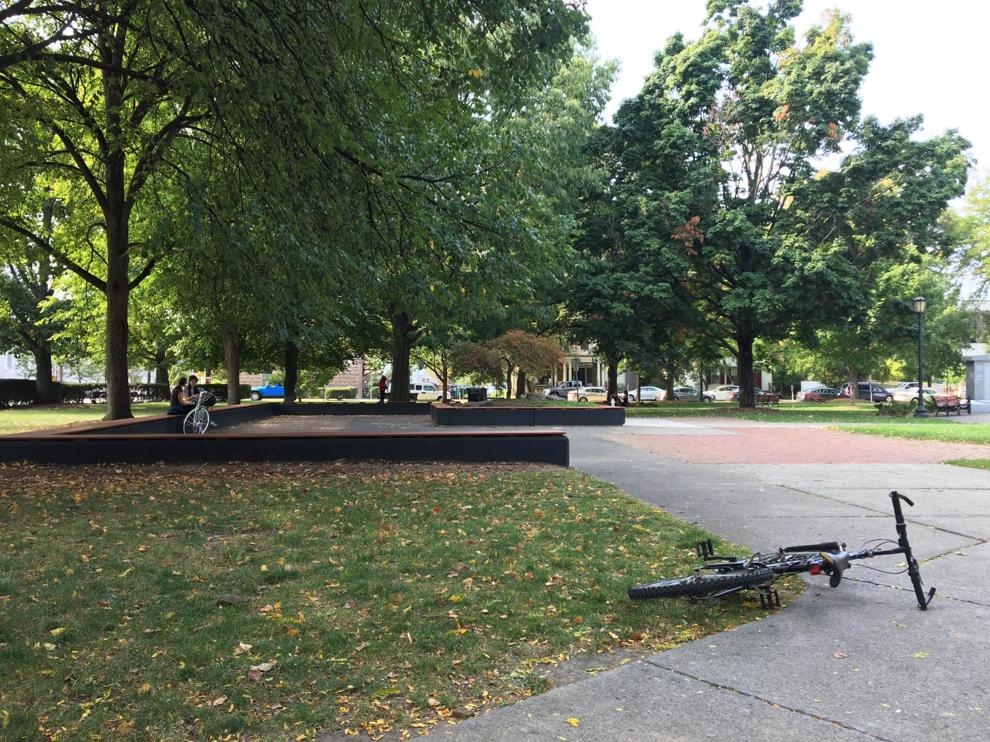 Wednesday's Planning and Economic Development Committee was short but busy, packing in discussions of new building guidelines that would incorporate green-energy aspects into construction proposals, the Parks Master Plan and some increased power for Common Council in certain zoning exceptions. 
Green Building Policy
The city's Sustainability Coordinator Nick Goldsmith and STREAM Collaborative's Noah Demarest presented the first draft of a Green Building Policy to the committee, designed to steer developers toward creating more sustainable projects. 
The formal introduction of the draft policy will take place next month, this was just a way for the PEDC to get a taste of what they will be considering in February. 
Demarest and Goldsmith said the city can essentially go one of two ways for the policy, either sticking to already established guidelines from other places or nationwide ("Whole Building Path"), or creating a more specific set of guidelines and grading systems ("Easy Path"). 
The whole building path deals with LEED (Leadership in Energy and Environmental Design) Certification, HERS ratings (which grades a house's energy efficiency via an established index), or passive house certification (a set of five energy-efficient scientific principles that dictate a building's construction). 
The easy path would entail a credit system that would require a minimum number of points to be approved. Demarest said five points of the laid out criteria as a baseline, though obviously that number might be subject to change at the committee level or higher. 
The point system is a checklist of criteria by which projects could gain "points" that would be awarded for meeting parts of the criteria. For instance, three points for using heat pumps, two for using high-efficiency lights, location can be worth a point, and so on. Demarest admitted the proposed criteria are fairly easy benchmarks to achieve, but that the objective is not to make reaching the threshold too difficult. 
"We're not trying to make this impossible, we're looking at ways you can do easy, simple things that will have a large impact on the overall energy use," Demarest said. 
Demarest listed the anticipated results of the policy, which would (hopefully, of course) be lower or similar construction costs and about 40 to 50 percent less carbon emissions used than state mandates for new construction (with incentives for going lower). A draft policy will be introduced to PEDC for comment or critique in February. 
Temporary Planned Unit Development Overlay District
The night's main attraction was the discussion of the Temporary Planned Unit Development Overlay District (TPUDOD). While there are some tweaks being conducted to the map, the unanimous vote tonight was to pass the proposed ordinance on to Common Council review, presumably in February, to discuss the move at further length. 
Currently, the city's code only allows for the establishment of Planned Unit Development zones in locations zoned for industrial use. With the exception of places already zoned for 1- and 2-family residences, this would open up the option for developers to work directly with Common Council to create projects that would be more appealing to the city, and thus more likely to be approved, even if they need a zoning exception. 
Basically, what this would do is create a mechanism by which Common Council can manipulate projects to provide more community benefit. There are no actual zoning changes being made, this just means that if a project plans to go above and beyond its location's zoning, which would require a planned unit development designation, they are now able to do that pending the approval of Common Council. Theoretically, it creates more flexibility for Common Council and for developers. 
For the sake of some clarity on what is, admittedly, a complicated subject, here's one of the most salient portions of the bill:
"A PUD allows for flexibility in planning and design, while ensuring efficient investment in public improvements, environmental sensitivity, and protection of community character. A PUD should be used only when long-term community benefits will be achieved through high quality development, including, but not limited to, reduced traffic demands, greater quality and quantity of public and/or private open space, community recreational amenities, needed housing types and/or mix, innovative designs, and protection and/or preservation of natural resources."
Getting that approval is where the city would see the benefits. It's a pretty significant amount of power to put in the council's hands, though developers may also find it beneficial in that they receive feedback from council before things actually come to a vote. There's no guarantee involved, as the Planning Board could still kill the project at its level. Cornish characterized it as a "negotiating tool." 
"We don't have incentive zoning, so it's not like we can say 'We'll give you an extra floor of your building if you provide five units of affordable housing," Cornish said. "So this would be a way to say 'Okay, this is a project that you want to do, but in return we want so many affordable units, or we want green space.'"
One small aspect that remains unclear is what would constitute a zoning exception large enough to trigger the Planned Unit Development process. 
"This, we thought, is just a flexible tool to get at some of the things we are looking to get at as we build out in the city," Cornish said. 
Committee Chairman Seph Murtagh commented on the potential power this gives Common Council over future development, though it does go both ways. Council would now be able to approve projects that may not meet the zoning in their areas, but 
"You have to trust Council a lot with this particular tool, but we have to trust the community too," Murtagh said. "It creates another layer of control, another layer of oversight."
He also made the point that, though there is indeed a lot of construction, that would probably be the case regardless of whether this is instituted or not. This just makes it so the city has more power to wrestle community benefits out of developers looking to cash in. 
PEDC decided the new zoning, primarily the map, needed some tweaking before being approved since part violated the established family neighborhood protections, so the amended map will be introduced at the Council meeting. 
Follow Matt Butler on Twitter @AllegedButler