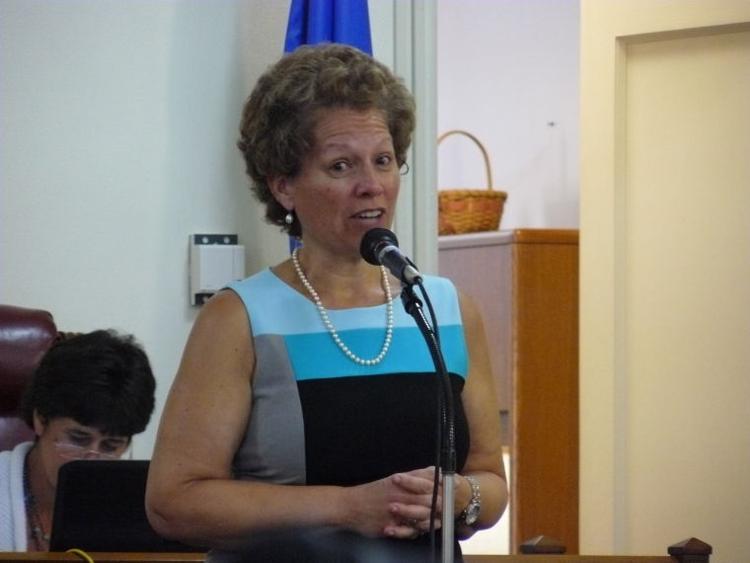 The first internal report regarding former county Office of Human Rights Director Karen Baer's allegations of a hostile work environment created by racism and sexism among the Tompkins County administration reveals a complex but ultimately, innocuous tale of one soured relationship that seemed to mar the county's human rights efforts thereafter.
The report, featuring dozens of internal emails compiled by Edward C. Hooks, reveals a department that was rife with in-fighting and miscommunication which distracted from human rights work in ways that, in Baer's own words, blew her mind. The emails contained give a more comprehensive background of the struggles behind the scenes between Baer, then-Human Rights Commission Chair Pat Pryor, members of the HRC and county officials.
Hooks' report, much like the second one that has already been publicized, found very little in the way of discriminatory actions against Baer, a woman of color, either based on race or gender. It was submitted on March 15, 2016, several weeks after Hooks started investigating the situation at the behest of Tompkins County Attorney Jonathan Wood, spurred on by a November 20, 2015 memo from Baer.
The report was recently submitted as evidence in Baer's Article 75 trial against the county administration. That trial, along with a separate Article 78 trial that is running simultaneously in Tompkins County Court, both stem from Baer's ousting from her post as the Director of the Office of Human Rights in October.
As previously reported, all problems seemed to have stemmed from the editing of a Tompkins County press release expressing support for the statewide Gender Expression Non-Discrimination Act (GENDA). That came in March 2015, and the tone of the pair's emails back and forth on the subject vacillate between apologetic and confused, before descending into argument. Prior to that, emails show Pryor and Baer had been congenial and complimenting of each other's work.
There was a second investigation, detailed here, conducted by Albany attorney Timothy Taylor, which was more primarily focused on whether or not the county had taken adverse action against Baer as a result of her 2015-2016 allegations. Regardless, Hooks' analysis arrived at much the same end-point as Taylor's: he said he found no evidence that Baer was a subject of any retribution, citing examples to refute some of Baer's allegations. For instance, while Baer alleged that her office was put under a hiring freeze, Hooks' report said that was merely part of a county-wide move forced by unexpectedly low sales tax revenue. The bulk of wrong-doing on the county's part that Hooks found boils down to the inability of County Administrator Joe Mareane, and others in the administration, to settle the problems between Pryor and Baer that soon consumed the department, despite their efforts.
"I have concluded, therefore, that this is not a case of discrimination, retaliation, nor has a hostile work environment been created for Ms. Baer, her office of the HRC," Hooks' report, the first completed, reads. "However, there is plainly a need going forward to engage in constructive communications among Ms. Baer, the HRC, [then-County Administrator] Joe Mareane, the HHS Committee Chair and Committee and [Paula Younger, then-Deputy County Administrator] to define the roles of both OHR and HRC going forward."
Baer's 2015 memo indicates much of the underlying tension that plagued her office and the relationship with the legislature at that time, at least from her point of view. She said recently retired Legislator Peter Stein told her OHR's agenda was being slowed or blocked by other legislators upset over the resignation of Pryor from her position as head of the Human Rights Commission. The resignation, which came after other HRC members had planned a no-confidence vote in Pryor and was surrounded by ugly turmoil, was heavily covered at the time and seems to have marked the seminal inflection point which set the county on the path to removing Baer in October.
"Since no member of the Legislature or the Administration has been provided with my accounting or perspective in regard to this controversy, I respectfully ask that they please refrain from unfair judgments and actions," Baer wrote in the memo addressed to Legislature Chair Mike Lane and the members of the Health and Human Services Committee.  "If, on the other hand, it is true what some persons in power have repeatedly insisted upon -- namely that, 'This is how we do things in Tompkins County" -- then so be it."
The emails further show no shortage of mediation attempts, both from former and current county figures, most prominently Joe Mareane but also former HRC Commissioner Leon Lawrence. But they were unable to quell the mounting resentment.  The first mentions of ousting Pryor as chair were had on April 28, when board member Jamila Walida Simon requested a meeting with both Baer and fellow commissioner Amos Malone (using what appears to be a private email address) to discuss strategies around Pryor's future as chair.
"I know this has repercussions," she wrote. "But there is no way around it."
Several weeks later, Lawrence, the commission's former chairman, met with members of the HRC minus Baer, which resulted in his offering of a number of potential actions/next steps that could result from Baer's dismissal. Noting Walida Simon had expressed she would step down if Pryor were to continue as chair, Lawrence – offering numerous administrative and personnel options to help "rebuild communications and trust" – urged discretion both in how everyone involved were communicating with commissioners in the Human Rights office and that, if communications were made, that everyone be involved in the correspondence in order to resolve internal issues as soon as possible. Stating that "serious allegations" had been made by Pryor in a number of emails in previous weeks without serious evidence, Lawrence also urged a request should be made to the County Attorney to conduct a thorough investigation of this matter, looking into what violations of HRC bylaws, open meetíngs law (including violations of the commission's communications protocols) and, most importantly, "the existence of slanderous statements that smear the reputation of a faithful, longtime public servant of Tompkins County" may or may not have taken place.
Mareane appears eager to keep the matters quiet and in-house, and emails reflect his mounting anger at what seems to be constant bickering between HRC members, Baer and Pryor. When three HRC members submitted their no-confidence vote which in turn led to Pryor's departure, Mareane reacted with some measure of dismay, yet by then it was too late.
"It is terribly ill-conceived and will create problems that exceed whatever benefits are envisioned," wrote Mareane. "lf the Commíssion wanted a change, it could have been handled through the ordinary election process in January rather than this list of charges. The Commission's intent to draw legislative leaders into its internal conflicts is wildly inappropriate. Unfortunately, it is too late to pull back. It's hard to express how disappointed I am that things have reached this very low point."
The entire report, 282 pages in length, can be read in full below.