National Nurses Week is a yearly time for celebration, an annual highlighting of the services that nurses, arguably the most underappreciated part of the healthcare system, provide for patients each day. It's held each May 6 through May 12 and normally passes without too much fanfare, save for maybe a few articles or a segment on a morning TV show. 
But with the coronavirus outbreak still in full swing, this year National Nurses Week carries some increased significance as nurses form the true frontline battalion against the virus pandemic in hospitals, nursing homes, clinics and elsewhere around the country. 
The relatively low number of coronavirus cases in Tompkins County, and particularly COVID-19 related hospitalizations, belies the actual experiences of local nurses. At Cayuga Medical Center's emergency department, nurse Travis Bortz said even though most cases aren't admitted, and thus aren't listed in the health department's daily hospitalized list, there's still a steady stream of people dealing with COVID-19 symptoms who come to the Emergency Room for treatment. That's compounded by the 200 or so staff members at the hospital who recently took voluntary furloughs, offered by CMC administration, to help the hospital's financial situation while it was barred from performing elective surgeries, a significant source of revenue (CMC was allowed to restart elective surgeries on May 4 by the state). 
"It is a game changer," Bortz said of the outbreak and its ripple effects so far. "Just from having to take on different roles as a nurse, that at the end of the day are your responsibility, but without the ancillary staff because we're trying to save money. [...] Chaotic-wise, yes, you don't have the staff that made your job easier. Everything comes down to the nurse's responsibility, and if you haven't done it there's no excuse."
"This is what we signed up for, as a nurse," Bortz said, noting past situations like SARS in 2003 or ebola in the mid-2010s. The difference with this particular outbreak, though, has been the sheer length of its impact compared to those others, and how severely close to home it's hitting in America. "It's just so prolonged, everybody has a heightened sense and that might be taking a toll on people. This is something that you are nervous about going into work and bringing it home, I think that's the tough part. [...] It's really hit home for everybody."
For Bortz, the hardest part has been separation from his family, a precaution he has taken to protect them from any illness he might transmit during the outbreak. He lives in an apartment with his fiancee, but they've avoided bringing her six year old son away from their apartment for weeks because of the outbreak and concern over anything Bortz may have picked up at his job. He has, he admits, snuck over to his mom's house a few times, but he's comforted by the fact that she willingly, and somewhat humorously, follows him around with a bleach bottle to decontaminate as he moves throughout the house. 
As much as nurses have been rightly venerated over the last few weeks, under normal circumstances there isn't the glamourization or recognition of the profession that other jobs experience in popular culture, like police officers or firefighters or even doctors, Brotz said, to take nothing away from the extreme value of those careers. So while the week has never meant much to him historically, he appreciates that nurses have the chance to get some limelight they don't normally receive on a large scale.
The mental toll might be the subtlest struggle of this era for nurses, though that doesn't make it any less severe. Fear of contracting the disease among the general public means that only the most serious of serious cases are coming to the emergency room for treatment, whether they be COVID-19 cases or not. 
"We're seeing sicker and sicker patients come into the ER, we're not seeing your easy lacerated finger that needs a stitch or two," Brotz said. "The only people who are coming to the ER are the ones who really, really need to. That being said, every patient coming through those doors has just been a heavy load, mentally. [...] I expect that you're going to see more and more burnout, especially in the emergency department."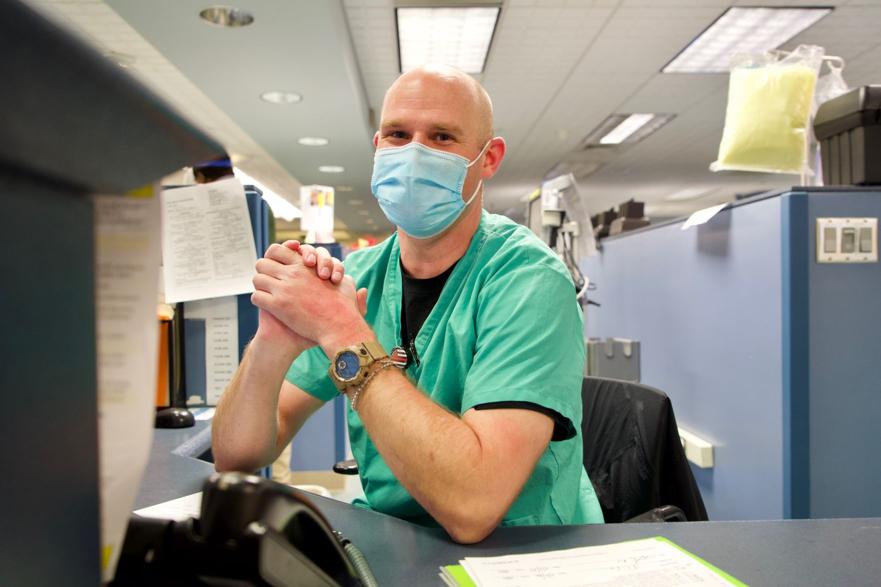 Even with that, Bortz commended CMC's administration, specifically Director of Emergency Services Andrea Champion and Cayuga Health CEO Dr. Martin Stallone, for their response to the coronavirus outbreak and their attentiveness to nurses' needs, be they logistical, mental, emotional or otherwise. Those sentiments were echoed by Rosie Carpenter, an urgent care nurse at CMC, who credited them with actively listening to any concerns shared by nurses and working to address them promptly. 
Like Bortz, Carpenter said National Nurses Week is more rewarding for her to watch any praise her colleagues may get for their worthy work, as opposed to personally gratifying for herself. 
"They deserve a week of celebration, for sure, I think their families deserve a week of celebration also," Carpenter said, laughing. "When you're married to a nurse or related to a nurse, everybody's in a roar half the time with everything going on, like this COVID thing. They ask 'What are you bringing home?' and I say 'I'm not bringing anything home, honey, don't worry.'"
Carpenter said her home routine hasn't been disturbed much by the outbreak. A 43 year veteran of CMC, 31 of which have been spent as a registered nurse, she said the precautions taken at the hospital are enough to put her mind at ease; when she gets home, her shoes come off outside, as they always have, and that's it. 
Carpenter was apprehensive at first, particularly while watching the pandemic hit New York City with full force, but was able to adapt. She enjoys, she said, the "organized chaos" of it all, even when the situation intensifies as it has over the last several weeks. 
"It's been a huge learning curve for everyone involved, there were days when the direction was being changed about every 20 minutes," Carpenter said. "You just have to figure out how it's all going to work out for everybody and keep everybody as safe as possible."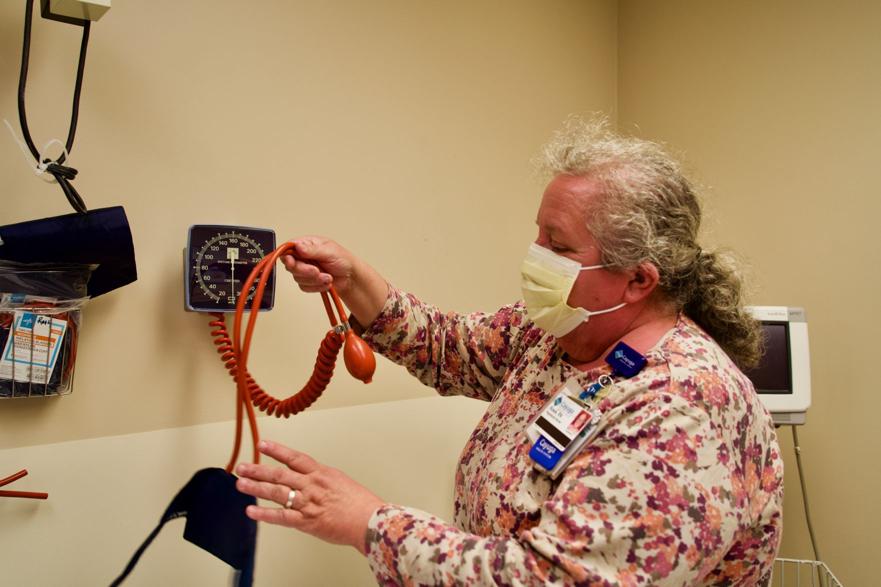 As for how she and her coworkers have been able to react to the increased "organized chaos," as she calls it, Carpenter said they've been fantastic. With support from management, she said the nurses have been able to handle their jobs and stay prepared in the event a positive case is admitted or urgent care staff is thrown into coronavirus-related action. 
In these interviews, that was a common sentiment: while the last few months have been taxing, the most prominent outcome has been an awe-inspiring effort put together by nurses to handle the extra load, and be prepared if the situation does happen to get worse locally. Nursing homes statewide have been hit especially hard by the outbreak, though Tompkins County nursing homes have been able to avoid any fatalities unlike much of the counties closer to the downstate hotspots. Beechtree Nursing Home Director of Nursing Valerie Lynch said her staff has also been able to adjust on the fly admirably, particularly in the early days when, like at CMC, directives could change in the blink of an eye. 
"I've found that we can take on a lot more than we ever thought we could," she said. "We have to keep changing everything, updating the staff, going with the flow and all the emotions that come with that. [...] Everybody's been stepping up and doing a great job, we've been able to maintain. Our staff has been doing an amazing job."
Without a major outbreak to respond to, Lynch said that the day-to-day operations of Beechtree aren't significantly different, though they have had to implement a check-in at the door for staff members and constantly update information and protocols as more guidelines are added and the research on COVID-19 precautions evolves. Some of those guidelines, predictably, have been painful: she mentions specifically that the ban on nursing home visitors, while necessary, has been a hard adjustment for residents and one that required additional emotional work for nurses, to say nothing of the impact it has had on those residents and their families. 
"It's unfortunate, and it's sad for the families and for our residents, but we're doing everything in our power to make up for some of that," Lynch said. "Doing activities with them, making them laugh, crafts, music, doing video conferencing with their family members. We've gotten a lot of good feedback from their families and from residents and that makes it all worth it."
In the midst of the madness, National Nurses Week signifies to Lynch a chance for her staff to breathe, at least for a second, and take a moment -- even if they don't demand it. 
"It means a lot to acknowledge and celebrate the nurses that I'm working with, I get a lot of joy out of seeing other people being acknowledged for what they do," Lynch said. "As a nurse, sometimes you forget that there's even such a thing. We don't think of ourselves as someone who needs that constant gratification from people celebrating us. But when it happens, it feels good."