ITHACA, NY -- Though the warmer days have brought the return of outdoor dining to Ithaca, it's still April in the northeast which means the weather remains unpredictable at best. A sunny 75-degree day can just as easily be followed by a rainy 50-degree one — so what's a person to do? If you're eating at Ithaca Bakery, just grab a seat within one of the wooden huts in the parking lot.
And while you're sitting inside, take a look around and see if you can find some initials or another identifying mark from its builders — students in the Technology Student Association (TSA) at DeWitt Middle School. There were already a couple shelters in the seating area outside when the opportunity to build more fell into the lap of technology teacher David Buchner.
"I've known [Ithaca Bakery Owner] Ramsey [Brous] for a while now, and I was in the bakery one day and bumped into him and said 'hey these are cool structures,'" Buchner said. "He said 'yeah, we're going to make more,' and I told him our TSA team is always looking for local projects […] It was kind of serendipitous."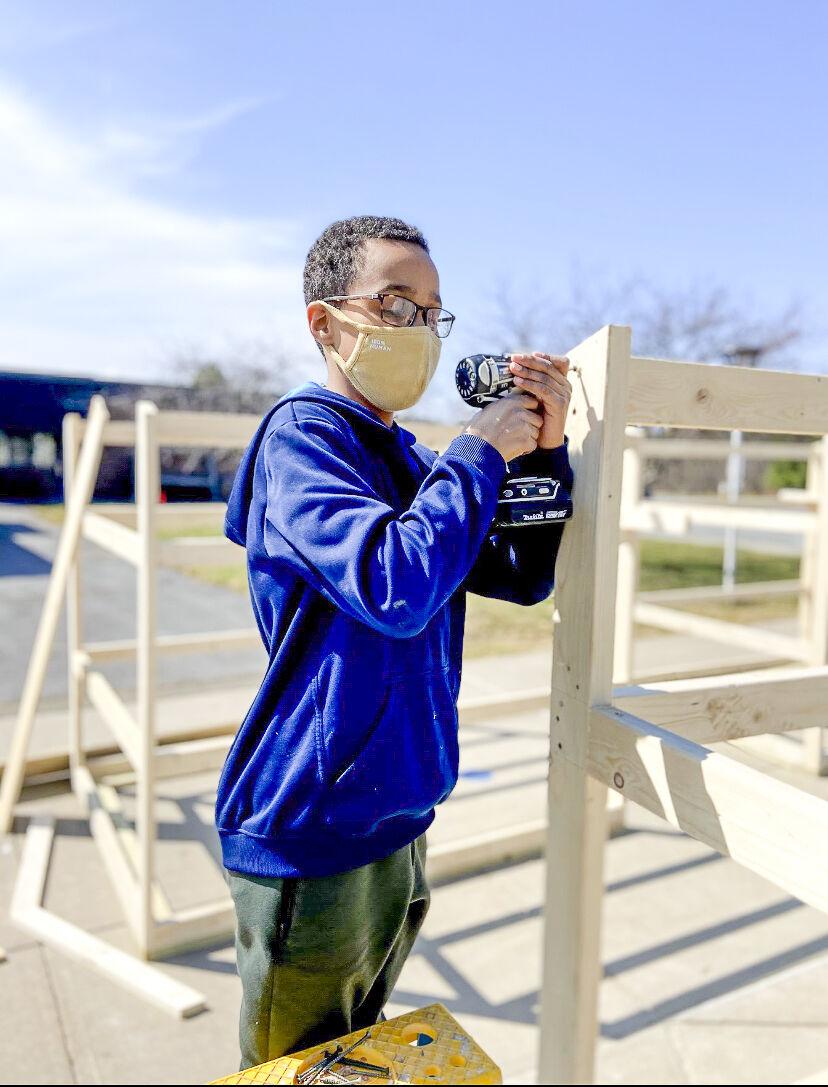 While technology classes are a requirement of all students at Dewitt, not all of them join the TSA team, which is akin to a technology club for students in grades 6-8. And while some of the eighth graders had been on the team in years prior, nobody had built anything quite to this scale.
"I think it was overwhelming in a good way," technology teacher Carson Case said. "We kind of explained the project to them and were explaining the various details and steps that we had to do and how we were going to transform them into actual structures. Once we got to work, they picked it up pretty quickly."
The students spent about 10 hours on a Saturday constructing four of the 6'x 8' structures and learning myriad new skills in the process, from modeling and planning to using new tools and documenting the process.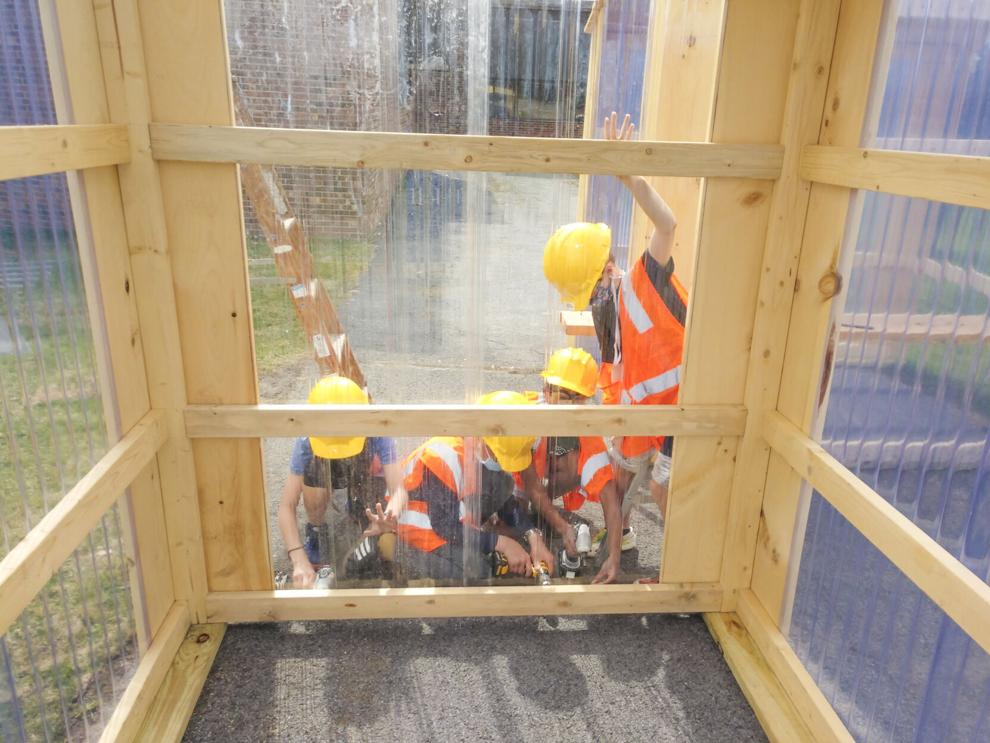 "I learned a lot about using the tools in general," eighth grader Jennifer Zhao said. "Some tools we hadn't gotten to use in tech class, plus there was a lot of organization and planning."
Eighth grader Alex Elia added that she got to do a lot of measuring, cutting wood and photographing during the process.
"It's been super fun," she said. "And we're also helping people at the same time."
TSA is not only a club at DeWitt, but is a national organization that focuses on "leadership, teamwork and technical skills," according to the teachers. The DeWitt TSA club will be using this project as their submission at both the regional conference and the national conference. 
Part of the competition is the documentation process of the project, so the students will have an interview with judges where they'll share the planning work they did ahead of the project, pictures and videos of them working on it, and then documentation of the final structures. 
Case and Buchner said the students are a special group and that the project has been a good demonstration of their hard work.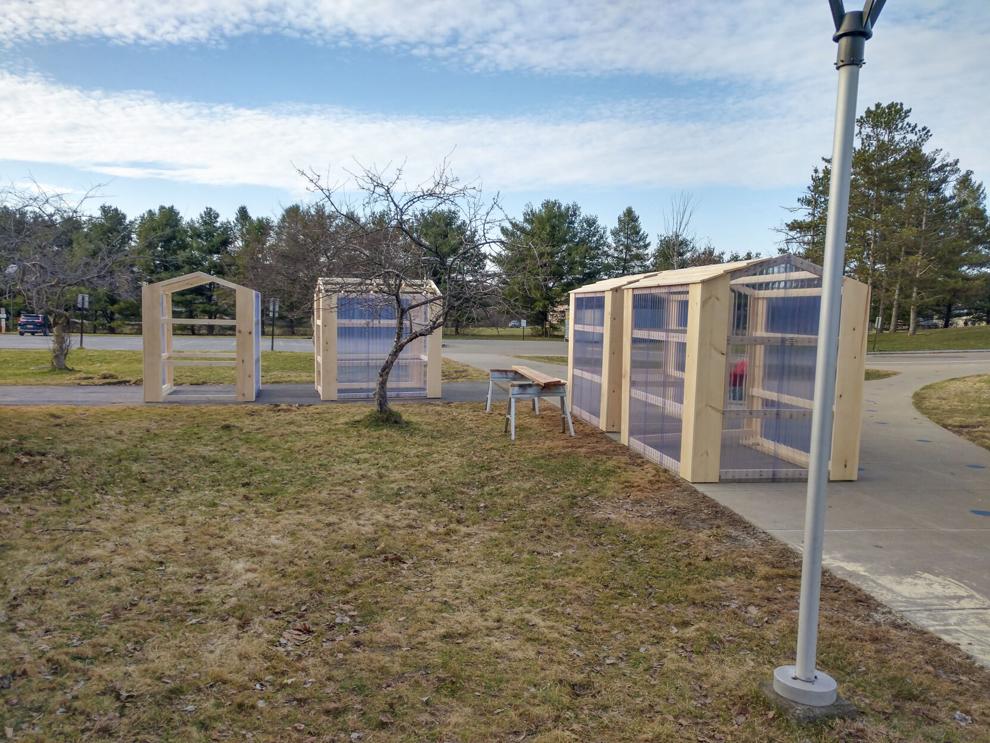 "They work really well together," Case said. "This really was a team effort. They were able to delegate between each other and help each other when they needed it."
Buchner added, "And they're middle schoolers, so they're still goofy and silly. They're here to learn, but we still had to have a cookie break."
As for the students, they look forward to showing off the results of all their efforts.
"I want to go down there and say to people, 'Hey look, I made that!'" Myalyn Adams said.