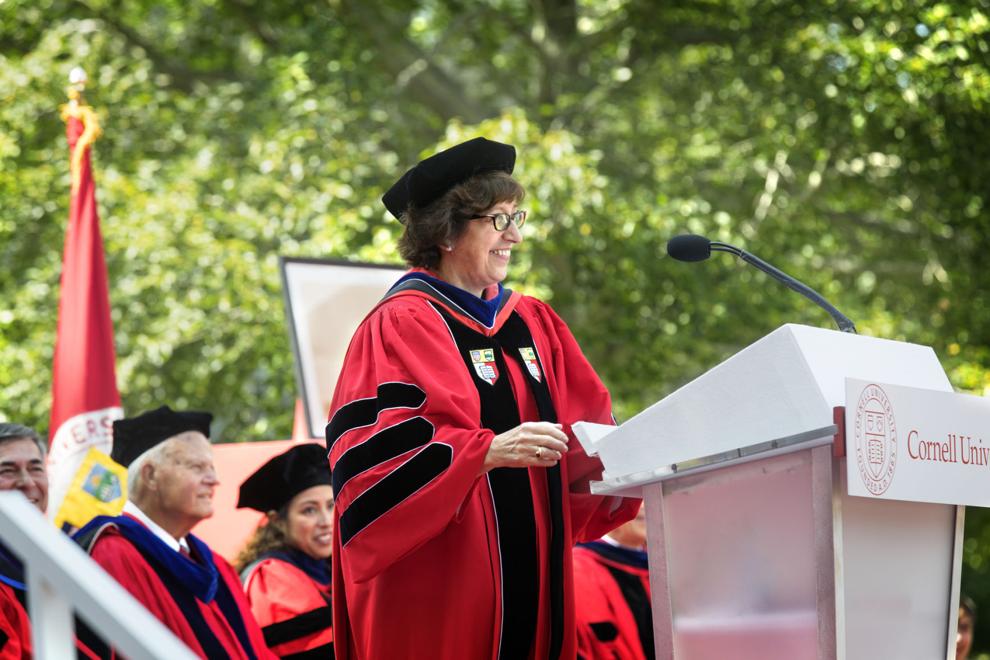 As another school year begins, Cornell University installed its new president Dr. Martha Pollack at an outdoor ceremony packed with students and alumni on Friday afternoon at the Arts Quad on campus. 
It was a gorgeous day for an inauguration, as a cool breeze kept attendees comfortable and the Cornell Wind Symphony entertained guests as the procession streamed in. Pollack received several standing ovations when she entered and spoke, as the school community welcomed her.
Dartmouth College President Philip Hanlon, who was called a "mentor" of Pollack's, spoke glowingly of her abilities as an educator and a leader. He cautioned Pollack that the job of university president can be difficult (drawing from his four years of experience), but that the benefits make the lows worth it. 
Member of the Cayuga Nation provides traditional opening words before #CornellPresident inauguration. pic.twitter.com/NCaeQm2jfK

— Matt Butler (@AllegedButler) August 25, 2017
"Being a university president is like a roller coaster," he said, to some laughs. "You reach unbelievable highs and lows. And everyone around you is screaming and shaking their arms."
Hanlon says he is here to reaffirm the choice of Pollack as leader. "You chose wisely, and congratulations to you all." pic.twitter.com/kLAluo13Xo

— The Ithaca Times (@ithacatimes) August 25, 2017
After a dedication from Hanlon and an introduction from Board of Trustees Chair Robert S. Harrison, along with a traditional Cayuga prayer of thanksgiving and the inaugural poem delivered by English professor Ishion Hutchinson, Pollack delivered her anticipated inaugural address. The speech was forthright and quick-moving, never pausing for dramatic effect and sometimes stumbling over the crowd's intermittent applause. She left no stone un-turned, gamely taking on nearly all the pressing issues Cornell currently faces during a 25-minute speech that dealt with free speech, Cornell Tech's impact, and some actually intriguing insights into the mentality that has partially fueled the school's success. In short, she spoke with the same "verve" that she said should be the educational aspiration for the school. 
"We must explicitly and intentionally build on what it is that makes us Cornell and what is intellectually distinctive about us," Pollack said mid-way through her speech. "We have an unusually fierce commitment to the notion that there's a compelling synergy between liberal arts on the one hand, and professional studies across a swath of disciplines on the other."
Parts of Pollack's address struck a similar tone as recent presidents of the school, emphasizing Cornell's prestige nationally and the crucial role education and academia play in the modern world. As seemingly everything is now, Pollack's speech was tinged with just a dash of politics as she mentioned the importance of the pursuit of truth; regardless of if it violates prior held beliefs. She drew at one point upon an old saying of former New York Senator Daniel Moynihan: "You are entitled to your own opinions, but not your own facts."
(You can view the whole speech below. The Ithaca Times will gladly accept donations for tripods.)
Martha Pollack gives her inaugural address. https://t.co/izbIaIgE4q

— The Ithaca Times (@ithacatimes) August 25, 2017
Though this was her inauguration, Pollack had actually assumed the role April 17, after being announced as the school's choice in November 2016. In the five months between, former president Hunter Rawlings was named interim leader. She is the 14th president in the school's history. 
Cornell's presidential search began in April 2016, after former President Elizabeth Garrett died from colon cancer. Garrett, the school's first female president, served seven months in the role before her death. Garrett also drew praise during the ceremony, with Harrison noting her determination and decisiveness, and urging that the school never forget her "passion, pride and ambition."
Pollack has also gone out of her way to support free speech on college campuses, a hotly-debated topic over the past few years as schools across the country grapple with the extent of free speech that should be allowed on campus. Cornell saw two such incidents, though mild, in the past year with appearances by Republican figures Rick Santorum and Newt Gingrich, though both occurred before Pollack took over in April. 
"I really firmly believe that this nation benefits from free speech," she said, noting that the people who espouse abhorrent beliefs should not scare the country away from allowing free speech. When asked, she would not commit to a definitive first policy initiative now that she has been officially installed as the school's leader. 
Prior to accepting the Cornell job, Pollack was the vice provost and executive vice president of academic affairs at University of Michigan. She holds an undergraduate degree in linguistics from Dartmouth College, and two graduate degrees from University of Pennsylvania. At Cornell, she holds appointments in the Departments of Computer Science, Information Science and Linguistics. 
Interestingly, she said her time as president so far has not been too heavy of an adjustment, at least in part because the school reminds her so much of Michigan. While the surrounding area is quite different between the two (Ann Arbor's population is about four times the size of Ithaca's), both school's environments and cultures don't seem all that disparate to her. 
"I haven't faced any enormous surprises," Pollack said. "Ithaca is much smaller than Ann Arbor, and it's been really great because I've gotten to meet a lot more people than I would have in Ann Arbor."
In interviews prior to her inauguration, Pollack has highlighted Cornell's commitment to Ithaca through the "One Cornell" effort around connecting its original campus in upstate to the new Cornell Tech campus in New York City, set to open in September. She forcefully maintained the stance that the relationship between the city of Ithaca and Cornell would be strengthened in the future, and that the two campuses would be able to benefit each other with their vastly different offerings, during her speech and at a brief press conference after the ceremony.
"One Cornell we shall be, and we shall be stronger, and more distinguished, because of it." -Pollack #CornellPresident #twithaca

— Austin Lamb (@AustinCLamb) August 25, 2017
"I don't think it's going to deteriorate," she said. "Ithaca's the heart and soul of this university, a large part of what Cornell is known for is its small town, rural community of scholars, and we will continue to devote a lot of attention to that [...] Honestly, I think with the opening of Cornell Tech, it's a chance to expand what we do in Ithaca and to really make the rural experience a way to reach out to the urban experience and have students move back and forth between. I think it's a win-win."
Follow Matt Butler on Twitter @AllegedButler
Follow Austin Lamb on Twitter @AustinCLamb