The anecdotes are as concerning as they are varied: Teachers telling of students cursing in their faces, several occasions of physical violence by students directed at teachers or other students, threats, weapon and drug possession, chronic class skipping, and property damage, to highlight a few. Hovering over all of them is an overarching lack of faith from teachers in the ability of Ithaca City School District (ICSD) administration to address the issues when they do occur.
The stories have been compiled as part of an internal report, conducted and authored by the Ithaca Teachers Association (ITA, the local teachers union) Task Force for Fostering Climate, Culture and Community, that was recently sent to the Ithaca Times anonymously and was not meant for public release. The report contains the results of a survey that was distributed by the ITA to its members, initiated earlier this year and submitted to the school district in March.
Liz Quadrozzi, the union report's author and a teacher at DeWitt Middle School, said the ITA felt pushed to distribute the survey, which gathered nearly 200 different responses from teachers in every elementary and secondary school building in the district, as the behavioral climate in the school district seemed to deteriorate over the last few years. Combined with a powerful perception of lack of administrative support, it has left teachers who Quadrozzi heard from feeling helpless.
"In the last three years, it seems like people were really at their wits' end," Quadrozzi said in an interview. "Things had gotten extremely hard. I knew that from my building, but the way this all started was just as a person in my building thinking it was just my building that was a concern. Teachers [are] just continually saying 'I can't do this anymore. There's no support. Why are we carrying on like this?'"
Quadrozzi soon learned the issue wasn't just in her building, but extended district-wide and beyond. Some of the stories may sound like garden variety misbehavior from a bored or distracted student, such as insubordination or running in the hallways. But there are other examples of more severe, alarming behaviors: One teacher recounts a physical fight between four female students in the hallway between classes, after which the students were allowed to continue on to their classes, apparently without punishment, according to the teacher's comment.
Another teacher reported having their arm slammed in a doorway, and a few others reported knives being brought onto school property. There are dozens of anecdotes. Frequently appearing is a complaint that the behaviors, regardless of severity, are allowed to happen without consequence or punishment, leaving teachers feeling isolated while tasked to control students. According to Quadrozzi, a significant portion of the students who cause issues in the school do so because of mental health difficulties that extend beyond a classroom teacher's expertise, a statement seconded by ITA President Adam Piasecki.
Communication emerged as a primary demand from teachers, more of it in general and more clear communication protocols down the road. ICSD Superintendent Luvelle Brown, who has embraced a restorative justice approach to discipline, said that he understands the teachers' sentiments when it comes to communication breakdowns, but that he's bound by certain privacy laws and that because district administrators aren't working side-by-side with classroom educators every day, the work at higher levels might be going unrecognized.
"Communication protocols are always important, we always have to be better about it," Brown said. "A lot of our teachers and folks on the front line wouldn't know what consequences are being given by administrators, so it's difficult for them to answer that question. It's a perception, so it's going to be hard to feel like you're getting supported when, quite frankly, you wouldn't know."
The survey results, which preceded the open-ended questions, are a mixed bag for the school district, particularly with the scaled questions. That's well encapsulated by the results of the survey's first question: on a scale of one-to-five (with "1" meaning "poor" and "5" meaning "excellent,") 35.2 percent of teacher respondents answered positively when asked how they would rate the safety of their building for students. Meanwhile, 32.7 answered negatively, leaving 32.1 percent directly in the middle.
Other questions yielded more damning responses from teachers. Asked to rate "administration follow-through on discipline and behavior issues," 32.3 percent of respondents answered "1," while 28.9 percent answered "2." Just 4.8 percent said "5," or "excellent."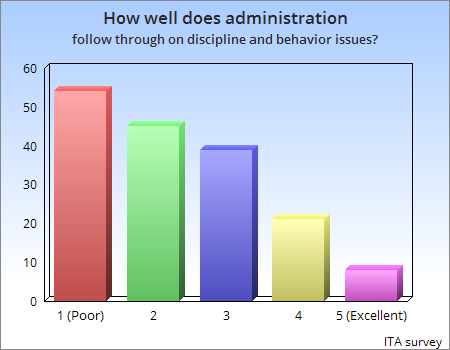 According to the survey, teachers generally demonstrated a higher level of trust in support from building administration, defined as school principals or assistant principals, than in support from district administration. When asked to rate how supported they felt by "district level administrators on discipline and behavior issues," teachers answered quite negatively: 73.6 percent answered either a "1" or "2." Additionally, teachers rated "communication within your building on how student discipline and behavior issues are handled" negatively, assigning a "1" or "2" in 68.8 percent of responses. (A few caveats come attached to the survey, which gathered around 200 different responses from ITA members, like that certain incidents may have been described more than once, and that teachers on probationary status expressed fear in completing the form). Quadrozzi said she had heard these types of feelings for years from her colleagues, and was saddened but not surprised by the results.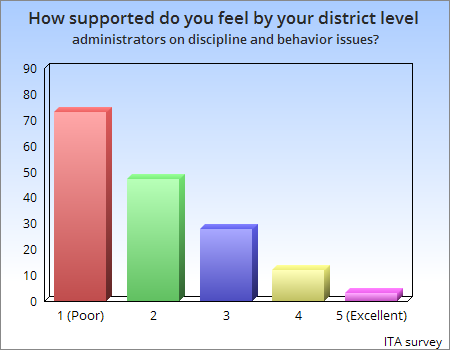 As for future suggestions, the ITA made several specific recommendations: a mental health audit by an outside agency, professional development on restorative justice by a field expert for all levels of staff, a standardizing internal note-taking system for documenting concerns district-wide, standardization of consequences across the school district, an increase in mental health staff, and an increase in special education staff. Not every building has the same needs, Quadrozzi notes, but this serves as a general outline of what teachers believe is necessary to do their jobs efficiently in the 2019 public education environment.
To be clear, the report written by Quadrozzi does support utilizing restorative justice, which is based around reparation of harm caused by an action through a cooperative process involving all impacted parties, and does not suggest turning back towards a more punishment-heavy system. But the ITA is arguing that if the district is going to take the restorative justice route, teachers need to know the higher-ups have their backs, and they need the resources to facilitate its effective implementation. Plus, policies that are in place but are not being followed (one example being punishments for repeated tardiness or absence) have to be abided by.
Though the behaviors in the report may appear surprising, it seems that teachers and administration have been aware of them, at least the extreme cases, for quite some time. Concerns about student behavior and the teacher-student dynamic are not new to the district, after all. Last year, for instance, parents at Enfield Elementary School described some of the same conditions that appear in the internal report: students tipping over desks, bullying each other and teachers, etc. At the end of the year, Enfield Elementary's principal, Lisa Rieger, was moved into a newly-created role at the district level. Brown would not comment on Rieger specifically, citing personnel privacy, but did say he always looks to shift employees because he thinks it's beneficial.
Though he hasn't closely examined the entire report, Brown said there's "nothing in there that would surprise me" and that some of the extreme behaviors have been ongoing for years, though he contested that they come from a small percentage of the overall student population, and are not unique to ICSD. The report was submitted to the district in March, and soon after, a task force was assembled consisting of Quadrozzi, Brown, district administration officials, one special education teacher and one principal of a school in the district. Work has already begun to institute changes by the time the new school year rolls around in September, some of which were specifically suggested by latter parts of the report.
Brown said some of those changes would be rolling out a new social-emotional learning curriculum for teachers, as well as instilling trauma-response training to educate teachers and staffers about handling children who've experienced significant trauma. Quadrozzi also spoke about installing teams, made up of staff members, in each building who could be called upon when a student is in crisis. Beyond that, the ICSD Board of Education recently assembled an advisory committee that will be examining the Code of Conduct and suggesting revisions that could hopefully clear up communication protocols that both district- and building-level employees seem to want changed.
Even with the changes in mind, which Quadrozzi admits have pleasantly surprised her thus far, her worries persist that the full severity of the district's situation isn't being recognized by those in the highest ranks of ICSD administration, which is part of the reason the report was penned originally. And while teachers were asked to grade the safety of their buildings for students in the survey, they weren't asked to assess their own feelings of safety. Quadrozzi said that from what she's heard, teachers aren't necessarily fearful of their workplace, but they may recoil from certain parts of their job as a result of student behavior. An example Quadrozzi cites is monitoring the hallways between class periods.
"In my experience, when you go up to a kid and you tell them to follow a building rule and they tell you to 'f--- off,' it's like 'Why would I keep doing this?'" Quadrozzi said. "I've never heard anyone say 'I'm scared to go to work.' I've heard people say 'I just shut my door and stay in my classroom.'
Generally, teacher respondents in the report seem to acknowledge the difficult position all parties are in: they don't necessarily blame the students (many of whom are acting out, Quadrozzi notes, to fulfill a need, not just to be disruptive or destructive) and understand that there are limited resources at times. But it speaks to the aforementioned mental health support and programmatic needs that the ITA recommended.
"This year, I have generally been able to resolve conflicts with students, however I will not always engage with students I don't have, are in a different grade level, or are knowingly behavioral issues because I know there will be no follow through," read one comment, perhaps the most succinct summary of the issues' complexity.
Of course, one of the common issues that has popped up again and again recently has been the presence of Education Support Professionals (ESPs) in schools. Teachers in the district have decried what they say are the falling number of ESPs in their classrooms and buildings, though Brown has disputed this contention, saying that the district is not cutting ESPs but that they are falling due to trends in individualized education plans (IEPs) that call for them. Regardless, Quadrozzi said ESPs are a crucial part of addressing the mental health needs of children in classrooms, and the calls for more ESPs and other special education staff are frequent and vivid in the recommendations of the report. At the very least, the ITA makes it clear they want to be involved in those types of personnel discussions going forward.
Brown said it's difficult to respond to parts of the ITA document, particularly the anecdotes from teachers, because he doesn't know the context of those stories. Regardless, he said he still has faith in the restorative justice model, despite the criticism its implementation has faced in this report and elsewhere, and that it fits well in the Ithaca community.
"We have chosen to be inclusive and restorative, and that's messy," Brown said. "That's hard. It's going to require us to be better each and every day versus the other way, and the other way typically disenfranchises and marginalizes certain populations, and we as a community have chosen not to do that."
Asked if he believes that the pendulum has swung too far in favor of restorative justice and away from discipline, Brown said no, though he admits that at times he feels like he's failing at his job because of the conditions and the problems some students are still facing. From his experience in schools, he said, there are two mentalities that can be employed: "restorative and inclusive" or "punitive and exclusive," and while he said the district administration has embraced the former, it deploys discipline when necessary.
"We are always going to err more on restorative than punitive; however, there are significant consequences," Brown said. "I've been the one delivering many of those consequences. We have excluded young people here for significant amounts of time for some of the behaviors that have been described here. Some of the behaviors are beyond our abilities to navigate and mitigate here. These extreme situations that we are navigating here are tough, and we have been ill-equipped to deal with them. That's why social-emotional learning is on the tips of every educator's tongue right now all over the nation."
If and when that discipline is meted out, though, is unclear to teachers. Brown admits this, but blames it on education privacy laws that limit the dissemination of certain specific information about students. Regardless, that answer doesn't seem to satisfy teachers or Quadrozzi, who wrote in the report that the communication deficit is one of the crucial issues teachers are facing.
"Many members cited a lack of communication as being both a source and a symptom of the adverse culture and communal atmosphere in our buildings," the reports states in its "Emerging Themes" section. "In summary, respondents indicated that a general lack of knowledge about incidents that occur and what the follow-up was. Additionally, there appears to be a lack of clear policies about when parents are contacted regarding student behavior, and who makes that contact."
Quadrozzi and Brown both sound optimistic about the progress that has been made in the short time that the task force and the district have been at the drawing board. How well those policies can be implemented, of course, remains to be seen and that will undoubtedly determine whether complaints from teachers at schools continue, as well as if the climate and culture in the district that the task force has been designed to cure keeps deteriorating. Communication, Quadrozzi reiterated, is extremely important for teachers to know outcomes, but it may ultimately come down to whether or not the resources are there to fix the issue and the district is willing to allocate them there to fully support their restorative justice philosophy.
"You can't do [a] restorative justice program halfway," Quadrozzi said. "You have to do the whole thing. You have to have people who are appropriately trained in doing the work."