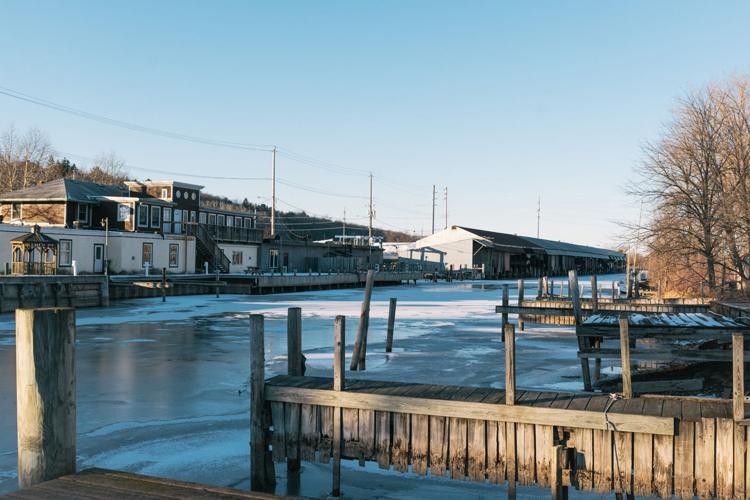 The waterfront's new zoning was expected to bring about some major changes to the city, and lo and behold just weeks after those changes were finalized a large-scale housing and multi-use project has been proposed. 
City Harbor, LLC presented the project to the Planning Board Tuesday night, a mere vague outline at this point but still a significant step in the effort to convert the industry-heavy waterfront to a more residential focus. Two separate projects were presented by City Harbor, with a third that will be presented, it appears for now, in January. In summary, at this point the proposal includes two large apartment buildings along the Inlet at the former Johnson Boatyard, with a medical office as well as a few other possibilities, such as a dedicated aging-in-place housing venue for seniors or a bar-and-grill type restaurant on the water, along with a smaller project that would relocate GreenStar to a larger venue. But things are very early. 
Local developer Lambrou Real Estate and Edger Enterprises are the driving forces behind the proposal, with local architect firm STREAM Collaborative as the design team leader. The plans are very preliminary -- specific figures were sparse, so housing unit numbers and building sizes are still unclear (Noah Demarest of STREAM Collab did mention apartment building heights of around four or five stories).
"We haven't put pencil to paper on the design of the architecture yet," he said. 
Nick Lambrou, of Lambrou Real Estate, stated his intention for a late fall 2018 ground-breaking. But before then, the plans look destined for significant changes, since the Planning Board's reaction to the sketch plan could generously be described as "tepid." The second project presented would consist of converting two warehouses next to the Carpenter Business Park on Route 13, formerly owned by Guthrie Medical services. One warehouse would house a new GreenStar Co-Operative location, which would move from its current spot in the West End on Buffalo Street. The second warehouse may be knocked down for other future use, such as to make room for GreenStar parking.
Most of the board's criticism centered around the first project though, slated for the former Johnson Boatyard. Even with parking planned beneath the two (potential) apartment buildings, there's quite a bit of surface level parking proposed.
Initial thoughts from the board seemed to hinge upon how "dominated by pavement" the project was, with Board member Robert Aaron Lewis saying it didn't feel like part of a city, at least not the urban and walkable aspects Ithaca has been aiming for. He said he felt the project had regressed from a previous one that had reached preliminary approval but did not move past that. 
"I would love to see more building instead of surface level parking," Board member John Schroeder said, adding that he likes the intention and general plan for the site, but that the specifics need further work. He particularly highlighted the need for medical services in the City of Ithaca.
Demarest and Lambrou said the amount of parking was to accommodate a "fairly large" medical office owned and operated by Guthrie, which seems fairly essential to the project and a key reason why Guthrie was willing to sell their warehouses for GreenStar's use. 
"The largest anchor right now is partnering with Guthrie," Demarest said. 
Demarest said he had met a few times with the Friends of Newman representing the needs of the Newman Golf Course, which may have inspired the rehabilitation of the clubhouse that serves golfers which could accompany the rest of the construction. There will still be docking along that point of the Inlet, some of which would be private, some rentable. 
It's expected the final project from City Harbor will be proposed next month, where they may also present a follow-up to these two projects to the Planning Board. 
Follow Matt Butler on Twitter @AllegedButler