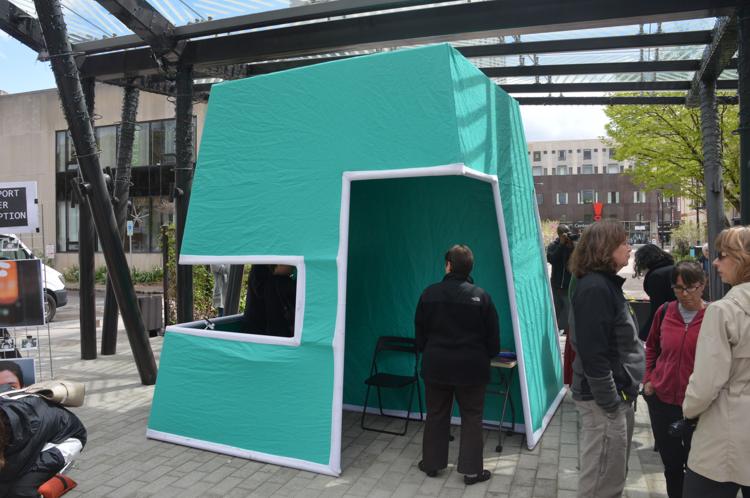 A team of Ithacans continues to formulate a final submission to the Bloomberg Philanthropies Mayor's Challenge competition, in which they hope to emerge with enough funding for the establishment of a "one-stop shop" for social services in the city. 
The competition already awarded Ithaca $100,000 for making it into the final 35 entrants of the competition, but the city stands to potentially win $5 million if it places first when the winners are announced in several months. Katharine Celentano, of the Drug Policy Alliance, has spearheaded the application effort on behalf of the city and reiterated that part of the hub's operations would be a safe-consumption space and an Office of Drug Policy that would be under the city's watch.
Celentano said they had been interviewing people who are already using STAP's services to see if they'd be likely to use the other harm reduction services that would be offered in the new facility. She also said there would be a prototype safe injection facility installed in STAP.
Ithaca Fire Chief Tom Parsons, who's also on the application team along with Celentano and Alderperson Steve Smith, said it's clear to him that an abstinence-based approach is not the solution to the area's opioid problem. He said he realizes that there's opposition to harm reduction tactics, but that there has to be a more complete approach to get people back on their feet, things the health hub would theoretically contain like employment and housing services.
"It's something that's happened to them, and they've tried different means and it hasn't worked for them," Parsons said. "People who come from very successful pathways of life get detoured, and can't get back on track."
Parsons talked about the weight the crisis can have on first responders too, drawing on a conversation he had with an official from Huntington, West Virginia, another city grappling with the opioid crisis and that is also contending for the Bloomberg grant.
"Zero deaths—that's what we're really hoping for with this," Parsons said.
While supportive of the possible facility, both Murtagh and Brock said they'd like to see more done to involve the community in the conversation. Murtagh, who represents the Second Ward where the hub would possibly go, is aware that people in that part of the State Street corridor are already a bit nervous about low-level crime and drug use in the neighborhood, and that establishing the facility there could bring more disorder to the area, along with the positives it would bring. Parsons acknowledged Murtagh's point, though also responded that the area is already having trouble without any hub there, and that having one there might help matters.
"I absolutely support this, but I think it's important to walk into this with our eyes open," Murtagh said. "When there are problems, it's usually the city and the police who are called upon to fix them."