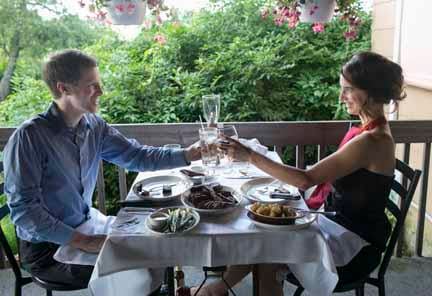 Ithaca, known nationally for its young mayor and that one famous university on tax-exempt city land, has now entered the American conversation in a rather unfamiliar way: beef. 
John Thomas Steakhouse, located on Danby Road in Ithaca, was named as one of the 30 best steakhouses in the United States in a Bloomberg article that consulted with leading restaurateurs and chefs to come up with the definitive list of best steaks in the world. 
"This is a random one for you if you're ever in Ithaca, New York, where I went to school," [Shake Shack CEO Randy] Garutti says. This restaurant near Cornell is known for its dry-aged steaks. The specialty is a 40 ounce Porterhouse for two, at $98.
The list includes several restaurants in New York and stretches as far as Tokyo, Japan. Trusting the CEO of Shake Shack to point you in the direction of a top-flight steak might seem risky, but he says he's a Cornell graduate and John Thomas' reputation holds up regardless. 
Its appearance on the list means Ithaca has just as many of the world's best steakhouses as Miami Beach, Seattle, Houston, Los Angeles, Las Vegas and Hawaii. So.... take that. 
Follow Matt Butler on Twitter at @AllegedButler. This post may be updated to also include a GoFundMe link for one dinner for the author at John Thomas Steakhouse.