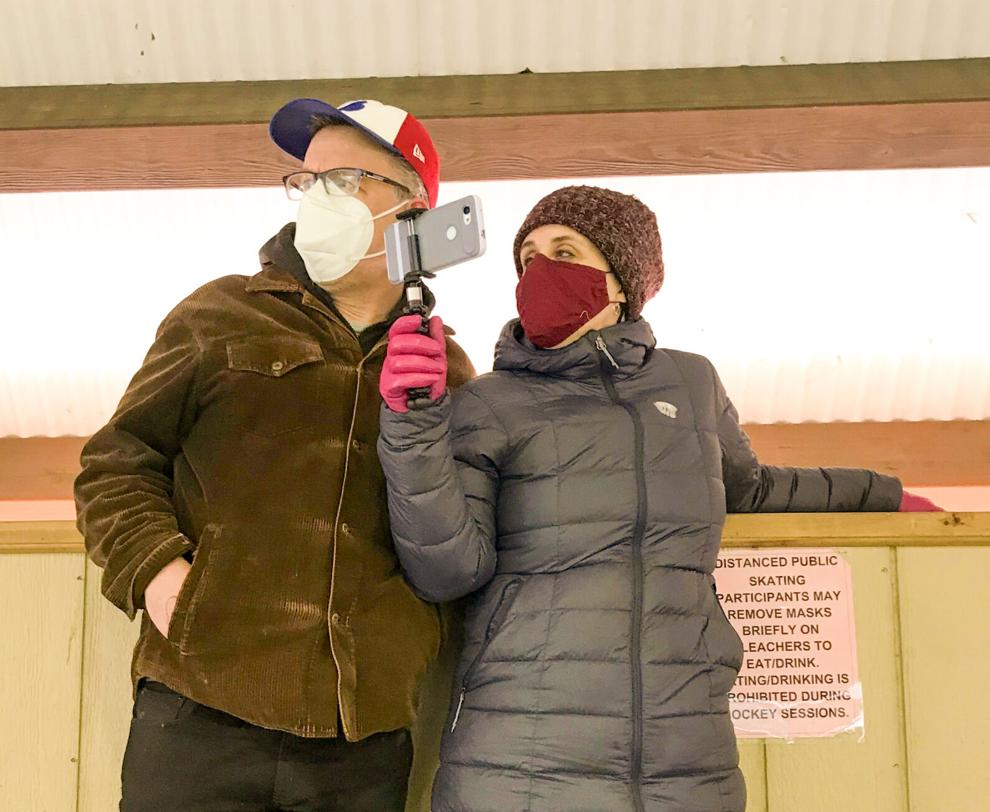 After social distancing regulations limited crowd size for Ithaca Youth Hockey League's games, the league turned to internet video. Volunteers (players' parents) in the nearly empty stands stepped up to record the action on their phones so that those safely at home could still follow the games. 
Although parental live streaming features all the familiar technical mishaps: false starts, broken links, dead phone batteries, and the eternal landscape-versus-portrait struggle, it also revealed sleeper talent hidden: brilliant live play-by-play commentators. 
Who better actually? These parents live and breathe hockey, regularly wake up at 3:30 a.m., tolerate smelly hockey bags in their living rooms and are unafraid of public speaking. Would swimming and diving parents so easily step up to become color commentators overnight? Does every swimming parent know off the top of his head how many pool lengths equal a hundred yards, or how the degree of difficulty affects the tally of diving scores? How do you even win a swimming meet, let alone explain the scoring algorithm live on the internet?
But every hockey parent is a play-by-play commentator-in-waiting. Even if the lighting was poor and the images are pixelated, hockey's exciting back and forth and easy scoring, relayed through the animated voice of a mom or dad who knows most of the players' names, made for an entirely watchable broadcast.
Earlier this month, Ithaca's under-14 boys team hosted Skaneateles at Cass Park rink and left wing Leo Scott's parents provided the Facebook Live coverage from the stands, as they had for a handful of previous games. They went online as the teams warmed up. Leo's dad, Ithaca College professor John Scott, called the game as Rex Rick O'Shay, a fiery alter ego he created for the job. As Scott described the action for the full hour and 12-minute stream, Leo's mother Karen Rodriguez, who happens to be a professional cinematographer by day, operated the camera (her iPhone). Ithaca won 3-2. And the game's video was also a success.
The proof is in the data. Live viewers hovered around 17, but the video remains available on the club's Facebook page and currently has 664 views. To put that into perspective, the March 10 Ithaca City Common Council Committee Meeting where one of the agenda items is whether to dissolve and redesign Ithaca's police department currently has 271 views.
You might expect an Ithaca hockey dad to eagerly trot out their best Canadian accent, à la Rick Moranis, but Scott's "Rex" is a steady, more realistic character. Scott, who grew up in Nova Scotia, can access a more authentic folksy drawl than your average Ithacan. 
"Yessiree Bob... Skaneateles has been a team that is tough for Ithaca to beat," Rex announced at the beginning of the game. "They are a scrappy team every year and it's normally a close contest, so we'll see how it goes today. We're infected with the virus, the virus's name is hockey. Everybody's got it, and the pucks are flyin!'" 
Parents for the other IYHA teams soon added live commentary to their streams too. Megan Wagenet and Ed Kelly, both parents of kids on under-12 teams, recently joined forces for an inter-city under-12 Game between Ithaca 08 Red and Ithaca 09 White. 
"I've usually called the 12U games for our team by myself" Megan explained, "while another parent or team manager will update the scores and penalties in the comments section… It's actually much more fun to do it with someone else as we can banter back and forth with each other."
Megan Wagenet is fully enmeshed in Ithaca hockey. Her brother played growing up, and her husband has coached IYHA teams since 2011. She has spent a lot of time at the Ithaca rinks. 
"I think I have a strong understanding of hockey and the game… Our family also supports both the women's and men's hockey teams at Cornell and we regularly attend as many games as we can, pre-COVID of course."
For Pamala Tan, who is the manager for the under-14 boys team and mother of center Samuel Holmes, the broadcasts have been useful beyond just spectating. 
"For games I cannot attend in person, I absolutely watch in the stream! I also share it with my family members outside Ithaca. They've watched the live streams from NYC, Washington state, and Florida. They love the commentary because sometimes it's hard to see what's happening, and they may not be as into hockey as we are. We also watch key parts of the livestream afterward, when Sam has had a goal, an assist, or a penalty. It's particularly gratifying to confront our 14-year-old when he initially claims he didn't understand why he had to spend time in the penalty box. When he watches the recorded livestream, he'll say, 'Ooh. Yeah. I totally deserved that penalty.'" 
The League's regular season is winding down now as we transition into spring. Perhaps this successful piece of pandemic life will continue even when restrictions are lifted. 
Live stream videos of the season's games are available on the Leauges' Facebook page www.facebook.com/IthacaYouthHockey/