After a brief period of uncertainty, Ithaca Festival is returning this week to once again serve as the official start of summer for Ithacans, now free of the looming presence of students who have fled the area to wreak havoc on their respective hometowns.
Ithaca Fest had a turbulent offseason this year. While it has grappled with financial issues in the past, the situation seemed to reach a new level of urgency this winter, as festival organizers started a grassroots funding campaign to help sustain the festival in the short-run while pursuing more long-term cures as well.
Fortunately, it worked—or at least, the short-term solution did. The community rallied strong after the call for donations, and merely weeks after festival organizers set a fundraising goal of $30,000, a combination of individual community members and larger donations from businesses helped the festival surpass that goal easily.
"We definitely surpassed our goal," said Ithaca Festival Executive Director Josh Dolan. "Based on issues that we had last year, we had to pay deposits on a lot of stuff that we hadn't needed to in the past. Those are all paid. There's a lot of money in the bank, we're definitely going to make a profit this year."
With a longer leash and a much brighter future, Dolan and Mickie Quinn have an air of excitement that, just last year, might have been replaced by anxiety. This is Dolan's second year in charge, while Quinn joined as board president in January (as well as the festival's graphic designer), learning on the fly but drawing on her years of experience as an event planner.
The surplus money will hopefully allow Dolan and one other festival staffer to take on their duties year-round, which could lead to some intriguing adaptations for Ithaca Festival in the coming years. But for now, the most notable change coming to the festival this year is an earlier start. The Ithaca Festival parade, a beloved tradition, will be held on Thursday evening this year instead of Friday, a shift that Dolan and Quinn said was a response to feedback from various different festival figures. They also said that by holding the parade on Thursday, it would avoid a major disruption to the festival and could serve as a more true "kick-off" during an earlier time.
Plus, the parade will lead into a concert on the Ithaca Commons, featuring Danielle Ponder and the Tomorrow People from Rochester, NY. At the same time on the Commons, there will be a $5 Bites event, organized by Sarah Barden of Ithaca is Foodies, which will showcase food samples from the festival's vendors. The rest of the event will continue through the weekend much as it always has, with music and festivities and each night capped off with the recently-introduced silent DJ sessions. Just like in years past, the Ithaca Festival button, for $5, is the main ticket to the event and unlocks special deals and discounts throughout the festival, also serving as one of the main revenue streams to support the event.
Along with those changes, there will be other, more mysterious surprises.
"There's probably going to be a unicorn there," Quinn said.
"The unicorn is new," Dolan said.
Quinn gets to ride the unicorn during the parade.
For the kids, there will be a discovery tent in DeWitt Park, which will host a variety of STEAM-themed activities for children, presented by several different businesses around the area. The park will also play host to the traditional pony rides for kids.
"It tends to be a more eclectic lineup over there [at DeWitt Park]," Dolan said. "It's family-friendly, there's world music, a lot of different performers like puppet shows. The odd and the weird and the fun of Ithaca Festival is over at DeWitt Park."
Busking won't be a part of the Ithaca Festival this year, Dolan said, replaced by the addition of three more venues for music performances that will take place during set changes for bands on the main stage. Those will be at Cayuga Circle, at the intersection of Cayuga Street and State Street, Trolley Circle, which is directly in front of Center Ithaca, and past buskers will be performing at Monk's on the Commons. The Ithaca Poetry Circle and a few DJs will also be performing at Monk's as well. The Vinyl Lounge is also back, sponsored by WRFI and Angry Mom Records, and will actually include a set from Dolan himself at 4 p.m. on Saturday. Greater Ithaca Activities Center will handle the programming at the Press Bay Alley stage on Saturday, part of what Dolan said is a growing partnership between the festival and GIAC.
The festival is also still taking last-minute volunteers, who can sign up by going to the "Get Involved" section of the festival's website or by emailing Dolan at director@ithacafestival.org.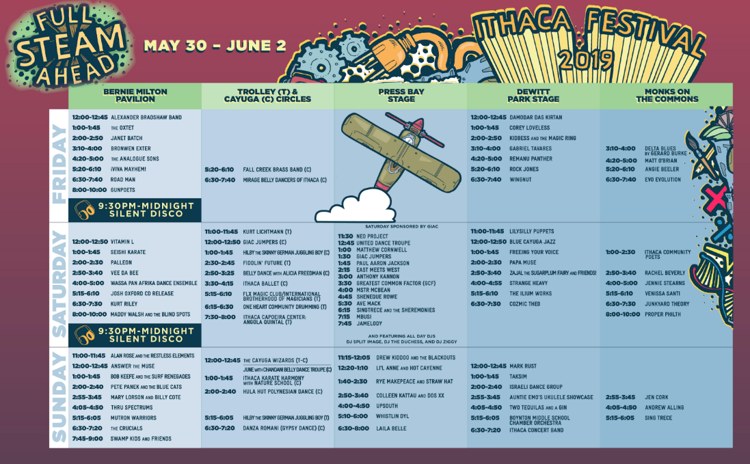 Dolan and Quinn both said that the festival's spending had been notably cut this year, part of a financial belt-tightening strategy that they feel will contribute to the long-term economic stability of the festival. Quinn is leading a new board of directors, whose inexperience has served as both a motivator and a barrier as this year's festival draws closer.
"We have a brand new board, everyone's very new," Quinn said. "There are benefits to that. Everyone is very enthusiastic, we've collected some very smart, talented, driven individuals. [...] But the challenge is that, being new, we haven't been trained under a previous board to step into these shoes. We're sort of reinventing the wheel, and a lot of it is figuring it out on the fly."
While there's obviously still this year's festival to handle, Dolan, Quinn, and the rest of the festival's organizing team are keeping an eye to the future. The acceptable threshold for safety measures is likely to keep increasing, bringing higher costs with them, too. But adjustments are already being made: This is the first year the festival has a presenting sponsor, Syracuse-Area Honda Dealers, who joined with several other groups to help the festival's funding. Other sponsors this year include City Centre, Renovus, Tompkins Trust Company, Cayuga Radio Group, Dandy Mart, the local IBEW, WITH radio station 90.1, and EV Tompkins.
"The cost of doing business, at least in regards to putting on large public events like this, is going to rise because people want to be safe and the state wants us to be safe, and safety costs a lot of money," Dolan said. "We understand that we're going to have to find different revenue sources and lean on our sponsors more and more."
Even if the fundraising had sputtered and failed to reach its goal, Dolan said he thinks Ithaca Festival would have just taken on a different form instead of ending entirely. Regardless, he's glad to have another year, and said the festival could even look to have a larger presence at different times of the year going forward as well. The Downtown Ithaca Alliance is also, obviously, deeply involved, Dolan and Quinn said, including organizing the event's craft fair.
"I personally never had any doubt that Ithaca would come through for Ithaca Festival, it's our most important cultural celebration throughout the year," Dolan said. "Nothing taps into what is Ithaca more than the Ithaca Festival. It's part of the life-blood of our community."
"Just come enjoy it," Quinn said. "We've worked so hard for everyone to come be there."
Even after last year's turbulence, Dolan said he returned to the job for the payoff of seeing how much people enjoy the festival, something that brings him considerable joy particularly coming from his background.
"Number one, I'm a glutton for punishment," Dolan said. "But number two, I've worked in music festival and service industry my whole life, it's part of my character. [...] This has kind of been the culmination of all of that for me. This is my dream job, as much as there's all this behind-the-scenes stress that I have to deal with, it's so fulfilling to be involved with something that touches so many people."