ITHACA, NY -- At its Nov. 3 meeting, Ithaca's Common Council officially approved a plan that would see all 6,000 of the city's buildings, both public and private, electrified. The plan is part of the Green New Deal's efforts to completely decarbonize the city by 2030.
Led by Director of Sustainability Luis Aguirre-Torres, the city will be working with BlocPower, a company out of Brooklyn, to manage the large-scale program. Ithaca will be the first city in the country to undertake an electrification and decarbonization effort of this scale.
Aguirre-Torres said when he began his position with the city in March 2021, he began trying to brainstorm ways in which the goals of the Green New Deal could actually be met.
"It was very aggressive to reach them by 2030," he said. "I needed to think of strategies to get us there as soon as possible."
He said he looked at buildings, transportation and the electric grid, which make up more than 95% of the city's carbon emissions. He decided the most efficient way to make a big impact was to do something cross-cutting.
"We need to go full energy efficiency," Aguirre-Torres said.
The city's buildings are the number one source of emissions, accounting for 40% of the city's carbon output.
"And it's hard to deal with buildings," he said. "We had an energy code supplement for new buildings, but nothing for existing buildings. So to tackle existing buildings we had to look at energy efficiency and make buildings as efficient as possible."
To use less energy, the electrification plan will target things using fossil fuels like furnaces, water heaters, cooktops and clothing dryers.
Needless to say, retrofitting 6,000 buildings to be more energy efficient isn't cheap. So far, Aguirre-Torres has raised $100 million from private investors. He noted that while private equity is the most expensive form of capital, he plans to offset interest costs through philanthropic funds and government grants.
After securing funds, the next hardest part is getting people to buy-in.
"There are several types of incentives we're considering," Aguirre-Torres said.
About 40% of homes in Ithaca were built before 1920, and about half of them have never had any serious renovations done.
"So there are a large number of homes that are highly inefficient because they're old," Aguirre-Torres said. "If you fixed it all and replaced things with electricity, you would have savings."
He said the idea of the program is that the homeowners will be lent money to do the electrification upgrades, with zero interest, and they pay it back only if they have savings.
"Their property value increases, they don't pay any extra money and they have a better home," Aguirre-Torres said.
However, while it seems like a no-brainer, the response has been mixed.
"The vast majority is very happy and excited about it, but because of the city we live in, some people are opposing it on principle because it's Wall Street money," Aguirre-Torres said. "I respect that but I disagree."
He noted that while those people tend to believe that this is something the government should pay for, there's just no money that comes from taxes that would be able to cover something of this scale. He also said there's been some pushback from nonprofits who do similar work of electrification and retrofitting because their livelihoods are feeling threatened.
"I don't blame them, but it's difficult to make progress [through incremental change]," he said. "We'd be doing 30-50 buildings a year when we need to do 6,000 in eight years."
To have a shot at reaching that goal, the city is working with BlocPower.
"When I say the government is not equipped to do this, BlocPower is," Aguirre-Torres said. "They have done 1,000 buildings so far, so we're asking them to do something much bigger. But there's no precedent. We're the first city to do this."
Keith Kinch, the general manager and co-founder of BlocPower, said that when his company saw the request put out by the city for this project, they were excited for the opportunity to address electrification on such a large scale.
"Decarbonization of an entire city is truly amazing and something the residents, mayor and Common Council of Ithaca should be applauded for," he said.
BlocPower will work with residents and city officials to assess all buildings prior to issuing recommendations to improve overall energy performance, Kinch said. They will then work with local partners to implement and install energy efficiency measures to decarbonize the city. These measures could include things like electrification of appliances, renewable energy, weatherization and electric vehicle charging.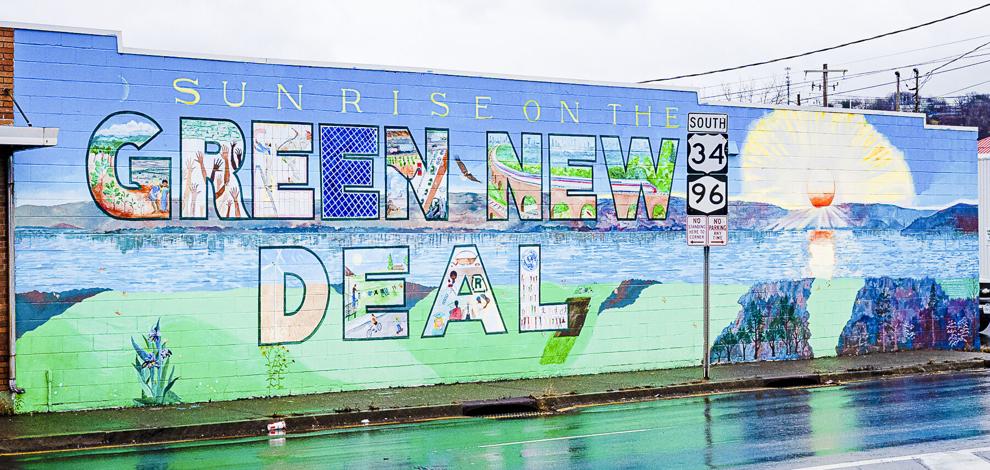 Aguirre-Torres said there's not much more expected from the city right now, and that they're currently working to negotiate the final contract. His hope is they can get things moving in December.
He's also currently working on getting a pipeline of buildings ready to go, so when the contract is signed they can hit the ground running.
"We're looking at Cornell Cooperative Extension, at Southside Community Center, at GIAC," he said. "We're putting together a list of potential buildings to negotiate with landlords and building owners."
And while Aguirre-Torres forges ahead, he's not immune to nerves.
"I'm super excited but also very nervous and terrified of this thing," he said. "It's a huge animal we're taking on. If we make it, it's going to be for history, it's like we cracked this uncrackable nut."
However, if somehow things go south? Aguirre-Torres is prepared for that too.
"I'd risk my job for this," he said. "If this doesn't work, I lose my job, that's for sure. But I don't mind. […] We should be proud of trying. We'll be the ones who tried something. Someone had to do it first, and why not us?"