TCAT unveiled its first ever fleet of electric buses on Earth Day, with a ceremony out on the Commons. Last month, California-based Proterra delivered seven of their fifth-generation 40-foot ZX5+ buses to TCAT. The buses, estimated to cost about $1 million each, were funded by a variety of sources, including federal, state and local funders. Local funders include the city of Ithaca, Tompkins County and Cornell University.
Work to secure funding for the electric bus program began in 2017, after current TCAT General Manager Scot Vanderpool took over. TCAT expects to further offset costs through the federal Volkswagen settlement, and part of the funding was provided through the FTA Low-No Grant Program with the help of Senate Majority Leader Chuck Schumer.
"Earth Day is a fitting day for us to celebrate this important TCAT milestone and marks our community's long-standing commitment toward lowering carbon emissions, and we have many people to thank for that," Vanderpool said. "TCAT's aim is to transform what is now a mostly diesel-powered fleet to all electric by 2035, and this day represents our first steps toward meeting that goal, thanks to the help of many of our stakeholders and supporters.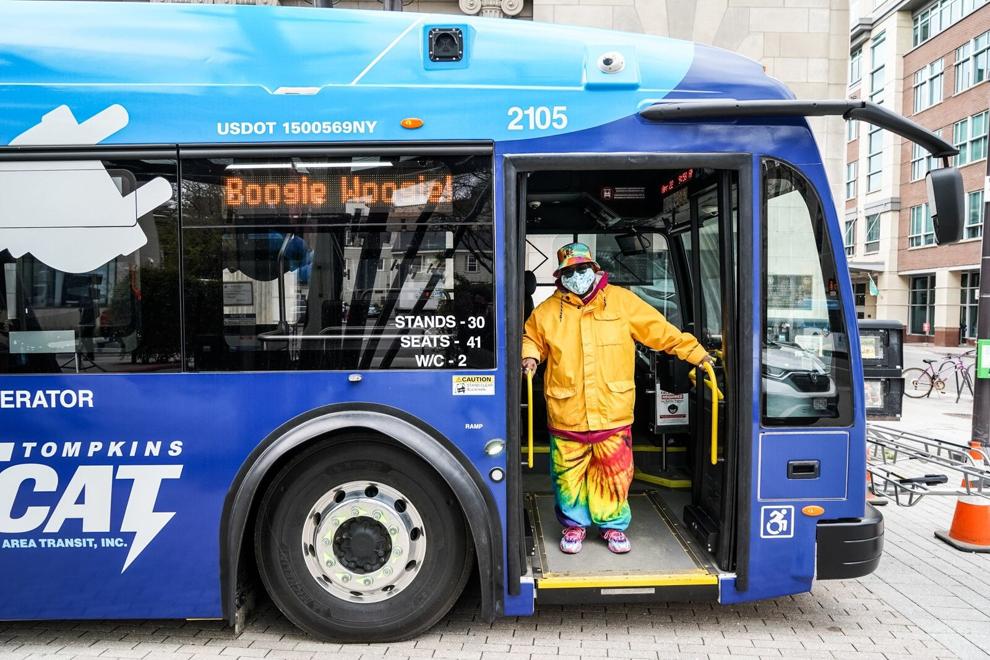 Vanderpool added that despite the bump in the road of 2020, TCAT is currently still on track to meet that goal.
"TCAT is proud to be doing our part in reducing the carbon footprint and benefitting generations to come," he said.
The New York Power Authority's eMobility team helped TCAT design and install the necessary charging infrastructure for the new buses. The installation provided electrical capacity and civil infrastructure for a total of 12 Proterra 125kW fast chargers allowing for future expansion.
The buses can carry up to 675 kWh of energy on board, and on a full charge can drive for a maximum of 329 miles. The MPGe peaks at 23.5, and the bus can hold 40 people in total. Spectators at the unveiling were offered free rides around the Commons to try out the new vehicles.