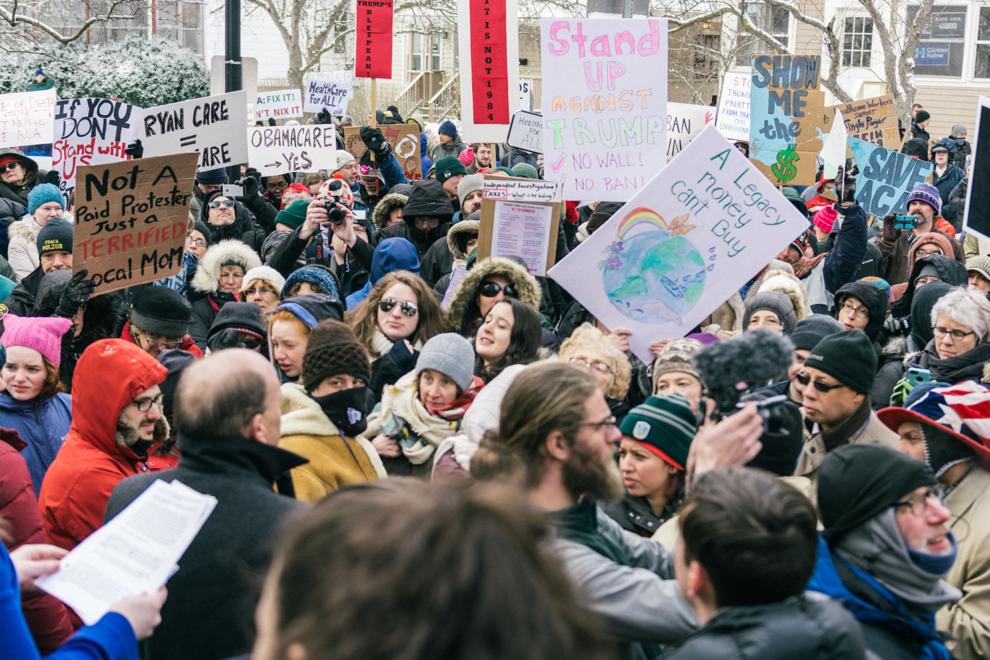 Editor's note: Due to an editing error in production, an incorrect statistic was inserted into the second paragraph of this piece. Tompkins County was not the only upstate county to go for Bernie Sanders in the Democratic Primaries: he actually won all of upstate. He did however do significantly better than most counties and received the most fundraising dollars in the 14850 ZIP code. We regret the error.
Ithaca is a staunchly progressive city. 
It's not even an argument. The legacy is there; the seat of the only county in New York to vote for Obama over Clinton in '08, the one most enthusiastically pulling for Bernie in '16, a consistently blue stronghold for decades. After this past weekend, it's no secret nor surprise that Ithaca does not look favorably upon its congressman, nor its party. Last November, only nine out of every 100 ballots from the city were cast in favor of the now fourth term incumbent, Tom Reed. Such an outcome, though not favored by Tompkins Democrats by any means, could have been plainly expected on November 8th, 2016.
However, that night at the Hotel Ithaca served a far more jarring blow to local Democrats as they gathered only to watch state after state turn red in favor of the now President Trump. With every passing minute, another seat was emptied as Tompkins blues put on their jackets, stepped out into the rain and drove home with the blues.
In the 127 days since, a political renaissance has rejuvenated the battered city into a seemingly constant state of civil demonstration. But what's driving this force is not the "usual suspects" according to Martha Robertson, county legislator and former elector challenger of Congressman Reed.
Robertson tells tales of the busses of Ithacans heading to the Women's March in Washington, D.C. on January 21st, where discussions were held at length as to actions moving forward. At one point, Robertson tells, someone posed the question "Who here has been taken part in political activism?" to which she says only three or four hands on the bus of around 50 answered in the affirmative. 
Those 47 hands were certainly not alone. More than 10,000 of their friends and neighbors took to the Ithaca Commons to march on that same day and that new found energy has only been coupled in event after event. With time, that energy – paired with some social media coordination – has resulted in a sprouting sea of organizations across the district.
"I put the term 'organizations' in air quotes. There's not a lot of organization here," laughs Robertson jokingly. "There's so much energy and ever so often I'll say to somebody, 'You know there's a Democratic party? You can come to our meetings.'"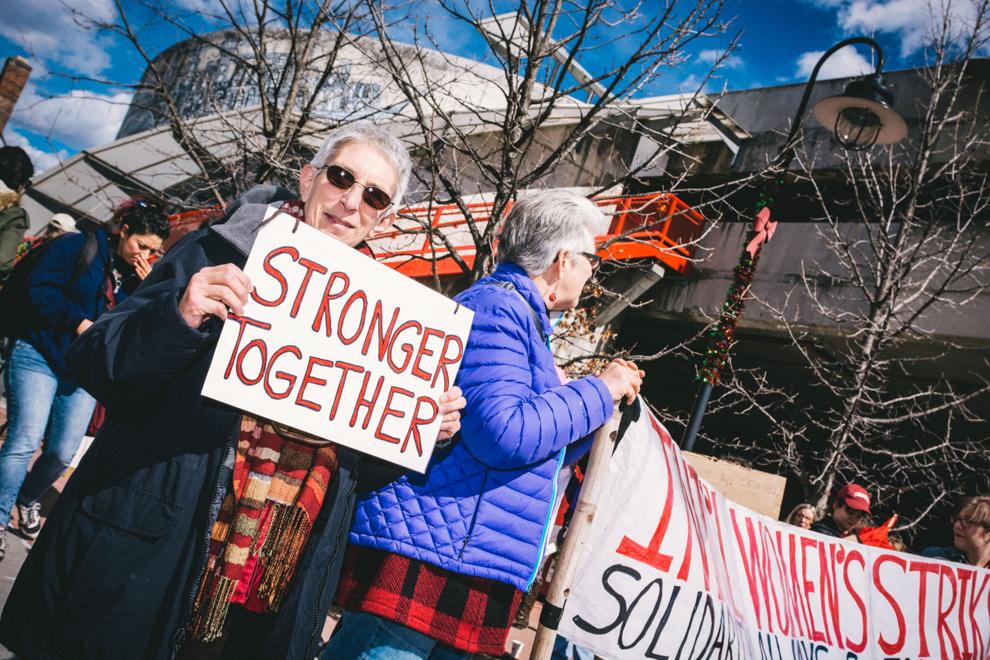 Many of them have. Tompkins County Democratic Committee Chair, Irene Stein, says the committee has brought on several new members in the last few months and "is back to work and will prevail." But this draws into question whether this new transfusion of new blood and new energy can coexist within the aged veins of the Democratic Party.
"Is the Democratic Party relevant? Absolutely," says Leslie Danks Burke, former challenger for State Senator Tom O'Mara's seat. "The Democratic Party used to be, and should get back to being, the party of the small guy. And with this conversation developing where we're talking more about populism on the right and the left, the democratic party has a real goal to step into there."
Populism. n. Defined as: support for the concerns of ordinary people. This 'Word of the Day,' as defined here by Oxford Dictionary, was the basis for the rise of Senator Bernie Sanders' presidential campaign which was a hard fought battle in the hills of Tompkins.
Sanders grabbed 57 percent of the vote in the 23rd District with 29,980 votes. His right-wing branded populist counterpart, Donald Trump, received a comparable 31,764 votes. 
"I got excited about Bernie Sanders, and that was actually the trigger for getting organized and getting involved," says Joel Blizzard. "I started making phone calls and getting involved in the campaign and contributing to the campaign which is something I had never done before for a candidate of any [party]."
Blizzard now sits on the organizing committee for Indivisible of the Southern Tier/Finger Lakes, a group that serves to resist the Trump Administration's agenda and spread political information across New York's 23rd Congressional District. However, Blizzard's story is not an unusual one.
"I think seeing some of the new policies being pushed forward by this administration definitely motivated my friends and colleagues with The Catholic Workers to take an additional step in their activism and to get other people involved too," says Laurie Konwinski, a regular participant with the activist group. "I'm seeing new people. I'm seeing people I haven't known from other activist circles wanting to get involved and wanting to have their voice heard and making an organized effort to do so."
Konwinski leads up the Public Policy and Advocacy arm of Catholic Charities (a completely different entity than Catholic Workers) which serves to help the poor, refugees and other marginalized groups. She says that most of the people she sees getting involved are doing so mainly along a line of issues rather than a partisan line. Now with a few months under their belt and the growing girth of momentum those lines are beginning to criss-cross. 
On Valentine's Day, all of that criss-crossing materialized at a sit-in on Congressman Reed's office in Ithaca. When the man himself showed up in the wee small hours of the morning two days later, the respectful dialogue that ensued reflected not just a single issue, but a grab bag of topics from immigration to renewable energy.
The workers self moderated their discussion that evening and coordinated questioning in a manner that Reed even complimented them on saying it was very kind and highly effective. Another notion to point out is that most of that time, the only elected official in the room was Reed. Everyone else was an activist, a journalist, or a staffer. This instance itself was the very embodiment of "grassroots." Though Mayor Myrick and Aldermen Murtagh and Nguyen made visits to the sit-in, the entire thing was conducted on the whim and by the way of the Catholic Workers.
In the early hours of February 17th, the sit-in was over and everyone returned home with dreary eyes, but Konwinski describes this moment as an awakening. The new heightened awareness that drew everyone to the congressman's office in the first place was indicative of a new situation, a new era.
So in turning the page onto a new chapter of the book, the stage must be set with new characters. On the playbill is of course the old players, but it's very well the new characters that will drive the plot forward. The Catholic Workers, Indivisible, Rise Up Ithaca, Tompkins County Progressives and countless others have all made themselves heard on that list. 
With the characters beginning to find their way off of Facebook and listservs and onto the ground organizing, the question then becomes how will things coagulate moving forward.
Blizzard describes indivisible as still being in quite a liquid state, but it wouldn't surprise him if many of the work he's seen done so far would take a direct effect in elections as soon as this month. He cites Faith Tyler's organization around the Town of Groton's local elections, pointing out that many of the individuals helping out there also contribute with Indivisible circles as well.
When the time comes for Democrats to send forth their champion to square off against Reed in 2018, Blizzard thinks it could very well be Indivisible, as well as some of the other grassroots groups, that create the backbone of that campaign.
However, one dark shadow looms over the left from eight years ago: the Tea Party movement. Drawing on the same populist message, a recidivism of seemingly "early American" ideals and lack of formal power structure bridge the ideological gap between the Tea Party and the beginnings of what could be its more liberal counterpart seen in the small activist groups of today.
The original Indivisible "guide" states itself "you probably deeply disagree with the principles and positions of the Tea Party. But we can all learn from their success in influencing the national debate and the behavior of national policymakers."
"To me it has that false equivalency," says Blizzard. "I'd say that because we're borrowing the tactics of the Tea Party which are small groups of people involved in high level organizing within local communities. I think we have more meaningful of a backbone. We're coming from the idea that we're defending equality and liberty in the sense that this is for all people and not just our friends."
The comparison to the Tea Party is not a light one by any means. During the 2010 midterms, the landscape of Congress was rearranged with doctors and businessmen unseating seasoned, and often more moderate, Republicans across the country. A similar schism could take place on the the other side of the aisle just twenty months from now.
At this point, neither the local activist groups nor the democratic establishment seems to be playing out that storyline.
"The other groups that have sprung up have slightly different agendas but often will agree with us and many who don't will work to help us," says Stein. "We've always been trying to get our committee as diverse as possible and that includes philosophical diversity within the framework of the democratic values."
Stein and the Democrats have hosted listening sessions on the party's platform and are sponsoring a workshop for citizens looking to run for office on March 25th. Danks Burke has also dusted herself off from the 2016 election season and has founded the Trailblazers PAC to support grassroots candidates in New York and Pennsylvania.
"What I see is we're at a point in American politics where people are engaging with their elected officials in a conversation in a way that we haven't seen in the last couple of decades," says Danks Burke. "I think that's a good thing."•
Follow Vaughn Golden on Twitter @VaughnEGolden