The scene in the Jungle is familiar for those who are regularly down there. People mill about from campsite to campsite, talking, lending items, maybe imbibing a bit. Life in the Jungle, Ithaca's de facto homeless encampment in Southwest Park stretching from behind Lowe's to behind Burger King on South Meadow Street, where isolation from most of society is the norm, seems to be carrying on without much of the interruptions that the coronavirus outbreak has imposed on the rest of the county (and the world) since March. There's not many masks to be found and the mention of the virus elicits a shrug, at most. 
But while they may be subtle at first glance, there have been significant changes to life for the dozens of Jungle residents during the pandemic, and homeless advocates hope those efforts become permanent, in addition to the normal, tireless work that is put into helping the homeless population that lives there. The goal, as Human Services Coalition Housing Initiatives Coordinator Liddy Bargar put it, is to render some benefit from the pandemic by raising the standard of living in the Jungle in order to either keep residents there comfortable and healthy, or give them enough stability to allow them to leave homelessness if they so choose.
"The public health crisis made some things feel possible that had never felt possible before, and created a certain level of urgency where that urgency may have never existed in the past," Bargar said. "There's a dedicated team of people who have been working for many years on street outreach, and they do high quality work. But having the public health crisis did allow people to zero in on: Everybody else is sheltering in place in their homes, how do we make this encampment a safer place to shelter in place?"
The effort has been a collaboration between numerous groups that deal with the homeless and low-income population around Ithaca: Families and Children's Services, the Salvation Army, Second Wind Cottages, Opportunities, Alternatives and Resources (OAR), St. John's Community Services (which runs the local homeless shelter on State Street) and REACH Medical, along with City of Ithaca Outreach Workers Tammy Baker and Natalya Cowilich and the aforementioned Human Services Coalition of Tompkins County, along with the county's Department of Social Services. The "team," as they're called, formed an Enhanced Street Outreach program and have been meeting weekly to coordinate addressing different needs of the homeless community in light of new and unique threats posed by the coronavirus pandemic. 
Chief among those threats was that many places frequented by the homeless population, like the Friendship Center at the shelter to name one, were forced to close either by law or as a precaution to stop the spread of the virus. This presented a range of problems, from eliminating a main food source for the unsheltered homeless population to preventing them from washing their clothes, and the effects of the latter were quickly visible. Richard Rivera, a worker who has been on the frontlines of the pandemic response in the Jungle, said the early weeks of the COVID shutdown saw at least one case of MRSA, a staph infection and a small outbreak of trenchfoot (or "Jungle rot" as it's colloquially known) among residents, a medical condition that results from prolonged exposure of the feet to damp, cold conditions. 
Around that time is when the outreach team's expanded efforts began to take shape. Sanitation services were an early priority of the group: they secured funding from the Park Foundation to rent on-site port-a-potties for the Jungle for six months, with the Foundation additionally paying for portable housing structures which were assembled and installed at encampments by Carmen Guidi and others from Second Wind Cottages, a non-profit sober housing development that houses men recovering from addiction and, frequently, exiting homelessness. These more stable housing structures were particularly important during the early stages of the pandemic, when several encampments were forced to move as part of a dredging facility construction project in April. Guidi, who has long been heavily involved in helping residents who currently live in the Jungle and any who choose to move out, also installed hand-washing and sanitizing stations throughout the encampments, which now spread over a larger area in Southwest Park and hold, by Rivera's and Bargar's estimation, about 45 people total, making up the vast majority of the homeless population in the city.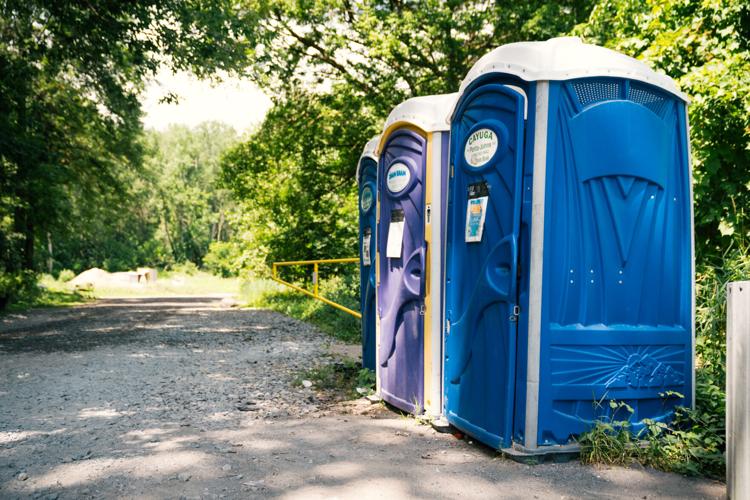 The outreach team has also amassed a sizable amount of PPE and has thus been distributing masks to residents, particularly if someone has to go into the city or visit a store (even though Bargar said there was initial hesitation to use the masks). Mutual Aid Tompkins also has one of its food sharing cabinets at one of the entrances to the Jungle, behind the Lowe's on South Meadow Street. To combat the loss of showering facilities, the team built gravity showers at encampments and organized a laundry program, providing pre-paid vouchers for residents to use at local laundromats. 
Rivera, who spent 39 years in prison after being convicted of killing a New York City police officer during a botched robbery attempt, has spent the last year at the Jungle carving out a role with two non-profit organizations (OAR and Ultimate Reentry Opportunity) by helping residents with a wide range of matters and has been instrumental in providing services for Jungle residents during the pandemic, venturing in and out of the encampment several times a day. 
"[We've] been able to provide basically everything this population needs, from medicals, to tents, food, socks, a laundry program," he said. Just providing the Jungle residents with basic access to the things that were taken away by the pandemic, like a place to wash clothes or shower, has proven to make a substantial difference in the health of residents.  "These things can be prevented with basic hygiene, dry clothes, we built gravity showers [...] Within weeks, we had no more cases of staph, no MRSA, no more Jungle rot. That's from our efforts."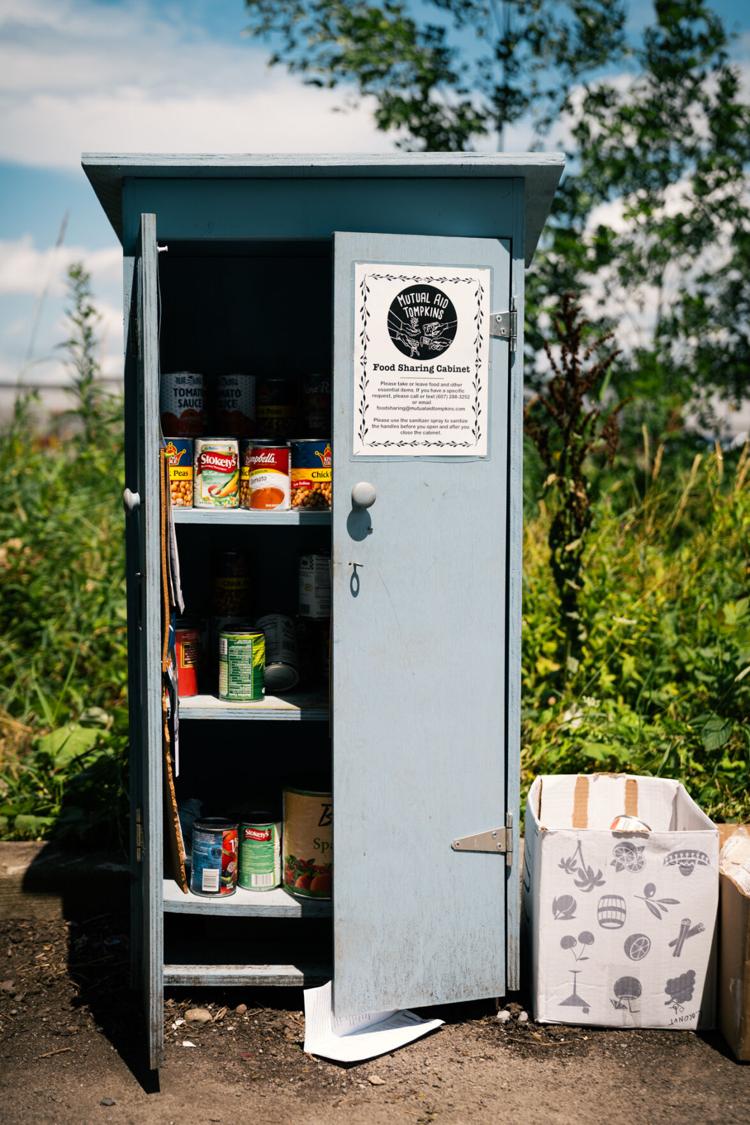 The telehealth initiative has been particularly helpful in reaching people in the Jungle dealing with addiction issues. At the beginning of the pandemic, REACH Medical clinic in Ithaca began sending a worker down to the Jungle each day with a tablet, which he takes to residents who are undergoing treatment at REACH and which allows them to attend their regularly scheduled check-ins, something REACH intends to continue even after the pandemic ends. 
"We already knew that many of our patients were unable to make it to appointments due to transportation issues and since that issue has been removed we've been able to see many more patients a day and our no show rates for primary care services have dropped significantly," REACH Clinic Director Justine Waldman wrote in an email. "We have also been able to utilize outreach to the homeless encampment as you describe with the use of telehealth and have been able to gain trust and provide services to folks there."
Daily deliveries from Rivera also include tarps to repair encampments and ensure they can keep their belongings safe and dry, as well as thousands of pairs of socks since March. For the most part, the Jungle's residents don't have too much direct contact with the general public, Rivera said, which has helped insulate them from some threat of the virus—crucially important for a group that isn't likely to have readily available access to proper healthcare if they do get sick, especially with something as severe and still-unknown as the coronavirus. 
"This is a population that isn't likely to have any contact with COVID," Rivera said. "They don't go to theaters, they don't go to restaurants, they're not hanging out in public places. [...] They move through places that normally aren't very populated." 
An example of that is Kiki Howard, a Jungle resident who spoke with the Ithaca Times. Contrary to the experience of much of the population elsewhere, she said her daily life didn't change all that much once the pandemic hit New York. But the services provided by the surrounding agencies, particularly laundry and food deliveries, did make life easier as the shutdown prevented her and others from accessing places they normally would. 
"That was helping us out a lot, because a lot of people here don't have money," she said of the pre-paid laundry program, which is now in flux though Rivera said he intends to start a campaign to reinvigorate it. "When they deliver food, that helps us out a lot [too], because a lot of people don't get out very much to go get food."
Fred and Christie, who have constructed an encampment complex of sorts separate from the traditional Jungle, express the same sentiments as Howard and others. Being insulated from the rest of the public, while sometimes difficult, is their preference and at least during the COVID era has proven safe. 
"We stay down here, don't go out in public much, so we're not too worried about it," Fred said. "Richard helps us a lot."
There's been increased help to address problems that existed in the Jungle before the pandemic hit too. More funding came through to supply 30 fire extinguishers to distribute to residents, Bargar said, and a firefighter from the Ithaca Fire Department came on her own time to help teach how to use the extinguishers in case of an emergency (fires are one of the most common dangers in the Jungle, with a wide array of causes). Also new is a pilot program of trash pick-up, which Bargar said is being funded by outside money: workers can distribute pre-paid City of Ithaca trash bags to residents, and the loads are collected once a week, which had never been the case previously. Rivera's daily deliveries include alcohol swabs and clean needles so that residents who use intravenous drugs don't have to risk serious infection. Plus, discounted meals are donated by Gola Osteria, Bickering Twins, DeWitt Cafe and Shortstop Deli and brought to the encampment's entrance for pick-up, further addressing the food security issue, and Loaves & Fishes has played an important role in providing free meals for those who can make it to their downtown location, as well as preparing them for delivery to the Jungle. 
One remaining issue, though, is finding a way to get residents tested for COVID-19. Bargar estimates that not one of the dozens of residents has been tested for the virus, and even if they were to get tested she guesses that quarantining until results are returned, as is normally required, would not be feasible given their living situation. Rivera acknowledges that the threat of an outbreak in the Jungle is troubling; so far, there hasn't been a known case or even someone showing symptoms, but the potential for a rapid, uncontrolled spread in the encampment if one person does get infected is dangerously high, he said. 
"It would be terrible," Rivera said of the potential for one case to spread. "But I walk around here with masks, and they seem to be pretty safe, and I think a lot of the folks take precautions."
Luckily, recent federal grant funding coming through the Ithaca Urban Renewal Agency could soon fill that void. Bargar said allocation of money is still being discussed, but that it is likely that REACH would receive funding to provide on-site COVID-19 testing at the Jungle for eight hours per week, while also administering testing at other places commonly associated with low-income or housing-insecure populations. 
"If we're really honest about it, this population and our lowest income population, like under 30 percent [Area Median Income], are not being tested in any great numbers,  so we're really targeting them with that funding," Bargar said. 
The impact of the widespread efforts, some ground-breaking for the Jungle, is two-fold. First, it keeps the Jungle population from having to make trips into Ithaca, for things like food and other needs, which are harder to obtain even as the shutdown begins to end. Second, it keeps the vulnerable population that lives in the Jungle from interacting with the larger community, where there have been cases and where cases continue to grow with increasing rapidity now. Long-term, hopefully, the new initiatives will join with the consistent aid work that was always going on for the homeless to make life easier for a population that could use a break or two as they deal with homelessness, either chosen or forced. 
There's a range of philosophies about what the goal should be for the homeless population, but at its core, the point is to make life for homeless people at least survivable. In Rivera's case, for instance, it's about extending the window for Jungle residents to make different choices; for others, it's about making homelessness a viable long-term option for those who wish to continue living that way, outside of a conventional housing solution. But during the outbreak, the short-term methods have coalesced and expanded in a way that does draw some benefit from the otherwise catastrophic pandemic. 
"The encampment is not an appropriate long-term living environment, and my hope is that we can find a way through relationship building and improving the quality of life for people, that they become  ready to move into housing and then we have housing available to them," Bargar said. "[But] we're certainly trying to set the stage for a higher level of care for people experiencing unsheltered homelessness."