The famed Code Red Robotics team from Ithaca High School is gearing up for the For Inspiration and Recognition of Science and Technology (FIRST) Competition once again this year. The team is being led by Sara Xin with numerous other students working on elements of the robot such as design, strategy, programming, and construction of the bot to name a few. Each year, the team receives a game manual telling them what the competition will be and some of the other aspects that will help them figure out what their robot should look like.
This year, the team has to design a robot that can do a pull-up to balance with another robot and be able to spin a color wheel, landing it on a specific color. During the first 15 seconds of the competition, though, the robot has to be autonomously powered to shoot balls through a hole in a scoreboard. The entire competition is Star Wars themed since it's being sponsored by LucasFilm. 
"We look through the rules and everything to decide on the strategy that we want for the competitions," Xin said. "After we decide on the strategy, we then decide on the different designs we're going to have for different sub-systems. Right now, we're prototyping different designs for each sub-system and we're going to finalize that design tonight. For the rest of the build, we are going to be making individual parts and assembling everything together for that."
Though their robots are designed and built with the skill of a seasoned engineer, the team is only given six weeks to ensure their robot will be competition ready. According to the team's treasurer, Albert Sun, the budget is $5,000 for the entire robot, though some of the funds are spent on prototyping and don't end up part of the final product. The motors and electronics of the robot are often the most expensive items purchased for the robot unless they are purchased in bulk, Sun said. Students stay several hours after school to work on the robot to ensure things go smoothly. Xin said that for now things are a bit calmer, but are expected to get more hectic as the competition nears.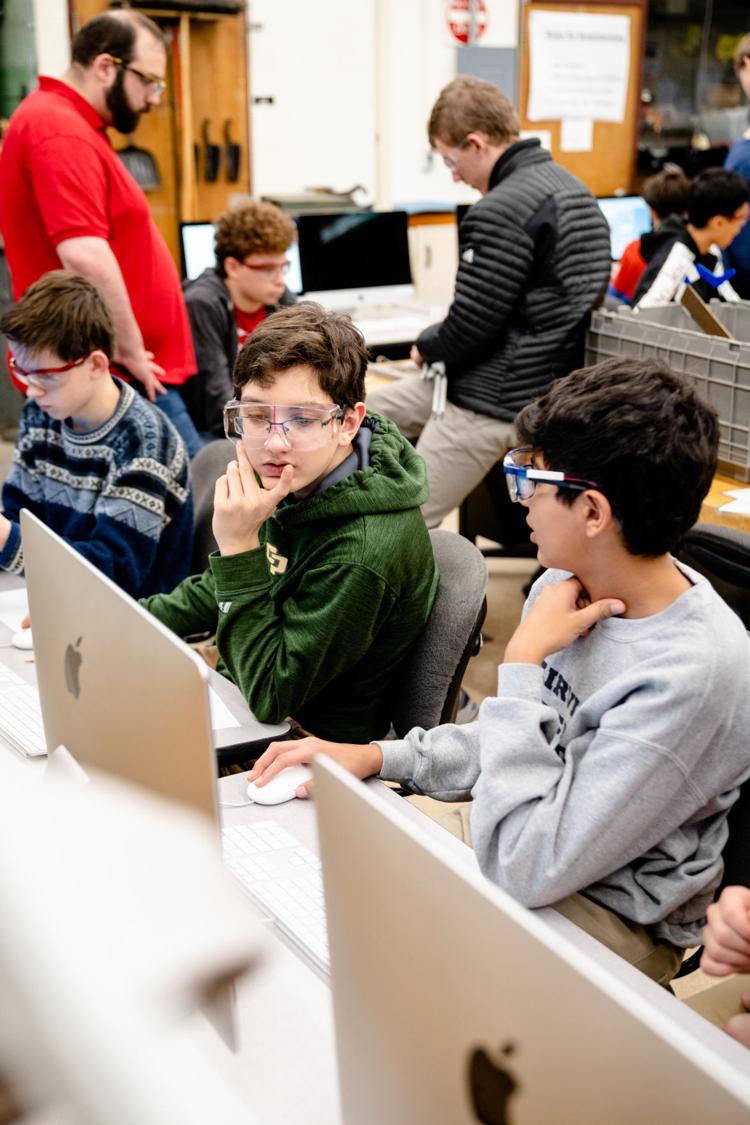 The team receives additional help from mentors such as local engineers and technical experts who volunteer their time, like Kelly Brower, a technical support specialist at Cornell who's been helping the team since 2005. He started when his son was on the team and just kept doing it because he enjoys working with students. 
Emma Hagen, the team's drive coach who has been a member throughout all four years she's attended IHS, has found value in examining robots of past competitions, which can be used to create successful robots in the future. Often team members will reflect on how one sub-team worked well or how a certain material was cut to ensure no mistakes are repeated. An example of this, she said, is that both robots from 2017 and 2018 look alike due to using a similar forklift style mechanism that allows the robots to reach certain heights, an element the team wants to keep incorporating.
"Our robots are not the smallest," Hagen said, noting the 125 lb. weight limit for entries. "Some teams don't have issues with that because they build very small and not very complex robots. We are not one of those teams. We kind of go all out and strength is a big issue. Strength is always an issue because we are slamming into other robots so frequently that we have to be strong as well as quick to get around defense and other robots that get in our way. It's definitely difficult to stay under that weight with all of the electronics, the batteries and everything else in there that adds more weight." 
Hagen added that the first 15 seconds, when the robot is piloted autonomously, are quite nerve-wracking since the team cannot intervene. She recalled times when robots would tip over, code would go wrong, or, in one instance, a robot tipped out of the arena and almost struck the judges.