Ithaca City School District gave the clearest picture of its reopening plans Thursday night at the first of a series of information sessions being held via Zoom, hosted by Superintendent Dr. Luvelle Brown, Deputy Superintendent Lily Talcott and Coordinator of Health Services and Wellness Kari Burke. (You can view the whole meeting at this link). 
During the meeting, Brown emphasized choice, and that is what seemed to be the most prominent factor in the rough plans that ICSD laid out on Thursday: parents can choose whether they want their child to have in-person instruction or distance learning online at home five days per week. There does not appear to be a hybrid option in which students could attend school physically certain days of a week and then would learn online for other days.  
"Today we know that we are in a situation here in Ithaca, in our region, we know that the Governor has given us the go-ahead to engage in conversations and planning to open our buildings in-person, virtually or other accommodation," Brown said."We are taking an approach to this that honors who we are."
Optimistically, Brown said he would like parents to make their choice of either online or in-person for their child and have it stick for the full semester, but it's clear that could be a moot point if schools are ordered closed again or something arises with the child individually. Brown had previously expressed some level of interest in a hybrid-style model, but said that after further examination the district didn't feel it was the right strategy. 
"As we reflected on our true values and that notion of choice, from my perspective that's not much choice," Brown said. "We really struggled with that, if we truly want to be student- and family-centered and also say that we are offering choice."
Obviously, things could change as soon as next week, Brown acknowledged, depending on the outbreak's level of intensity in Tompkins County. The district has yet to submit the plan to New York State, and the state still has to approve any plan before it can be initiated.  He allowed that pivots could be made, including implementing distance learning again for all students for a day, a week, etc., depending on the virus.
Talcott said that further details about the distance learning program would be revealed in the coming weeks, but she laid out an initial plan that would entail different learning time periods each day, as well as specific group and individual learning approaches for different grades (see full available details below). Talcott said they are preparing to distribute iPads to each kindergartener and first grader so they can participate in distance learning classes. (Synchronous means real-time instruction, asynchronous means learning that can be done anytime, like reading or projects, etc.)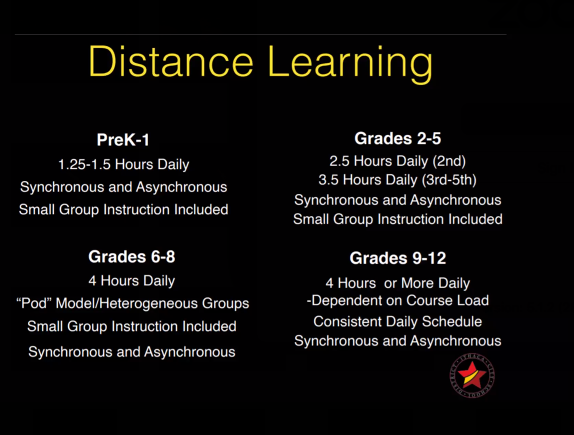 Talcott said the district had been working with Ithaca Teachers Association President Adam Piasecki on the plan that will be submitted in order to keep teachers in the conversation. During her portion of the presentation, Talcott seemed to acknowledge that the likelihood of another mandated building closure is fairly high, either from the state level or because of a case inside the building. In this case, being able to promptly pivot to distance learning is going to be crucial. 
"We know that for those who may start with us in person, at some point it is very likely that our school buildings will be forced to close again," Talcott said. 
Several questions were asked about what would happen if too many people chose one option, of distance learning or in-person instruction, over the other. Brown said the district's surveys among teachers and families, which he maintains faith in, show that will not happen and that there is enough interest in both to sustain the plans. 
"You wanted us to be innovative, this is what that looks and feels like [...] The ratios will work out," Brown said. "Trust us to figure out how to engineer those experiences so that they work for our young people. [...] There is no formula or special threshold we're looking for."
Talcott continued that the district's commitment to the plan is clear and that they are willing to "figure it out" by keeping different parties involved moving forward. This question evoked arguably the most vague answers from the district officials. 
After that, Burke clarified the protocol about if a positive test is found among a student or staff member. 
"It depends," Kerry said "If we find ourselves in an elementary setting where we are adhering to rigorous cohorting, if there is a confirmed case in a classroom, it could be that the health department asks an individual class to quarantine rather than the school."
Go to https://www.ithacacityschools.org/reopen to register to attend the two remaining information sessions, on Sunday, July 26 at 2 p.m. and Tuesday, July 28 at 8 a.m.