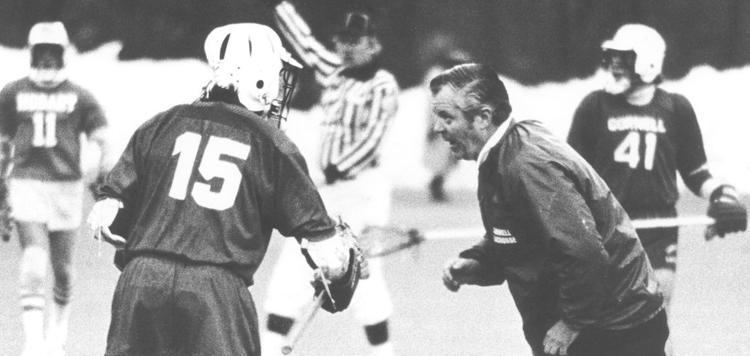 When his phone lights up, Steve Lawrence admits to having a few "not now" moments upon looking at the caller ID. But when he sees Richie Moran's name on the screen, he always answers. It's almost mandatory.
Moran, the lacrosse hall of famer and three time national champ (four, if you count the one he won as a player) has been a constant in Lawrence's life since they met at the legendary Cornell coach's lacrosse camp in '81. Lawrence, a former West Coast pipedreamer and, for many years, sports columnist for The Ithaca Times had earned a reputation with Moran over the years, the pair meeting every so often for a lunch here and there now that the two no longer worked together, the pair building on a relationship that had begun years before to the point where they knew each other as well as the walk from Teagle to Schoellkopf. 
So one afternoon in mid-2015 when the technologically-averse Moran called up Lawrence for a lunch at Wegmans saying he had a project, Lawrence – who knew coach as a bit of a prankster – assumed there had to be some sort of catch involved. Moran, however, was all too serious about the meeting.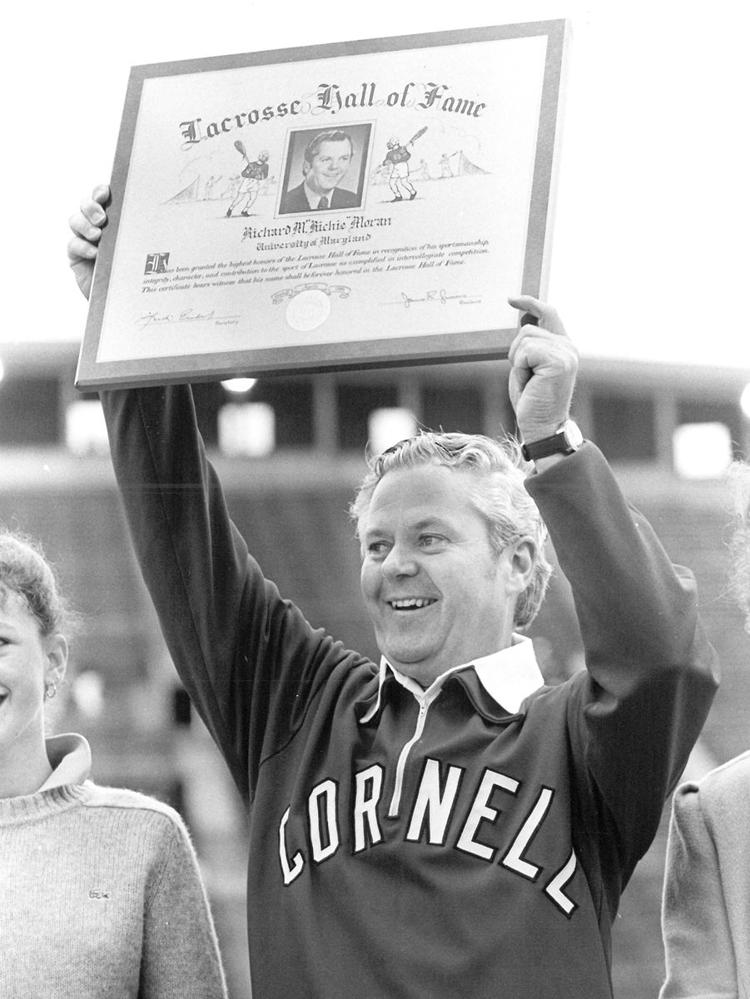 It was back in 1985 when Moran, while out on a walk with Irish literature scholar and Cornell professor Phillip Marcus, was told that given the breadth of his life, experience and accomplishments, he should look into committing it all to paper. The book, Marcus suggested, would focus not on the strategy of lacrosse – the X's and O's that had made Moran so famous – but on his life's lessons and perspectives, the way he treated people and approached daily life. An outline was written and, for years, Moran sat on it, writing a chapter here and there before becoming discouraged and putting it aside, to be finished another day.
Then, in January 2015, Marcus died – aged 73 – and Moran was left to ponder that outline. It wasn't until last summer, while on a walk through Taughannock Falls, where he decided to revisit the idea of writing a book.
The reason wasn't simply to pay his dues to Marcus, who had gone through extensive efforts to piece the outline together. It was the inspiration of his Irish grandparents – a couple he had never gotten to meet – and his own introspection on life and what it meant to teach that pushed him to move ahead.
"I was by myself, watching my grandchildren up at the lake," Moran said, "watching them play and swim around, play bocce, kayaking, all that stuff and I started thinking: I never had a chance to meet my grandparents… they never had a chance to witness what I'm witnessing. So I really thought I'd like to put a manual together."
For a while, Moran started jotting things down. But as time went on, he realized he would need to go even further. He needed a writer, someone who's written a book before and knew the nature of the work required to publish a book. Though friends for more than 30 years, Moran had read Steve's column in the Times – more a "people column" than a sports column, Lawrence says – and over the years, had seen how he had a feel for people and how much he enjoyed the act of interaction.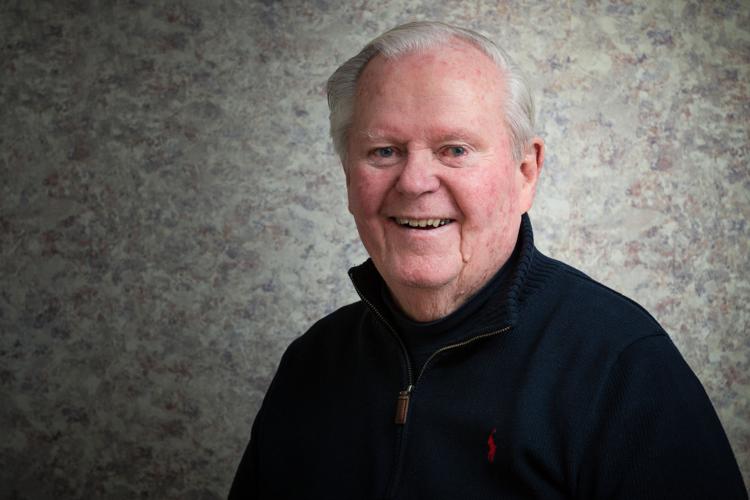 "I always liked his approach with people," Moran said. "He was outgoing, he had an excellent personality… he was perfect for his job. He changed the attitudes of some of the people he worked with. He was so nice, it became contagious. I always liked that." 
On paper, the pair seemed to have little in common. On one side you had Moran, the star athlete and former marine, a man whose life had been dictated by a regimented timetable in the neverending lifecycle of the college coach; of preparation and performance. On the other, you had Lawrence, the picture of a writer whose background – before sportswriting – was in massage, a decidedly non-Ivy League kind of guy who somehow, ended up in a position in one of the most prestigious institutions in the country. Where the pair seemed to intersect was in their perspective, in the way they both approached people. In Lawrence, Moran saw somebody with an eye for the highs and lows of humanity, a person with the ability to hear the direction of a person's life and find the essence of their purpose: to Moran, Lawrence was someone who could do more than listen: He was a guide. 
"It shows you opposites attract, but here are two of us with this same outlook on helping people, and the way he approaches people brought me a lot closer to him," said Moran. "The title 'friend' is wonderful, but he's more than that. He's the type of person I want my players to be, the guy who steps up and is accountable." 
Moran was a bit different, Lawrence said. As an observer, he noticed that coach had a way of dealing with people, whether as a recruiter or in how he meshed in the campus community. Moran, Lawrence said, was an ordinary man who stumbled into a legend.
"It was very clear when he saw people, whether it was someone cleaning tables or the CEO of a big corporation, he made them feel special," Lawrence said. "I always wondered about the origins of that." 
It might have been the frame in which Moran's worldview was formed. The last of eight children, Moran was a son of the Great Depression. At the age of five in the onset of World War Two, Moran became the man of the house when all five of his brothers went into the military (and four came back) and his dad became a shipbuilder in Tennessee.  
Whether it was the team's towel boy or the president of the university (whom Moran had the privilege of being squash partners), Lawrence saw the coach's ability to connect everyone to a place of respect and give everybody's words equal weight. It's a topic the pair attempted to broach in the book, finding exactly where Moran's sense of respect originated.
"I saw he really valued his relationships with people because at the end of the day, you just don't know if they're going to be there tomorrow or if they're not," Lawrence said. "That historical perspective for his story really laid a lot of ground for the development of how he came to care so much about the people in his life… to see how he was shaped by a series of events that shaped the whole world."
And so it went. Throughout the next several months, the pair would meet at the Ithaca Yacht Club, several hours a day, three days a week: Steve would bring Moran a donut for sustenance, the duo would sip Sprite and with the lake as a backdrop, the pair would go back and forth, Moran the subject and Lawrence, the interviewer. Because of their relationship, there was never any reluctance to ask questions: they had a dialogue rooted in a place of comfort to they point there was no need for bravery in Lawrence's questioning. The yacht club, Moran said, was his "field of dreams" – it generated a calm and an open sense of vocality for the few hours they met each week. This was vital to truly delve into the essence of what made Richie Moran, Richie Moran: to find the mettle of a man, it takes honest answers to tough questions, a willingness to talk honestly and candidly about everything from the people you've met to the times you'd lived through: to truly break through, Lawrence said, he had to focus on asking the right line of questioning, using each man's individual understanding of each other to raise the grain of Moran's character.
A man's life story, they found, is never simply told, and Moran's began long before setting foot on Cornell's campus in October of '68. Over 350 pages, Lawrence and Moran thoughtfully weave in and out of each and every one of Moran's 80 years, giving little more than a nod to the X's and O's that made him famous. Rather, the discussion (the book is in Q&A format) mostly follows Moran's personal relationships, from his marriage and his childhood to his days as a member of the powerful teams at Sewanhaka High School, a group even today, he still meets for breakfast at a Commack diner each year. He tells of the times of triumph – and disappointments – and of the lessons he as a coach attempted to instill in his players. He even talks about what he learned himself.
One of the most powerful chapters in the book delves into a dark period of his life, a time where the ceaselessly optimistic coach suffered through a crippling depression, a time of adversity where he thought, for a brief while, he might not get through himself.
But, being a fighter, Moran got through and, being a teacher, he aspires to be a guide. By being open about his struggle, he said, he wanted to help others push through.
"I want people to realize no matter what hardship you have, there's a way of making things better," Moran said. "I want them to have the feeling they're not alone, whether in their vocation or their family. I want them to know that there's always someone out there willing to help you. I want them to have respect for everyone out there, to be accountable for the things that they do. I want them to share their successes in order to help others."
In his day, Moran has made an imprint on a number of people: four star generals, Fortune 500 CEOs, even NFL players are given gratuitous name drops throughout the book's twenty chapters. In one of the final chapters, rather than the Q&A that serves as the core of the book, numerous players penned testimonials to their experiences playing for Coach Moran, digging deep into their most treasured memories with the program and sharing what they'd taken away from their years in a Cornell uniform. But it's in the book's foreward, penned by ESPN's Jeremy Schaap, that might be the most powerful.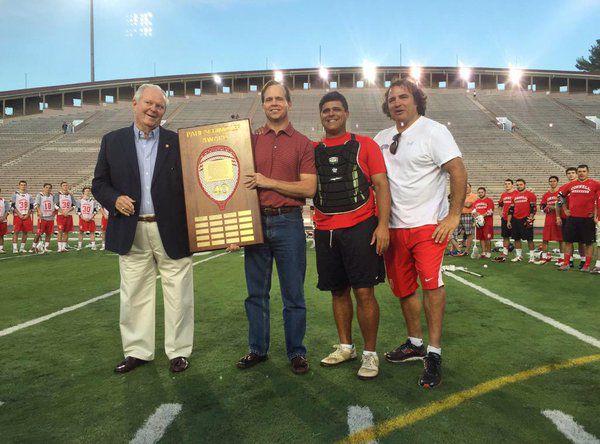 Schaap first met Moran at a matchup of Cornell and Rutgers in 1976 with his father, Dick, a former Cornell lacrosse player who played in the '50s against the likes of players like Syracuse's Jim Brown, who to this day is still considered the best to ever play the sport. Even at the age of six, Schaap wrote, he could sense the phenomenon that was Richie Moran, saying that as far as coaches go, Moran was the greatest of all time. Not because he was a winner, which he was, but "because of his capacity for love, to love and be loved."
"In my book," he wrote, "that's the best kind of greatness."
Moran's book, "It's Great To Be Here," will be released on Saturday, January 28 in a celebration at the Moakley House at the Cornell Golf Course on Warren Road, taking place from 1 p.m. to 6 p.m. More information is available at richiemoran.com.
Follow Nick Reynolds on Twitter @Nickthaca