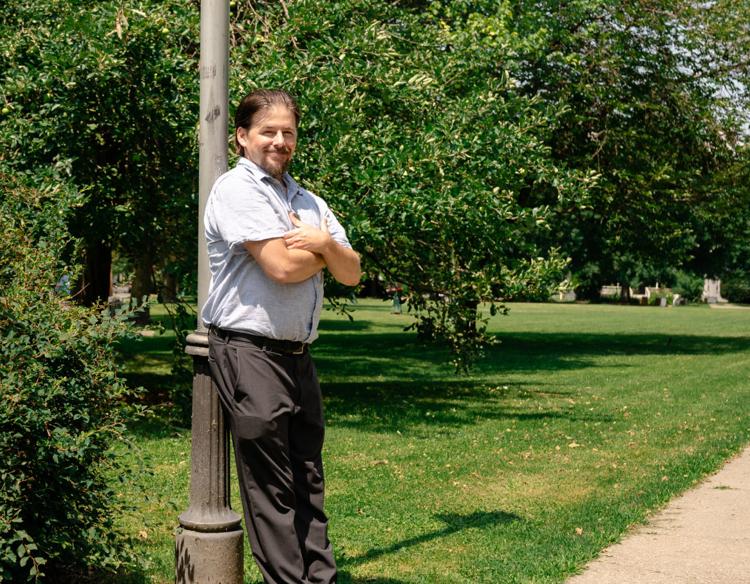 Relaxed, Michael Ingiosi sits in his office within the winding halls of Cayuga Addiction Recovery Services (CARS). He's spent plenty of time in this building, though only during the last three months has he had an office. Prior to his hiring as a peer advocate, he was on the other side of CARS, a patient struggling to get clean just the same as the countless people who pass through the front door every day, seeking help from Ingiosi and others. 
CARS is a drug rehabilitation facility at the corner of West State and Plain Streets, a haven in downtown Ithaca for those battling addiction and one of the faces of the recovery community in the city. It was there that Ingiosi spent part of his recovery years ago, and he's come a long way since: He received his three-year chip on July 26 at a crowded ceremony, marking three years of sobriety for him and celebrating nine others who were also receiving chips for various thresholds of sobriety. His parents and partner, Sarah, were in attendance at the closed-door proceedings. 
The day was clearly significant to Ingiosi, as it was the first time he had invited his parents up for one of the ceremonies, which are held monthly during someone's first year of sobriety, then annually after that. 
"It means regaining joint custody of my sons, being an active, positive part of their life," he said. "Being happy. Having a career here where I get to help people get healthy, sane, clear-headed again. It means all those things. I feel that every day, but it kind of commemorates it all into this day. It was a painful time, but the journey had to start that way; my recovery—the early part of it had to be spent in the hospital getting heart surgeries. But that's okay. I've got a story now that can hopefully inspire others that they can overcome these things with help."
Ingiosi's story is indeed inspiring, but as is often the case with people who have overcome struggles with addiction, that is partially due to how radically their lives were torn apart by substance abuse. 
Starting in his teen years, Ingiosi's first issues with alcohol and other substances appeared, for which he had sought and received treatment. Since he was years removed from those troubles, it didn't strike him as likely that he would struggle again with a different addiction. But it started with a back injury at work, after which he was issued his first opioid prescription to deal with the pain, a story likely all too familiar to those who have dealt with painkiller dependency. Ingiosi wasn't sober prior to that prescription, but he also was able to effectively keep a lid on things and had a family around him. 
"It felt like my life was manageable," he said. "It quickly became unmanageable when opiates entered in [...] It was love at first sight. Other people noticed that I did not react well to them, but I thought it was the best thing ever." 
Ingiosi's path has one crucial element that most other people in addiction recovery don't face: a congenital heart defect, called aortic stenosis, which would require a heart surgery in his 30s. The surgery went very poorly, requiring numerous follow-up operations. The heart condition prevented Ingiosi from being prescribed anti-inflammatory medications because of the inherent cardiovascular strain they carry, so doctors instead developed a more long-term prescription opioid prescription plan for Ingiosi. This, of course, sent him deeper into the throes of addiction, this time with medical assistance and approval. 
It still took time before Ingiosi realized the impact the drugs were having on him. While his friends and family noticed almost immediately that his behavior promptly turned erratic, hyperactive and obsessive (mostly about the pills), he was in a state of constant, drug-induced peace. There were plenty of shields for Ingiosi to put up, though he admits they were out of denial: After all, he had hurt his back and these were medically prescribed, so what was he supposed to do? Plus, he had lost his first love to a pill addiction in his 20s, so he knew the risks. 
Ingiosi isn't one to pick out single moments as "turning points" or use cinematic terms like that. But he knows what his rock bottom was. That came in the summer of 2016, when after six months of sobriety, helped by a routine of going to CARS, Ingiosi relapsed. This time, Ingiosi said, he wasn't sure recovery would stick; it was like he "let a monster out of a cage, and he had me in a chokehold and wouldn't let me go." Before the six months of sobriety, Ingiosi's addiction had expanded from solely pills to include abusing opana, a powerful prescription opioid, and shooting heroin, habits he returned to during the four-month relapse. That period hospitalized him at Cayuga Medical Center due to a series of breakdowns, got him booted from the CARS recovery program because he refused to seek in-patient treatment out of humiliation, lost all custody over his twin sons when his ex-wife discovered his condition, and was diagnosed with Hepatitis C, all in a span of four months. 
The obstacles would continue to mount, even when Ingiosi again found sobriety, as 10 years of off-and-on drug addiction wrought its toll on his body. He had developed abscesses during his relapse, which became infected. As a result, a few months into his recovery he was diagnosed with endocarditis and sepsis, marked by constant weight loss and night sweats. Ingiosi spent his first several months of his current recovery in a hospital bed recuperating from a variety of addiction-related maladies and three open heart surgeries that took turns threatening to end his life. 
"I felt like, maybe, I'm just not meant to get this," Ingiosi said he felt at the time about his relapse and his chances of ever fully beating addiction. "I really did not feel hopeful about it. I felt broken. But by the time I decided I had to get clean, I was very determined [...] Everyone hits some kind of bottom, usually numerous bottoms, and there's always a trap door there and it can always get worse."
Sure, he had beaten his addictions before, but those victories had only been temporary, and now he was in worse shape than ever. While he doesn't call it a "come to Jesus" moment, it's clear the loss of custody of his sons might have been the single most significant factor in his recovery. Finally, in January 2017, Ingiosi was released from the hospital and came back to Ithaca, diving headfirst back into the recovery community. 
Luckily, despite plenty of self-doubt and the evaporation of trust from those around him, Ingiosi slowly built himself back up. Earlier this year, he was hired at CARS in the newly created peer advocate position, part of a growing sentiment in the recovery community that people who are in recovery themselves are quite possibly the best equipped to help others who want to enter it also. The hiring carried some symbolism for Ingiosi, too, as he was welcomed back to the same treatment facility he once fled out of shame. 
"So much of addiction is in hiding, it's in shame, it's in the closet, and it's in the dark," Ingiosi said. "People are ashamed of it. I was ashamed of it. [...] But I'm willing to talk about it—not just the overcoming, the glory and the triumph, but the darkness."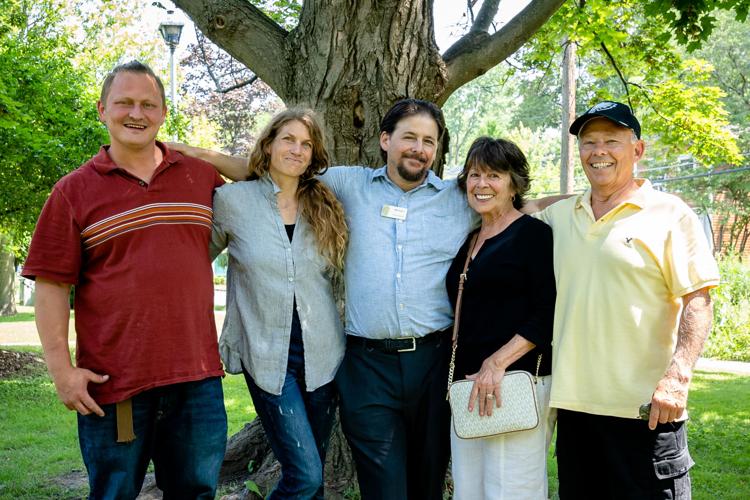 As a peer advocate at CARS, Ingiosi has a wide range of duties. The position is new, so its responsibilities are flexible and involve quite a bit of getting out of the building and into the community. He attends court hearings on behalf of clients to advocate or provide updates to the legal system for them, meets with clients at CARS and assists them with housing and legal issues, interacts with the Department of Social Services, etc. Ingiosi is not a counselor, which can be both an advantage and a disadvantage. Familiarity helps Ingoisi in his professional life. Not only is he obviously familiar with the depths of addiction and the struggles that can come with attempts to stabilize oneself, but one way or another, Ingoisi knows many of the patients themselves, and they know him. 
"I know a lot of our clients already, from meetings or other places around town," Ingoisi said. "That gives me an in. I don't have to go through the awkward initiation phase. [...] It's like an easy way into their comfort zone. I can relate to them, and they know I've been through it."
Ingiosi credits a lot of his continuted sobriety to his support structure. The people he can lean on for support are now so strong that he says even the emotional toil of constantly working around other people struggling with addiction, plumbing depths that are quite close to the ones he's intimately familiar with, hasn't pushed him to fall back into old habits. It wasn't always that way, though. Another contributing factor of Ingiosi's relapse was trying to help someone who was still using drugs before Ingiosi's recovery was stable enough, which helped lead him to start using again. When recounting his journey, Ingiosi makes it a point to accept blame at nearly every turn of his story like accountability is a crucial component of his continued sobriety. But whoever or whatever is to blame, those closest to him glowingly talk about his progress. 
"There's joy in him, there's happiness, even just since he got this job helping others," said his mom, Barbara Ingiosi, of the differences between now and when her son was addicted. "To see that he respects himself again and takes care of himself [...] Everything went by the wayside when he was a drug addict. The joy he takes in family, in his boys, just in waking up in the morning—it's just hearing his voice with a lilt in it."
The July 26th ceremony was also attended by Clay Hapstak, who's helped and been helped by Ingiosi as both navigate addiction recovery. When Hapstak first moved back to the area, he was connected to Ingiosi through a lawyer they shared, and he used to ask Ingiosi for rides to recovery meetings during his first months in town because he didn't have a car. They spent that time bonding, a friendship built out of shared struggles that still stands today, 18 months after Hapstak came to Ithaca from Syracuse. Hapstak, who also works as a peer advocate, credited Ingiosi with being an important part of his support system and said their experiences fit well with the responsibilities of the job. That's perhaps even more true for Ingiosi, whose story of near-death and subsequent recovery is about as intense as they come. 
"Mike, at one point, being on his death-bed," Hapstak said, his voice trailing off. "When the valleys are that deep, it makes getting back to level-ground an accomplishment, let alone the peaks that he's been able to have in his life." 
For Ingiosi, it's about doing what many others have done before him in trying to contribute to the healing process of those who are facing the same challenges. But more specifically, he knows that he put many people through a lot of pain: himself, his ex-wife, his parents and his children especially, but virtually everyone else around him too who, for a decade, desperately wanted to see him get back to being the Michael Ingiosi that they knew. Now, he's putting in the work to repair things with them (like recently regaining partial custody of his children) while trying to ensure others don't have to fall so far to bounce back. 
"All that pain and suffering was not in vain," Ingiosi said. "It's providing me a meaningful life today of helping other people. [...] I can use this gift to help others, and I believe you have to give it away to keep it."