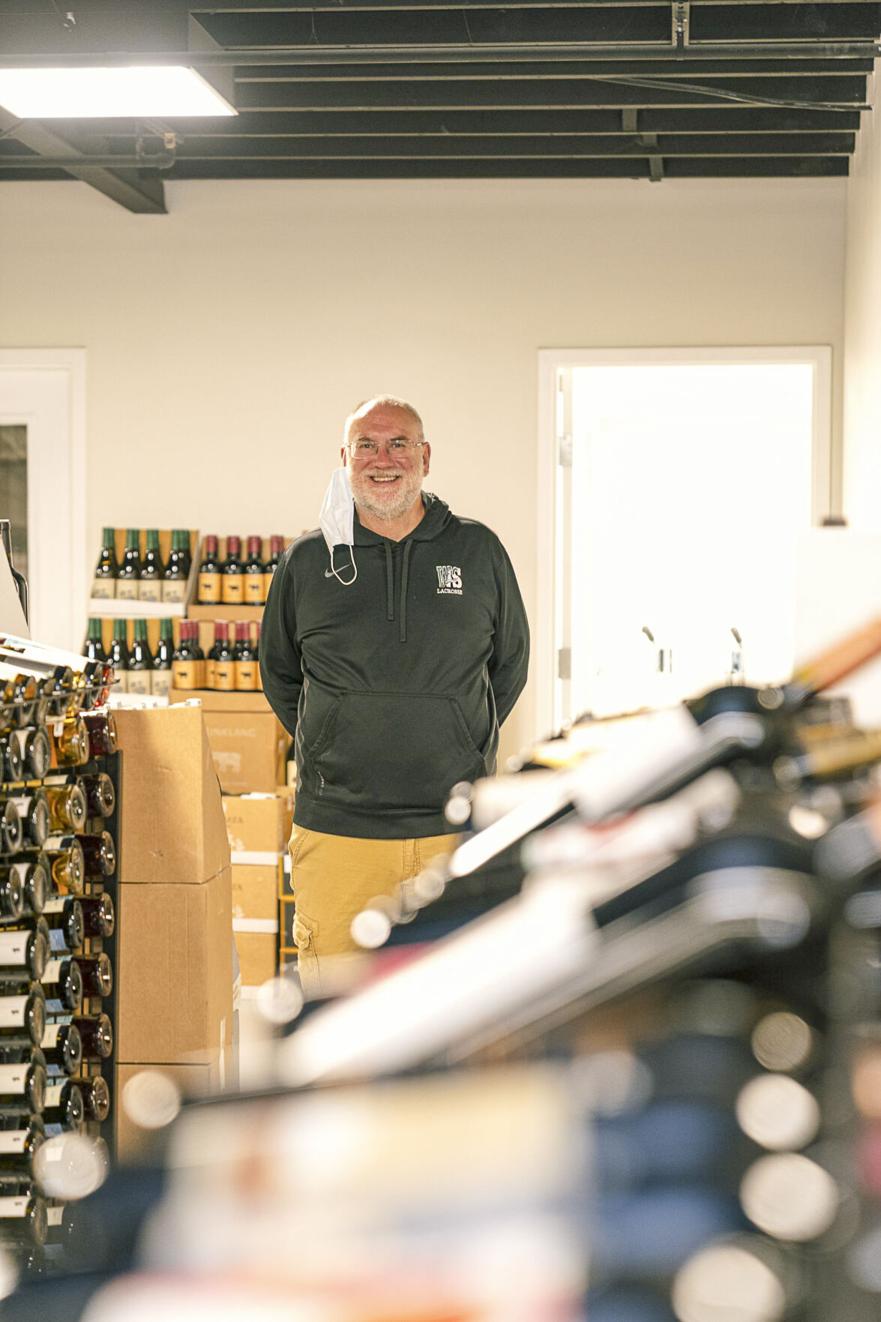 Before working as a wine merchant and serving as the owner and president of the Falls Wine Room, Chip Hughes wanted to be a chef. But being skilled at cooking and studying at the Culinary Institute of American only strengthened his love for the intoxicating beverage, he said.
"If you're a wine person, and you don't have a good command of food, … it's like watching a TV show in black and white," he said. 
The Falls Wine Room is a retail wine store that opened early this year on State Street. Hughes said he and store manager Katie Janke hope to bring wines from around the United States and other countries to the Finger Lakes Region — an area known for its wineries, breweries and cideries.
Usually the retail store also welcomes visitors inside for tastings and educational courses, Hughes said, though happenings like this have since been stalled because of the COVID-19 pandemic. The shop offers local delivery and shipping to approved states.
Hughes said sales at the wine store have been largely stable during the pandemic, a result he thinks is because people are drinking their wine at home rather than at a restaurant. Wine and liquor stores were deemed essential businesses and have remained open throughout the pandemic.
"We never had to close for a day," he said. "In a strange, but not strange if you think about it for a minute sort of way, our business went up a lot, and it's been growing ever since the quarantine was imposed. … If you're going to cook three meals a day at home, and you're going to do everything in your life from your home, that includes eating and drinking."
Janke moved from Minneapolis to Ithaca and first got involved with the wine store in March, right before shut downs related to COVID-19 were put in place. 
"I am completely smitten with this part of the country," she said. "It reminds me a lot of the smallish Minnesota town that I grew up in."
With 15 years of food and wine industry experience under her belt, Janke said her degree in horticulture with a focus on viticulture, or cultivating grape vines, has allowed her to focus on the organic, biodynamic family farms. 
"It allows me to speak a little bit more to … what goes into producing that bottle of wine," she said. "I have a lot of relation to the local growers, too. It's really fun to be in a community where they're actually doing all that."
Perhaps the most defining aspect of the space itself is its temperature. All inventory at Falls Wine Room is kept at "cellar temperature," or 56 degrees Fahrenheit, ensuring customers will "experience each one of our selections in the condition in which the artisans who vinified it hoped it would be enjoyed," according to the store's website.
Hughes said the decision to keep the store at cellar temperature was also a way to save money. By December, the store will have industrial compressors to regulate the heat in the retail shop rather than the air conditioning it uses now. 
"What the new system does is essentially turns our store into a giant refrigerator," Hughes said. "It'll be at a constant 56 degrees at a much lower cost, much more efficient."
Nate Cook is minority owner of the Falls Wine Room and an entrepreneur-in-residence at Cornell University. He said he thinks customers' preference for delivery is a result of both the pandemic and that people are transactional in nature. Of the wine stores in Ithaca, Cook said Falls Wine Room stands out because of Hughes' and Janke's knowledge, as well as the variety of wine to choose from.
"Wine connoisseurs really do enjoy being able to talk about the product with the folks that are at the store," he said. "I do hope it becomes the preeminent wine store, and I think, to be honest with you, I think it's already achieved that. But [it's] a wonderful place for those that love wines to, […] in the future, congregate and share stories about what their passion is."
Janke said she thinks relationships between Falls Wine Room and other wineries or retail stores will become more prominent when the pandemic is over.
"I imagine that those relationships will grow a lot over the next coming years as we kind of get out of this pandemic portion of life and move forward," Janke said. "I'm super excited to meet and chat with a lot of the local growers around here. I'm very excited about it."