ITHACA, NY -- A man was rescued by the Ithaca Fire Department after he fell roughly 75 feet inside the gorge trail in Buttermilk Falls State Park.
Tompkins County Dispatch received a 911 call just before 8 a.m. on June 8 from hikers on the gorge trail stating there was a man who was off the trail and needed help. The Ithaca Fire Department and Bangs Ambulance were sent to check on his condition.
First Responders were on the scene minutes later and found that the man was on a ledge atop a waterfall inside the gorge. Crews used a rope system to lower themselves down to the victim and when rescuers made contact with the man, he stated that he had an ankle injury and needed help getting out. The man was secured inside a rescue basket and raised 75 feet back up to the gorge trail where he was immediately attended to by paramedics. NYS Parks employees transported the man out of the park to a waiting ambulance by UTV. Along with personnel from Bangs Ambulance and NYS Parks staff, Ithaca FD was also assisted by NYS Park Police.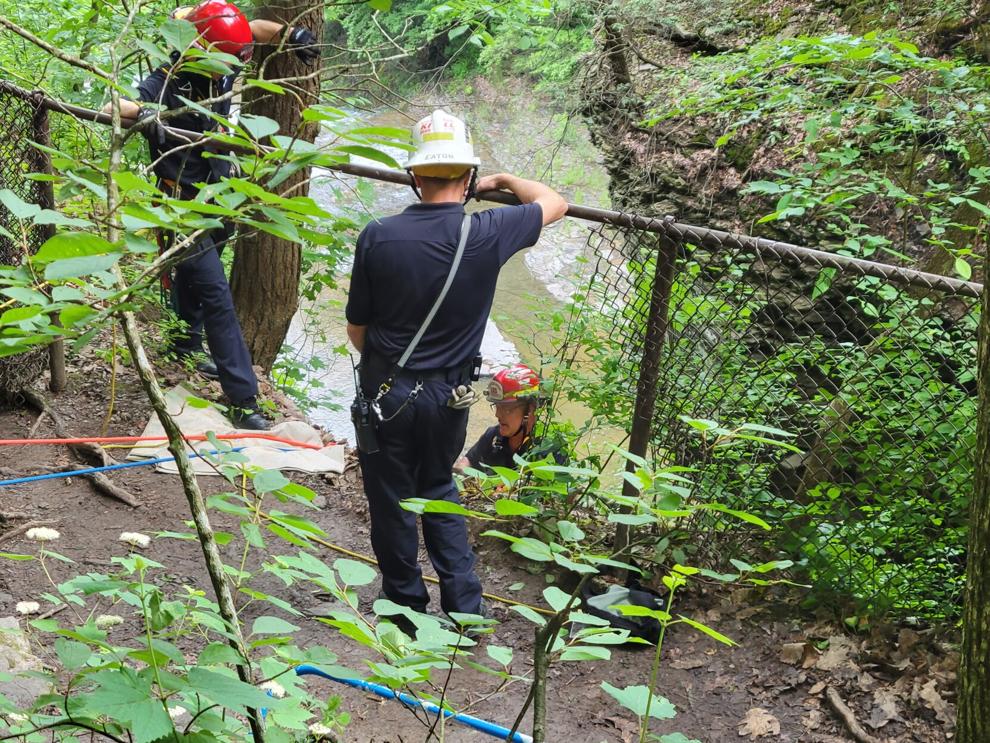 While this rescue was going on, the department also responded to a reported trailer on fire in the city. When crews arrived at the lot on West Green Street,  they found a camping trailer that was fully engulfed with flames.  Firefighters quickly deployed a hand line and began knocking the fire down.  Other members went to a nearby building to ensure there was no fire inside it as the siding on the outside was melting from the flames.  A second alarm was struck to bring off duty staff in to assist and Cayuga Heights Fire was requested to stand by for Ithaca.  
The camper fire on West Green street had no injuries and was under control in about 20 minutes. The rope rescue at Buttermilk took approximately three hours. 
The Ithaca Fire Department reminds everyone when hiking on approved trails, to always carry a cell phone with you, hike with a partner, stay hydrated and take note of trail markers and landmarks. Know where you are in case you need to summon help.