On a September day last year, a hundred crossword enthusiasts both near and far (one participant was all the way in Australia) gathered to virtually compete in the Finger Lakes Crossword Competition. Each had received an envelope containing the crossword, a few other small games, and strict instructions on how to accurately time themselves.
"It was an honor event," said Gary Weissbrot, the competition's ebullient organizer who had been in charge of shipping out the envelopes to all the participants. "I figured your main prize is bragging rights and you really can't have bragging rights if you cheat. Like who are you fooling?"
The Finger Lakes Crossword Competition is an annual fundraiser for Tompkins Learning Partners (TLP), a local non-profit that supports adults who want to learn English, basic math, and computer skills. Weissbrot, who has worked with TLP for several years, was inspired to host the competition after watching a documentary that featured New York Times crossword puzzle editor Will Shortz and celebrities ranging from comedian Jon Stewart to President Bill Clinton. "I watch this film and I realize that everyone I know does crosswords. So I think this could be an event," said Weissbrot.
Now in its ninth year of crowning the cruciverbalist champion, this year's competition will have both an in-person event (COVID permitting) at the Boynton Middle School cafeteria and a virtual "honor event." The in-person competition will take place on Sept. 25 from 1-4 p.m. while participants who opt for the virtual competition will have more flexibility of when their puzzles are due. "One of the reasons I wanted to have a virtual option is because we had all these out of town people playing, and I wanted them to be able to play again," said Weissbrot. "But even local people are doing the virtual event because they're partnering up with people in other states."
Tickets, which are suggested donations to TLP, range from $50 for an individual player to $90-$150for a team of two to four players. Weissbrot stresses that any donation helps. "We've had people donate $20, $30, $40 entries and on top of that we've had people paying $100 instead of $50. It more than balances out and it really works so that anybody can play," he said, noting that each year, the event has surpassed the previous year's donations. In 2019, the fundraiser was able to raise over $10,000 for TLP.
Alongside being a fundraiser, the Finger Lakes competition has many unique features. The first is that participants can work with others, which typical crossword competitions don't allow. "I haven't heard of many marriages ending because of it. Although maybe a few…" Weissbrot joked. Additionally, participants can choose what level crossword they want to compete with. Adam Perl, a New York Times crossword contributor (you may also know him as the former owner of Pastimes Antiques in the Dewitt Mall), creates three levels of puzzles specifically for the event: the easiest is the Monday puzzle, the intermediate is the Wednesday puzzle, and the toughest is the Saturday puzzle. 
"I love to do the competition in person, which we obviously can't do easily during the pandemic era. But it's fun to watch people solving the puzzles, struggling with them, laughing occasionally, and enjoying themselves," said Perl. "I think it brings the community together and people are happy to support this particular project."
"Of course being Ithaca, lots and lots of people do the toughest one," added Weissbrot.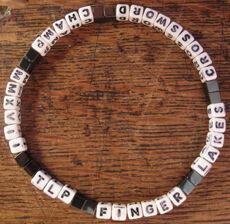 Longtime competitor Leigh Keeley attempted the Wednesday puzzle last year and was shocked when she found out that she had won. It had taken her 21 minutes to solve the puzzle (the Monday and Saturday puzzles had been solved in 4 and 6 minutes, respectively). "I couldn't believe it," Keeley said. "I looked at the times and even [Weissbrot] said the intermediate one seemed like it was harder than the hardest one."
Like all past winners, Keeley received a bracelet with "TLP Finger Lakes Crossword Champ MMXX" spelled out in beads, a certificate, and of course, bragging rights. "The event is a lot of fun," said Keeley, as she fastened the bracelet. "And I also enjoyed winning!"