The names ring out as somewhere between vaguely familiar to well-known to people of younger generations who grew up alongside the rapid evolution of video game systems: "League of Legends," "Overwatch," "CounterStrike: Global Offensive," the Call of Duty franchise, and of course, the ubiquitous "Fortnite."
To those that have no idea what any of those words mean, you may soon. They're video game titles, the ones used most often as the battle arenas for esports programs across the country. According to the Ithaca Times' poll last week, over 60 percent of our readers don't even know what an "esport" is, despite its growing nationwide popularity. They've even been featured on ESPN, though still more as a novelty, primarily relegated to time slots akin to Sunday afternoon billiards trick shots or late-night paintball tournaments, while professional sports leagues like the NBA, NFL and Major League Soccer have all initiated their own esports leagues.
Regardless, the low awareness is not entirely surprising. Although video games have long been dismissed as a brain-draining time-waster, playing them competitively (otherwise known as esports) has emerged just over the last several years and is now gaining traction professionally, at the college level and even younger. One such local example: Ithaca High School (IHS) now has its own esports program, which has gathered 30 regular members in its first few months of existence.
Dylan Myler, one of the club's officers, said the group meets weekly on Tuesdays after school to practice, discuss strategy among different teams (there are several different game options players can choose to compete in) and organize competition registration. Their teams compete against other teams across the country, usually divided into regions, and at the end of a weeks-long season playoff participants are determined.
The group's popularity doesn't seem to have especially surprised Myler. Esports is dynamic, he said: there are always new tweaks, updates and balances being made to games, and moreover, there's always another new game right around the corner. He expects the group to grow bigger once equipment is upgraded from the older computers they currently use and they begin a more dedicated marketing push for new members.
IHS has clearly decided that the esports program is worthy of investment and resources, as an increase in funding and potentially more legitimization seem like they are coming for the school program. Myler said he and the club's other officers, who include Jefferson Sheng, Samuel Shvets and Eric Rosenbloom, have had discussions with Dr. Luvelle Brown, Ithaca City School District's superintendent, and the esports group's advisor, Karen Seifert, about allocating funds in order to purchase 15 laptops specially designed for gaming for the group's use, though nothing is definite, including the amount that would be spent. Beyond that, he said there have also been talks about moving the program under the umbrella of the athletics department.
"Right now, it's more of a tech thing, but they want to shift it to be more of an athletic thing," Myler said. "We're [already] following the athletics standard of if you can participate; like, if you're failing one of your classes, you're not allowed to participate, and we have to check up on that regularly. Anybody can come, but if you want to compete, you have to have your grades in order."
Sheng said he longed for an esports program during his earlier time at IHS, and while some will inevitably scoff at the notion of categorizing esports as a sport, he sees many parallels between it and the more conventional sports, like football or basketball. There's a certain stigma against video games, Sheng said, but that should be left as a relic in the past.
"It deserves the recognition it has now, if not more," Sheng said. "Even though it's not a 'sport' in the traditional sense, you do everything that a team would do in sports. Team bonding, strategy, teamwork. Even if you're just playing solo, you're testing your individual limits."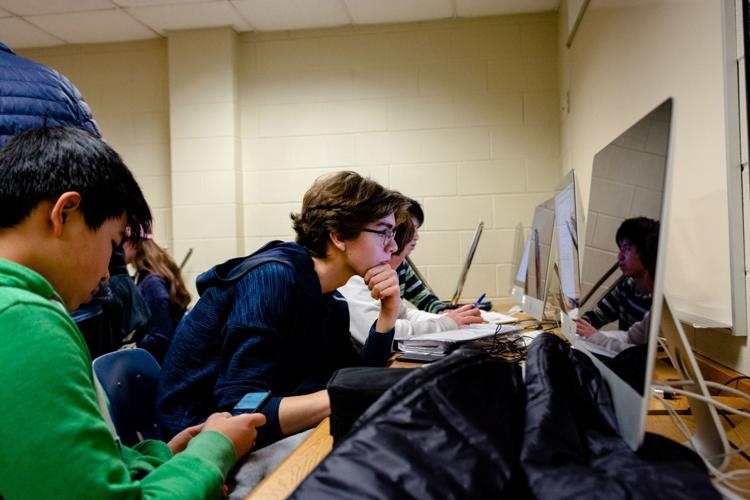 Whatever momentum esports has picked up among high schoolers has carried over into higher education as well. Cornell University and Ithaca College both have esports programs that appear quite successful. Cornell's, founded by students, has several hundred members of its Facebook group and has hosted events of up to 100 people for watch parties of national tournament events. They too compete against other school groups in competitions across the country in a variety of different games.   
Ansar Lemon, one of the leaders of the Cornell esports program, said the group has ambitions beyond its current size and stature. Much like the program at IHS, he's heard rumblings of being converted to a sports program and placed under the athletic department's purview as well. But currently, the group is simply looking to become a university organization instead of a student organization; that differentiation would entail more available funding for events and better resources, like, Lemon said, ease in room rentals. Generally, it would signal an increase in support from the university.
The NCAA, the college sports world's oft-maligned overseer, has also recently gained interest in esports involvement, although what exactly that would mean, and to what extent esports communities even want them involved, is tough to gauge currently. A Sports Business Journal report from late last year confirmed the organization's interest, but also mentioned fears that the same problems that plague the NCAA in other sports such as forced amateurism (so no compensation outside of scholarships), mandatory eligibility training, standards like drug testing, and obvious Title IX implications could create a situation in which the NCAA is trying to absorb an entire sport that largely doesn't want to be a part of it. Currently, competitive video gaming at the university-level is collectively organized under the banner of National Association of Collegiate Esports, the governing body for events like tournaments.
Lemon said from his experience, the NCAA's involvement would likely be welcomed with open arms by the esports community at first. After all, it would be an undeniable step toward increased prominence and further evidence of esports' growing legitimacy. But after the initial shine wears off, he thinks it could arguably do more harm than good. The NCAA is frequently criticized for its archaic rules and clumsy adaptations to changing times for even the most conventional sports—how could it handle a sport that's still young and dynamically morphing?
"At this point, most esports fans at universities are probably really excited about that, just because esports isn't fully represented as a full-fledged sport," Lemon said. "So, getting represented by the NCAA, that sounds like 'Hey, we're going to be legit.' Once you get imposed regulations that might come with that, it might be a different story, but initially, everyone would be very excited."
One of the hurdles esports still has to overcome is the fairly wide gender gap in male versus female participation. While plenty of women are certainly interested in video games, esports is largely dominated by men, research has shown, and women who do play often face the same challenges as in any other competitive venue, such as lower rewards for championship victories. Myler acknowledged it's been a problem so far in IHS's group, and Lemon confirmed that gender diversity is a focus of Cornell's group, too, though asserted that with women in certain power positions throughout the group, it's probably better than elsewhere.
One of those women in power positions is Rose Zhou, who serves as the Cornell group's web developer and "League of Legends" coordinator. She said the gender ratio of club participants can vary depending on which game is being played or watched. Obviously, different games attract different audiences and people with disparate interests. While she expected the esports club to be male-dominated when she first began to attend meetings, she's been surprised at the number of female players.
"'League of Legends'—definitely more guys play that game, but games like 'Candy Crush,' it's more even," Zhou said. "We do tend to have a lot of female members, but I'm not sure it's like that across every college."
Perhaps the most significant contribution esports could make, particularly at the high school level, is providing students with another outlet for creativity and activity. That's especially true considering some of the students who participate in esports would traditionally feel excluded from other extracurricular options, and may not try them at all. Esports, both Myler and Sheng said, create another avenue for engagement for both that group of students and others who simply find that video games match better with their interests than the conventional school-offered clubs or programs. This can be true at the college level as well: Zhou spoke of her experiences similarly, in that they helped her find friends and connect socially early on in her college career.
"Esports is a direction that many schools should take, because it offers some students a different platform for them to perform," Sheng said. Sheng said a few years ago, the program would have been a bit more personally valuable to him by giving him said platform, but now that he's older he's more interested in organizing competitions and logistics to enrich the experience for new players.
Daniel Park, a sophomore and the coordinator of the "Counter Strike: Global Offensive" team, said he thought starting organized esports programs at younger ages, such as at IHS, only served to benefit players. When players are still held to certain academic standards, which they are at IHS, there's nothing but upside to beginning to hone their craft early.
"The younger you start is a pretty big advantage," Park said. "Many of the current star players are still in their early 20s, and many of them started playing when they were [14], 15 or 16."
Interestingly, though, Park said he doesn't necessarily think esports need to be taken more seriously than it already is. There's so much money and so much interest in the sport already, that whether the "mainstream" latches onto it or not, it will remain sustainable, he said. Esports could open up many doors for professional work outside of simply playing the game too; Park, an industrial and labor relations major at Cornell, said he'd considered a career as a lawyer working to represent esports teams.
In perhaps the strongest similarity to other sports, and the strongest enticement to colleges, there's prestige to be had and money to be made by schools who do choose to invest. According to a Forbes article from a year ago, the most famous figure in esports, a player/personality who goes by Ninja, rakes in $500,000 each month. One college league awards around $3 million per year across its 20,000 players. As esports continue to grow, it's all but certain that those prizes will become vastly more lucrative and championships will bring schools comparable fame and sponsorship money that success in major sports like basketball can attract. For individual high school students, it can offer ample opportunity as well, as a growing number of colleges, over 200 schools, are now offering five-figure yearly scholarships to players who qualify.
With this type of backing in mind, virtually everyone contacted for this story agreed on one thing: Esports is no longer a trend. It's here permanently, and whether it's necessary or not for the ongoing advancement of the sport, the stigma surrounding video games, and by extension esports, is on its last legs.
"It does seem like almost everyone, from every walk of life, is interested," Myler said. "Nerds aren't as 'bad' anymore. A lot of people play video games, and a lot of different video games."