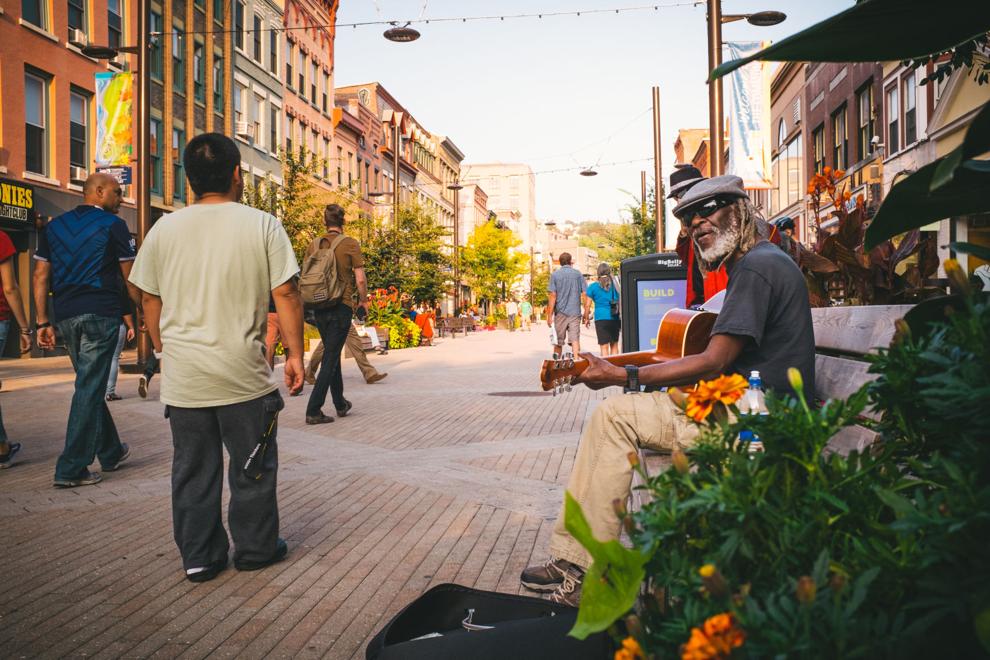 At a meeting of the Downtown Ithaca Alliance, work began to start looking to the future, or for the most part, 12 years down the line. The group is starting to gather ideas as well as some feedback on things that should be amended and added to the 2030 Comprehensive Plan. Many people gathered to not only share ideas of what they believe can improve Downtown Ithaca, but also some of the things that can make Downtown a hub of both industry and community entertainment.
Mayor Svante Myrick spoke about how Downtown Ithaca should develop into a hub for millennials. Other people speaking during the meeting were Planning Board Director JoAnn Cornish, spoke about some of the developments that can better serve Downtown Ithaca. One idea she had in mind was the addition of cable cars for getting around. This is not the first time that a transit system around downtown has been spoken of.
In a 2008 article in The New York Times, Jacob A. Roberts, the president of the organization Connect Ithaca proposed using an elevated pod cars system to get around Downtown. Some of the complaints he points out are the increases in traffic during rush hour throughout the local roads, and that pod cars can be a more personal means of getting around. The article was written before a conference was held in Ithaca about not only the future of transit in Ithaca but also the future of pod cars as well. However, it's ten years later and people are still riding TCAT buses, using bicycles or driving to get around Ithaca.
Cornish also pointed out several areas that are ripe for development or redevelopment as well as the idea of emergency response drones. This would not only slice emergency response times but can also provide a way to keep vehicles of the road. Following her was Sean Eversley Bradwell, the director of the Center for IDEAS (Inclusion, Diversity, Equity, and Social Change) at Ithaca College, spoke about how the comprehensive plan should have some points to make Ithaca more welcoming to people of all different ethnicities. One goal he had in mind was to have a more diverse population by 203 not just at Ithaca College but throughout Ithaca, too.
During the meeting, people were seated at separate tables which were broken up into five groups: infrastructure, pedestrian traffic generators, tourism/localism, community and civic engagement, and growth. The first exercise was to write down an achievement that would get Ithaca on the front page of the New York Times. Many of the proposed achievements dealt with creating affordable housing, having more environmentally friendly buildings downtown as well as creating a possibly free downtown transit system.
Then came the main point of the evening, having each of the five areas thinking up several truths and core qualities that correspond to Downtown Ithaca as well as developing questions to ask the public for their input on what needs to be done. After talking amongst themselves, groups began sharing their ideas which spoke to what the downtown really needs as opposed to what it wants.
Some suggestions included expanding the parameters of downtown to include certain areas along the waterfront, making downtown more city-like but also trying to keep the small-town atmosphere, and also figuring out what can make Downtown Ithaca a more profitable environment. After the truths and core values came the questions to ask from the public.
Questions ranged from asking about any of the potential barriers that keep prevent people from being civically engaged to whether or not a public/private partnership should be considered for helping to solve Ithaca's parking issues to figure out what would not only attract Ithacans to downtown but what will attract people from across Central New York and the Southern Tier.
Though no definitive suggestions have been made yet, the 2030 comprehensive plan will be drafted by late 2019, with a definitive plan being decided on some time in 2020.