Hold your hotdogs! Lou hasn't tucked the buns away just yet. 
Lou's Hot Dogs and a host of other businesses are moving indoors for the winter season as part of a new Downtown Ithaca Alliance (DIA) initiative called the Pop-Up Program. It aims to support local vendors through the winter season and the COVID-19 pandemic.
Special Events Director Scott Rougeau, who oversees the program with DIA Executive Director Gary Ferguson, believes adding the businesses will encourage foot traffic through the Center Ithaca building, which has remained fairly dormant since reopening to the public in the summer.
"This," Rougeau said, pointing to the counter across from Lou's, "was a cafe similar to what Lou's doing. This was a juice bar. But they've both been sitting vacant for a while and when COVID hit— well, people aren't really starting new businesses, so they sat vacant even longer. We wanted to try to revitalize the area as a whole. This is for small or startup businesses that have an idea, but are maybe not ready for a long term lease yet."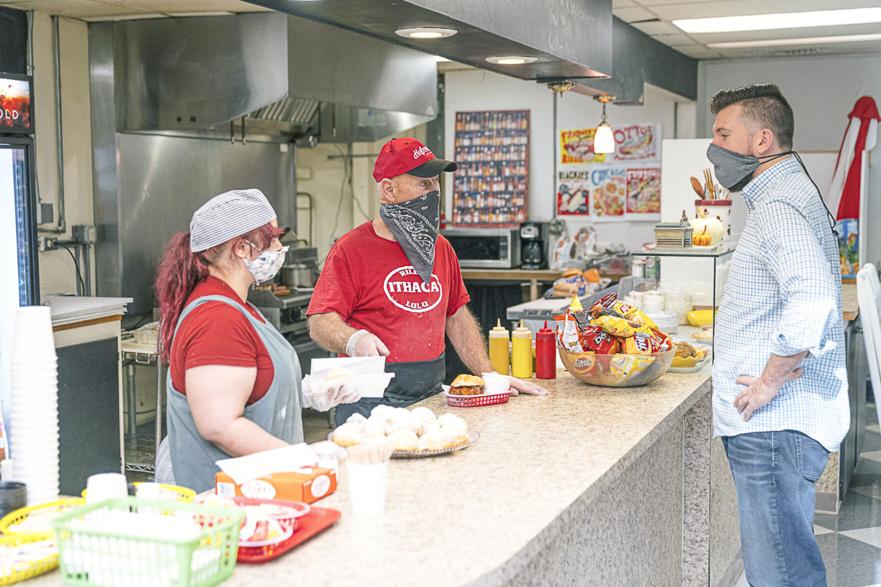 The Pop-Up contracts are an affordable option for vendors during this time, costing a little over half the price of a pre-COVID contract (approx. $1500/month). Ferguson said the agreements vary from vendor to vendor depending on the building and circumstances of the vendor. 
Lou has offered to share his space with an upcoming business owner Adelaide "Addy" Castillo, owner of FLX Bakes. Castillo's Carribean and South American style bakery started in 2017 as a part-time, at-home operation, but she has chosen to make her bakery her primary focus since losing her job in March. 
"Lou and I met through the DIA through Caleb of Nothing Nowhere, but we're still trying to figure out a way to word our arrangement," Castillo said. "Lou's used to working on the smaller cart and he had all of this space all of a sudden and was looking for a way to fully use it."
Lou said he's excited about the new location. In fact, he was the first name on the list when DIA announced the program.
"There's millions of dollars of construction happening around here and all of those construction workers will need breakfast and lunch, so I'm very optimistic," Lou said. "And in the Christmas season, she's baking and I might do something— I expect all my regulars to come inside."
Between the two of them, there's a steady line of customers who find their way to Lou's counter, but it's still a far cry from the 250–300 customers Lou served during lunch hour over 10 years ago. Nowadays, Lou maybe serves 50 customers per day. With more businesses, Lou hopes to see the public seating area filled to capacity.
"I don't want competitors, I want people doing business," Lou said. 
Lou and Castillo also expressed enthusiasm about the business expected to move in across from them in the coming weeks, Urban Blends, a soul and Latin cuisine vendor. Ferguson and Rougeau have also placed a vendor inside Dewitt Mall, Sunshine's Creative Designs, a specialty stone store. 
"We started the Pop-Up Program to give opportunity to vendors who have maybe been affected by COVID and loss of sales and revenue throughout the year," said Rougeau. "It'll also activate some vacant spaces downtown and make it a more vibrant and active area." 
Galal "Jimmy" Hassanein, owner of the Adam's Grill Halal food cart on the Commons said he hopes to be able to bring his business inside too. Business on the Commons has been difficult this year due to the pandemic; Hassanein said he averages 60% to 70% of the customers he used to.
Hassanein said he's thankful for the unseasonably warm weather this fall, which has allowed him to stay open later into the year. Last year, he was forced to close up in October after Ithaca's first snow.
"I started late this year because of COVID. I was supposed to start in March, but I started in June and I lost a lot of money because of that, but thank God for the customers in Ithaca who have supported me," he said. "And thank God— we're almost in the middle of November and the weather is still so nice. Winter is very cold here."