As a proud parent of a son with autism, Deb Bennett knows how hard it is to find different sensory instruments for her son, James. She and James have tried using things like weighted vest and compression shirts, whose weight and tightness can help keep him calm and focused, and chewelry, jewelry that can be chewed on to provide oral-sensory stimulation. But one of the hardest things for Bennett is knowing the stares James gets when he uses these items.
"We just came back from vacation, and little girls were pointing and talking about James right in front of me," Bennett said. "That is such a hard thing...We live in a society where if someone looks different, they are looked at.
Julia DeNey, a recent Cornell graduate and founder of the company Sense-ational You, is trying to create a way to not only make it easier to carry around the many sensory instruments a child with autism might have, but to make them stylish and cool.
From a young age, DeNey always had a passion for working with children, in fact she started working as a babysitter in the sixth grade. She also knew that she wanted to do something with fashion that was meaningful but until her sophomore year in undergrad, she wasn't exactly sure where these two passions would lead her.
At the same time, DeNey became involved in leading philanthropy projects as part of her sorority, and got connected with Racker, a local organization that supports people with disabilities and their families. After speaking with several employees about her interest in design, she was surprised to learn how difficult it was for parents with children on the spectrum to find sensory-friendly clothing, which is clothing designed to minimize things like itchy tags and seams that are particularly uncomfortable for people with sensory sensitivity.
"I didn't put it together at first. The people at Racker brought up a few things about sensory friendly clothing, but I soon learned the kids' needs went far beyond that," DeNey said. "I missed working with kids in college, and so I thought children's wear would be a great combination of my two interests."
 But it wasn't easy.  When DeNey set out to research more about sensory clothing, she found very little information. So she decided to do her own case study talking to many of the families and employees at Racker which led to prototypes of some designs. Now DeNey is in the funding-stages of her project, raising money to create a full-fledged business and online shop.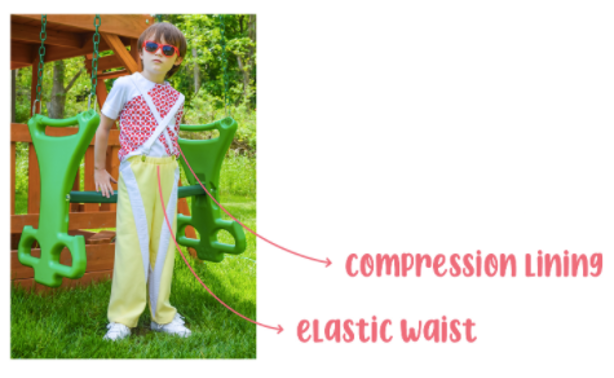 "Getting to do my senior collection this year, I worked with a few models on the spectrum. Working with them and speaking with their parents made it really click from this theoretical thing that I love, like a passion project, to this is needed now," DeNey said. "This couldn't be just theoretical; it was these kids could use these clothes in school, tomorrow."
James was one of the models in DeNey's senior collection. Bennett remembers how amazed she was when she saw the clothes actually worked.
"I was getting stressed out [during the show] because it was a long day and they kept having technical difficulties and malfunctions. I cannot believe how well James did, and I attribute that to the shirt that Julia designed for him" Bennett said.
The way DeNey's designs work is that she not only designs sensory-friendly clothing but she also incorporates some of the sensory instruments into the garments themselves. For example, children with autism might wear noise-cancelling headphones to block out sound many parents worry could hurt their child when they are playing, as well as look awkward and are hard to carry around, which DeNey learned through her case study .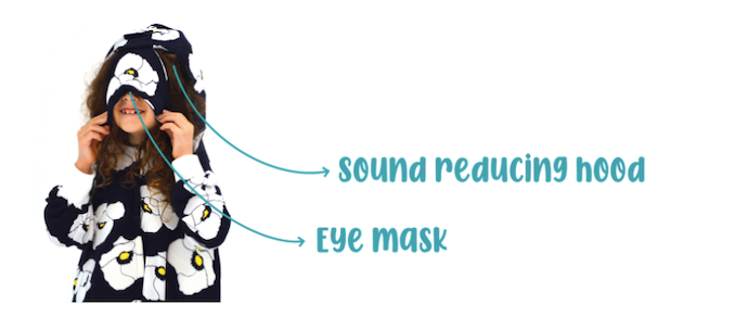 Instead of these headphones, DeNey began reaching out to companies that work on soundproofing and was able to connect with someone in the industry whose son has autism. After working with him, she found a way to incorporate noise-minimizing materials in the hood of a jacket. "Noise cancelling headphones, it's not like you have something hooked to it and listen to music. These are big, bulky things," Bennett said. "It's just amazing that [DeNey's] trying to make the lives of people with disabilities better and also enhance their social appearance."
"The families can get a little more peace of mind knowing that their children are not being picked on," Bennett added. 
In the future, DeNey is excited to continue building and designing her clothes around her customers and hopes to create clothing with and without the added functionalities, like the noise-cancelling hood, so that everyone can wear her designs. 
"I really want to show people that clothing doesn't need to look any different to meet someone's needs," DeNey said, "Functionality does not have to mean not fashionable."