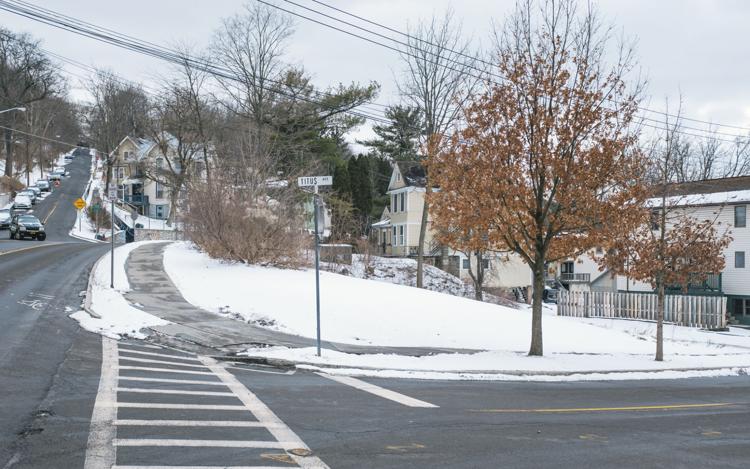 Common Council met Wednesday night, approving name changes for Ithaca Fire Department Stations and agreeing to sell the land at 402 South Cayuga Street to Habitat for Humanity. It was a busy night. 
Two stations in the Town of Ithaca and two in the City of Ithaca will now have their names changed, based on their locations. 
Central Station (310 West Green Street) becomes Station 1- Central
Station 9 (309 College Avenue) becomes Station 2- East Hill
Station 5 (965 Danby Road) becomes Station 3- South Hill
Station 6 (1240 Trumansburg Road) becomes Station 4- West Hill
Fire Department funds will be used for new signage. 
As for the continued affordable housing effort, the parcel of land will be sold to Habitat for $32,000 by the Ithaca Urban Renewal Agency. The project will be at least two owner-occupied, for-sale housing units; that number could grow to four. When they are constructed, they will be restricted to people who make a maximum of 80 percent of the area median income. IURA Director Nels Bohn said that would equal a salary of about $41,000, plus an additional $5,000 per person in the house. It is the second Habitat project currently moving forward; the other is at Morris Avenue and Third Street.
Habitat has said they plan to finalize the purchase in June of this year, taking the rest of 2017 to receive proper variances and get all building permits cleared. As of right now, their stated goal is to start construction in June 2018.
Common Council as a whole also passed a resolution, introduced by Mayor Svante Myrick, opposing possible federal budget cuts to the Community Development Block Grant and HOME programs, two HUD programs that may be on the chopping block under the Trump administration. With one of the main problems of the city being high housing costs, Myrick said he felt the resolution was necessary. 
During the public comment period, several leaders of local boards and committees voiced their concerns over the proposed restructuring of the city's government that was introduced at a special Common Council meeting last week. 
It was also mentioned during the meeting by Alderman George McGonigal that WENY, a local news station out of Elmira, New York that covers the Southern Tier, has been dropped from the city's TV service by Spectrum cable, which is Time Warner's new company name. He asked that it be restored.