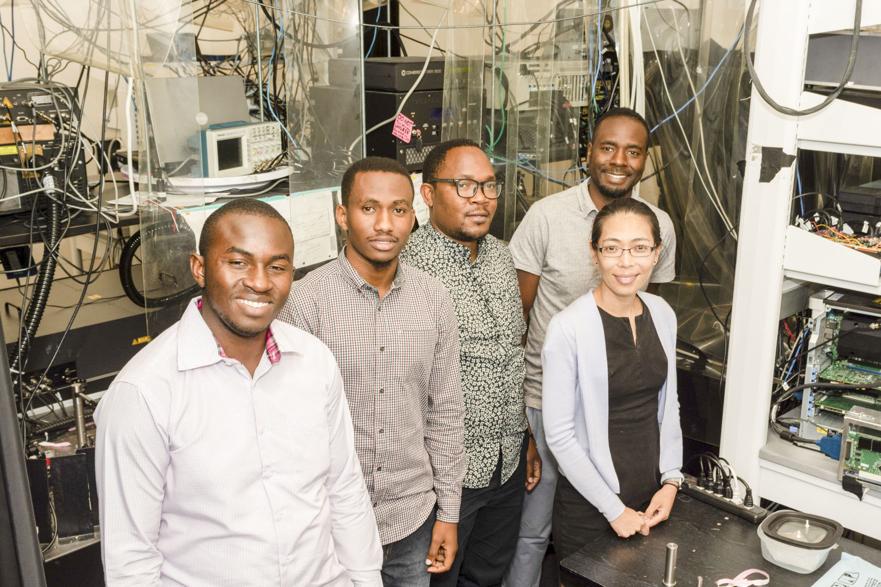 For the third straight year, L'Oréal USA has selected 10 individuals to receive its annual Changing the Face of STEM (CTFS) mentorship grant, which is awarded to former fellows of the personal care company's For Women in Scienceprogram. Among this year's recipients is Cornell University's Dr. Nozomi Nishimura, an assistant professor in the Meinig School of Biomedical Engineering.
Nishimura will receive $2,500 to help fund a student exchange program between biomedical engineering undergraduate students at Cornell University and Arusha Technical College (ATC) in Tanzania. (In addition to the L'Oréal grant, which will cover student travel costs, the exchange program received an Engaged Cornell planning grant of $10,000 to fund visits to and from Tanzania to coordinate its development.) The grant, presented by the American Association for the Advancement of Science, is intended to support former fellows' efforts to inspire the next generation of females in STEM (science, technology, engineering, and mathematics).
Developed in partnership with Menansili Mejooli, a Cornell biomedical engineering Ph.D. student and ATC faculty member, and Dr. Chris Schaffer, an associate professor and director of graduate studies in the Meinig School, the exchange program's primary goal is to improve Tanzanian health care by training local technicians to maintain and service non-functional medical equipment.
"One of the greatest challenges in health care service in Tanzania is the lack of basic, essential, diagnostic and therapeutic medical equipment in most of the hospital and health centers, especially in rural places where the population is higher than in urban areas," said Mejooli in an email to The Ithaca Times.
Mejooli said personnel is also an issue, as well-trained technicians are hard to find in the country, particularly ones that are available to repair the equipment. Add that to having to wait for replacement parts to ship from overseas makes repairs a huge obstacle.
"One of the things we learned in Tanzania is that there's quite a challenge in the health care system, but there's also quite an opportunity that we could make a difference that would make a large impact," Nishimura said. "It's harder to do that in the U.S. because the biomedical device industry is very hard to get into, it's highly regulated, and it's also very expensive. [...] On the other hand, in Tanzania there are solutions and opportunities working with local engineers to—fairly quickly— make an immediate impact."
Currently, the program is set to begin during the 2019-20 academic year. In August of 2019, six Cornell biomedical engineering students and a few faculty will travel to Tanzania for three or for weeks. Upon their arrival, they will be partnered with ATC students and intern in local hospitals and medical clinics with the task of repairing, improving, and innovating medical equipment. Then, later in the fall, ATC students will come to Cornell and receive technical training and engage in networking opportunities. Once each set of students has returned to their respective countries, the two groups will work from separate locations on joint projects and research.
Additionally, the CTFS grant will permit a female Tanzanian participant in the student exchange program, with the purpose of encouraging female involvement in the industry from a nation that severely lacks gender equality.
"It's really important to me that this [grant] is also one that encourages women to establish themselves for a career because I think that sets them up for a good career, but also sets up perhaps the entire industry and the health care system in Tanzania to take advantage of the skills and talents of women," Nishimura said.
What makes the student exchange program so impactful is not just its ability to significantly improve health care in Tanzania, but also its potential for the two groups of students to mutually benefit in meaningful ways with lasting effects. For the Tanzanian students, the exchange program is an opportunity to learn about the full scope of the biomedical field, as they have mostly been exposed to the engineering aspects rather than those relating to biology.
"The most important part that we are hoping this program can really bring help is the exposure that our students will get into the state-of-the-art technology that is currently in America," said Nicodemus Mbwambo, a faculty member of ATC.
Conversely, Cornell students will be presented with a different experience: real-life exposure to medical equipment and the application of it. Nishimura said that would be beneficial to help Cornell students develop a global perspective, rooted in the real world.
"Cornell students will have the opportunity to see the real-life application of the equipment and technologies that they develop or will develop in the future, and also will see what goes wrong with technologies in a resource-limited setting, and learn how to incorporate that insight in the technology development," Mejooli said.
But although their experiences and intellectual gains will vary, both Cornell and Arusha Technical College students will be motivated by a common desire: helping others through their work in biomedical engineering.
"One of the reasons I think people come to engineering and biomedical engineering is that they really feel like they can make an impact, and they want to make lives better," Nishimura said.