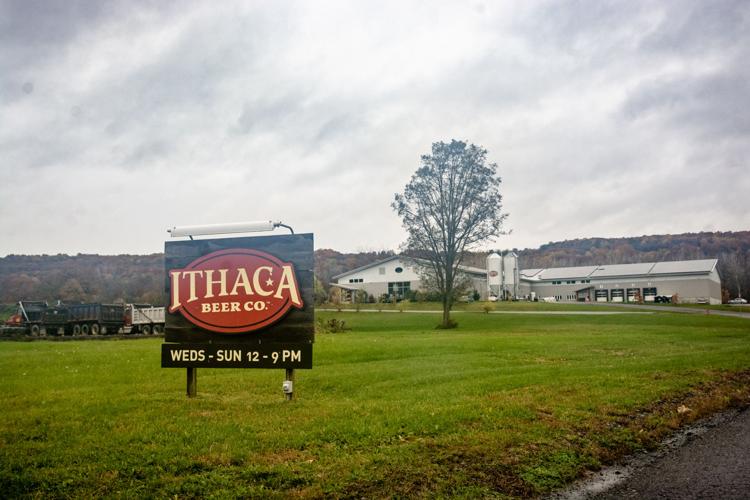 Local government bodies are ringing in Ithaca Beer's 20th birthday with an unconventional gift: a notice of significant noncompliance, the culmination of several industrial waste violations committed and not remedied by the company that date back more than a year.
The violations are related to wastewater discharge from Ithaca Beer Company's brewing facility in the Town of Ithaca. According to two letters sent to Ithaca Beer by Ithaca Area Wastewater Treatment Facility (IAWWTF) Chief Operator Carl Kilgore, the local beermaker was instructed in June to cure extreme pH problems it was having at its facility that were being detected at the IAWWTF, but failed to comply with six of eight directives that were originally issued in a compliance order on June 1, 2018.
The failed directives were: submit a mitigation proposal to avoid extreme pH levels (less than 2.5, more than 12.5 indicating either battery acid-level acids or bleach-level bases) in discharge until a pretreatment system is installed, begin continuous pH monitoring, eliminate all pH extremes, submit plans that will bring Ithaca Beer into pH compliance with a pretreatment system and a monitoring/sampling station, build the monitoring/sampling station within 90 days of approval and notify Kilgore of any failures to comply.
Kilgore followed up on Sept. 24, 2018 with another compliance order, this time accompanied by a notice of violation (the full version can be read at the bottom of this page) to Ithaca Beer stating that the company had not met the schedule and, apparently, hadn't notified the Town of Ithaca why soon enough. The two directives Kilgore said the company had not violated had to do with the pretreatment system plan and construction. The notice of violation includes the potential for daily fines of $5,000 until compliance is met, though it doesn't appear as if those fines have been enforced.
Cynthia Brock, the chair of the IAWWTF Special Joint Committee, said a significant non-compliance notification was issued as required by the Environmental Protection Agency (EPA).
"They have met the criteria for significant non-compliance in three ways," Brock said. "Their effluent discharge is below 2.0 and above 12.5 on the pH scale, which poses an eminent endangerment to sewer workers and infrastructure. Two, they failed to provide required notification of non-compliance with effluent limits and failed to provide required progress reports on meeting compliance order milestone deadlines. And three, their continuing periodic discharges of highly acidic effluent will adversely affect the collection system and continue to be a danger to sewer workers."
Brock said that while she is glad to see the pretreatment system plans being reviewed, and now submitted, she and the rest of the Special Joint Committee have tired of making the same requests of the company only to not have their requirements met while the violations continue.
"Obviously, we are incredibly frustrated," Brock said. "There's no evidence that Ithaca Beer is responding to our requests with the urgency that I believe is due."
According to the minutes of the last Special Joint Committee meeting on Nov. 28, a government body which handles matters concerning the Ithaca Wastewater Treatment Facility, Ithaca Beer Company has now submitted their plans to construct and install a pretreatment system that should, theoretically, stop the pH violations as well as high temperatures of discharges, though those plans were initially due in August. The system's completion is anticipated for April 2019, though high and low pH incidents should be expected until then. The wastewater facility is jointly owned by the City of Ithaca, the Town of Ithaca and the Town of Dryden.
Data from Ithaca Beer's self-monitoring system, which was submitted to the City of Ithaca and obtained through a Freedom of Information Law (FOIL) request, shows significant pH problems continued recently as well. Between Aug. 10 and Sept. 11, testing of Ithaca Beer's discharge showed 96 instances of pH under 2.5, which indicates a strong acid, although none above 12.5. Anything outside of that range, categorized as "effluent pH extremes," is considered hazardous waste by the EPA. The previously mentioned compliance order states that industrial discharge is only allowed a pH between 5.5 and 9.5, or 11.0 with special permission.
Ithaca Beer Company owner Dan Mitchell said the new pretreatment plant will end up costing the company around $300,000, and that part of the delay between the violations and the company's solution was the initial price tag they found when looking into it.
"We've put in probably close to $100,000 just doing some background research and testing and hiring consultants to find out what the problem is," Mitchell said. "We hired an engineering firm to look into the cost of remedy, and original quotes were around $800,000. We had to go back to the drawing board to hone in on a system that we could afford to pay for, and we feel like we've gotten to that point, so now we're closer to $300,000."
Mitchell said cleaning materials used at the brewery are the culprit for the extreme pH test results. He defended the schedule violations, saying they were a symptom of having to find a pretreatment plan the company could afford, along with doing enough investigation to figure out the source of the problem.
"It's not even a reaction time as much as a discovery time," Mitchell said, adding that he does not believe the company has become more prone to violations since its popularity and production has risen. "When they brought it to our attention, we jumped in and started looking at what the problems were [...] But most of it is not knowing where the pH values are coming from and how to remedy them. It's more complicated than 'Once you know what the problem is, here's a quick fix.'"
The problems were first announced publicly in a legal notice issued by the IAWWTF and the Town of Ithaca, which was published in the legal notice section of the Nov. 29 edition of the Ithaca Journal.
"The Ithaca Beer Company, Inc., [...] has met the USEPA's criteria for significant noncompliance because it failed to provide, within the specified number of days after the due date, required reports on compliance within compliance schedule milestones."