It was always clear this summer would be a particularly brutal one for the local economy, with the loss of students in spring, graduation weekend in summer and warm-weather tourism all piling on top of the overall shutdown caused by the coronavirus. It's certain to be a long road back, too, without a clear end in sight until, optimistically, a vaccine puts an end to the virus' rampant spread.
Tompkins County and Ithaca has seen its fair share of closings. Since the pandemic started, several storefronts around town have shuttered their windows for good, including the Pack 'N' Ship Store, and it remains to be seen if the downtown bars that have remained closed, like Silky Jones, the Range, Pete's and the Chanticleer will eventually reopen, and the same can be asked of restaurants along Aurora Street who have chosen to stay closed despite the new Aurora Streatery accommodations (although Viva Taqueria recently announced it would be back serving this week). The legendary Ruloff's restaurant, which would have been forced to move due to building redevelopment, has announced it will not reopen, and it was joined by upscale Ithaca dining staple John Thomas Steakhouse. 
But, in some bit of hope, there have been several businesses that have either opened for the first time, or have announced their intentions to, during the pandemic. Kimchi, a new Korean restaurant on the Commons that has replaced the Moroccan-themed Commons Kitchen, has begun serving customers with outdoor dining as of Monday, July 20. Ithaca Pasta will be taking the place of Joe's Italian restaurant on State Street, apparently run by someone connected to Bravo's in Freeville (according to a sign on the front door that bears the same email as the popular restaurant's owners). Cayuga Nail Spa, whose opening was promptly interrupted when nail salons were closed as part of the shutdown, has reopened with a bright grand opening sign adorning its storefront. Large national brands like Trader Joe's and OrangeTheory have also announced they'll be coming to Tompkins County, as well as Old Navy abandoning the mall to move to a more centrally located spot on South Meadow Street, where Hobby Lobby once was. Odyssey Bookstore also opened just as the pandemic began, on Green Street.
It all points to an admittedly uneven but perhaps rosier outlook than one would expect, though that comes with a very large caveat that the pandemic is still in full swing, as locals have been reminded by jumping coronavirus case figures from the Tompkins County Health Department over the last week. It also has to be considered what damage has already been done, with sales tax revenue significantly depressed for several months now, even as the economy has begun to reopen. 
Downtown Ithaca Alliance Executive Director Gary Ferguson, ever the optimist, acknowledged the devastating impact on businesses locally that the COVID-19 situation has wrought. 
"Certainly, the pandemic and the subsequent fall-out from it has had a substantial impact on the retail and commercial community," Ferguson said. "It really has made it difficult to do business, and we've seen some changes and we're likely to see a few more before it's all over. There's no question that this has been a very traumatic event for our local economy in particular."
Though it's encouraging that there does seem to be a steady stream of new businesses poised to debut, the barriers to entry have intensified, Ferguson said, with even the simpler parts of starting a business now complicated by the outbreak. The DIA has been trying to coach these business owners along, providing support through advice and education, as has the Tompkins County Chamber of Commerce. Both were involved in the establishment of the Small Business Resilience Fund, as were the City of Ithaca and Tompkins County, which is providing forgivable loans to businesses that meet certain criteria over the next several months in order to help those businesses bridge financial gaps and hopefully keep people employed. 
Jen Tavares, President and CEO of the Chamber, said they've been providing education for owners and non-profit organizations on the rapidly changing regulatory landscape, as well as how to obtain funding and best practices to care for workers—a constant cause for concern as businesses both try to keep their employees safe and out of confrontational situations with customers who aren't wearing masks, particularly in light of the recent New York State directive that businesses must refuse entry for people not wearing masks. 
Public health risks aside, Ferguson said the news that the local academic institutions Cornell University, Ithaca College and Tompkins Cortland Community College would all at least attempt to reopen in the fall will provide an undeniable boost and protects the local economy, at least temporarily, from what Mayor Svante Myrick called "cataclysmic trouble" if they had chosen not to. 
"If they did not reopen, there was a much more Draconian pathway that would be followed," Ferguson said. "But it seems to be the case that they are reopening, which will put people back to work, which will bring students back to the community, and that makes a substantial difference in people coming and staying as tourists and visitors. [...] The hard thing is, you just can't predict the future. One can hope that we have seen the worst of the pandemic, and that it won't re-blossom here the same way it has other places. If that's the case, it's obviously a good thing. But we don't know that."
As for Tompkins County, the picture looks fairly similar. Tavares said she senses that although many of the business closure announcements have been centered on Ithaca, that's mostly a factor of the city being the economic center of the county, and that businesses in the surrounding areas are suffering similarly and perhaps even worse.  
"We're going to be dealing with both the direct impacts and the indirect impacts from the pandemic for a very long time," Tavares said, also noting that the pandemic obviously exacerbated problems for businesses that were already teetering on the brink of closure. "We have begun to see some business closures, I expect to see more business closures in the next 6-12 months." 
While Tompkins County, at least up to this point, has been able to avoid the brunt of the public health aspect of the coronavirus outbreak, Tavares noted that the public health factor is intrinsically intertwined with the economic damage, and will likely always be. 
"From the beginning, we looked at this as a public health crisis first and an economic crisis second, both of those things are very, very important and it's critical that we manage the public health crisis because the more successful we are at doing that, the more we'll be able to protect ourselves from an even more prolonged economic crisis," Tavares said. "If we don't manage to 'follow the rules' together in this social compact that we all have [...] to stop spreading coronavirus, the economic impacts of those choices are going to be really devastating."
There's of course the largest looming question: is this as bad as it gets? Ferguson called the possibility of a second wave the "wild card" in the formula, and said there's a complex dynamic at play between having the economy reopened and actually having people feel safe enough to participate in it. Restoring customer confidence in the safety of the shopping experience is going to be a crucial part of the local recovery, Ferguson said. 
"I don't think we're at the bottom, but I think we're close," Ferguson said. "Just because you can reopen, does not necessarily mean there are a lot of people walking around or people walking in their doors. People have changed their habits, and we've got to get people back to the idea that they can shop safely and feel comfortable, both people locally and visitors. As that improves, so will the economic climate of our business community."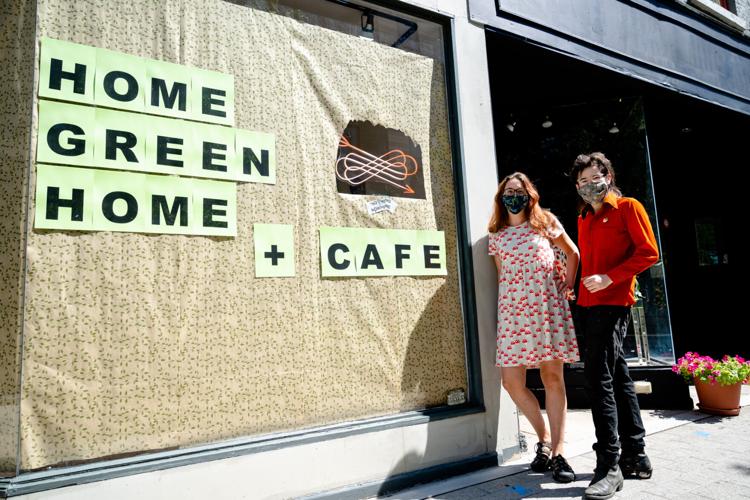 One business staying open but making a move on the Commons is Home Green Home, owned by Megan Vidler. It has shifted from its spot in the Rothschild building and is now moving down next to the new location for Petrune, which is also moving over on the Commons. They hope to open in the middle of August, including the in-store cafe, if everything goes according to plan, and are aiming to insulate themselves from the ongoing economy downturn by creating a fuller, more experiential-focused shopping environment in the store. 
"I was between leases and it seemed like as good a time as any to be closed for a little longer and reset," she said. "Everybody's been reaching out through phone and email for pick-up, so there's already a lot of customers who are ready to shop, so it seemed like there was no better time than now." 
The move was strategic in that normally, Vidler would have had to rush a move in order to be closed for as little time as possible. With the rest of the economy closed down, and her doors shut since mid-March, Vidler figured she might as well take the opportunity to start somewhere fresh. She does, though, have the comfort of knowing her business was already doing well before the shutdown occurred, despite the general retail struggles of brick-and-mortar businesses nationwide. But further, it allowed her to form a stronger coalition (so to speak) of businesses, since Home Green Home and the cafe plan to connect themselves with Petrune, which is moving next door as well, and the Hare and Bristle Salon.  
"It's certainly been a tough time, but we've both got some optimistic feelings toward the future," Vidler said. "I really think that there's strength in numbers. We'll have four modern, vibrant businesses, with that focus on experiential business with the cafe and the salon, that should have a lot of resilience no matter what happens next."