ITHACA, NY -- Stupidly passionate and pathologically optimistic.
That's how the City of Ithaca's sustainability director, Luis Aguirre-Torres, describes himself as he starts to work toward bringing climate justice to Ithaca. Aguirre-Torres began his work in March and immediately jumped in.
He began with the Green New Deal, which the city had been working on for years and changed the objectives to encompass a more holistic approach to policy. It was originally passed in June 2019, and the Ithaca Energy Code Supplement was passed this past spring to enforce green building codes and reach the original goal of carbon neutrality by 2030.
Aguirre-Torres said the original Green New Deal was inspiring and aspirational, with a firm intent to do the right thing, but he didn't think it had enough meat behind it.
"We can't just look at buildings, or transportation or social benefit," he said. "We need some model of shared governance and participatory budgets. So people not only have a say, but see their say implemented in the budget by their taxes."
To accomplish this, he's starting with engaging the community.
"We're going beyond typical surveys," he said. "We're putting people first and redefining the social contract. The outcome in 10 years is elevated social capital. That's my thing."
He added that the community needs to have a way of participating in an organized and informed fashion.
"If you want it to be truly shared governance, you have to organize and work with people who are working with communities," he said.
He's been working on reaching out to leaders of different communities, whether that be a neighborhood institution or an individual, to better understand peoples' needs.
"We started a program called 1,000 Conversations," Aguirre-Torres said. "It's about engaging people in having 1,000 conversations."
He noted that in terms of community activism there are "like 10 people who are extremely loud, 50 who are really loud, some that are loud, and then a bunch that are quiet."
He wants to use the loudest folks to bring in people who have never been involved, especially people in Black and brown communities. 
"It's mostly white people who have the luxury of being environmentalists," he said. "So I wanted to invite people who have to work harder to be heard. Involving them has been difficult because they've been victimized. They've been here before. They don't buy it."
For Aguirre-Torres, the Green New Deal and addressing climate change is much more than trading in plastic straws for metal ones. His focus is on climate justice, which frames climate change as an ethical and political issue, rather than one that is purely environmental or physical in nature. Climate justice is linked closely with social justice and environmental justice, a term popularized in the '80s describing a social movement that focuses on the fair distribution of environmental benefits and burdens. All this to say, Aguirre-Torres believes change is going to have to be systemic.
"We can no longer have climate justice as a footnote," he said. "It has to be at the center of it."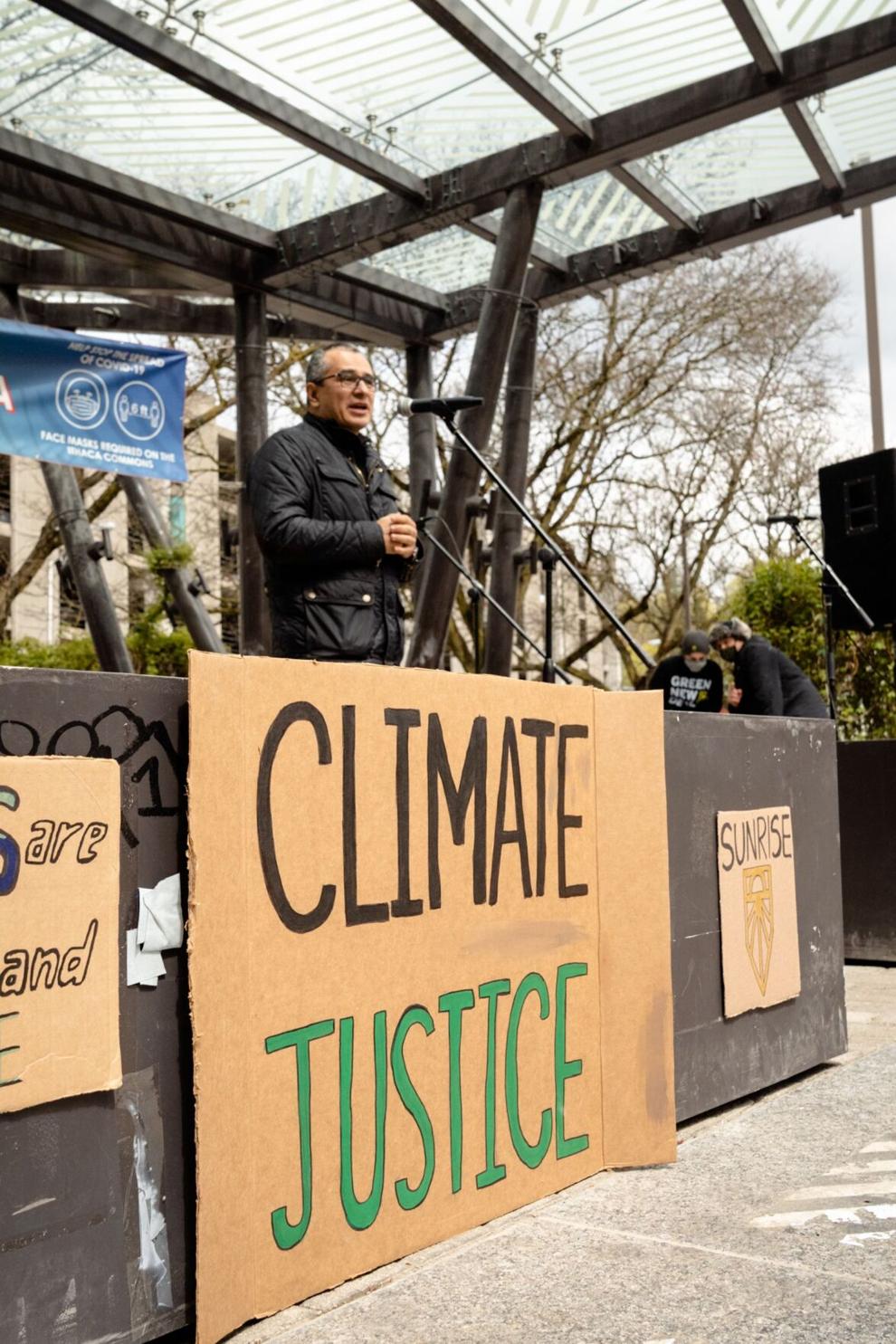 He's starting by creating a series of subcommittees. One will work on engaging members of the community who want to be involved. Part of the desired outcome of this subcommittee will be a better understanding of communities who suffer from climate injustice. Aguirre-Torres points out that much of the demographic data in Ithaca is skewed by the large student population and by wealth disparities, particularly between those who work at Cornell compared to folks with lower incomes.
"It's so skewed it's difficult to use the data," he said. "The problem with the census is it's a political instrument, so I believe we need more data to move forward."
His current program is going to focus on electrifying 1,000 buildings, bringing 1,000 electric vehicles to the city and grading 1,000 jobs, all within 1,000 days. 
"We have three years to show it's going to work," he said.
One of the things he's currently working on is getting ready to electrify the buildings. But he needed to know where to begin.
"We know at least there are 50 buildings we need to start with," he said.
He said they'll begin with lower-income housing, everything from duplexes to family homes to apartment complexes, and hopes to complete those 50 buildings within the first year.
"Family home are easier, because there are a number of legal issues you need to comply with to work with the housing authority," he said. "But we will do it properly so it lasts. We're not in a rush, we want to do it right." 
He said one of the biggest hindrances to achieving climate justice, and one he suspects he'll run into while electrifying buildings, is social resistance.
"It's almost impossible to convince people they can cook with an induction or electric stove instead of a flame," he said, only half joking.
Another hindrance, and the one everyone jumps to first, is money.
"Everyone always asks, how are we going to pay for it," Aguirre-Torres said. "When we started, nobody thought about who was going to pay the bill at the end."
As of now, he's raised $100 million through private investors, which will go to the goal of electrifying 1,600 buildings. This will make the program free for residents. Aguirre-Torres said as an example, if someone is currently paying $1,000 for their gas and electric, once it's electrified their utility bill will be about $500. They might pay around $800, and the difference would pay for the work that was done.
"We got someone to upfront the money, they put in $100 million and we have 20 years to pay it back, and only if it works," he said. "If it doesn't work, we don't pay it back. For it to work, we need people to pay less for electricity. It's an awesome deal."
To further bring investors to Ithaca, Aguirre-Torres is targeting the global stage. 
"The community thinks it's all Tompkins [County], it's all the city, the town," he said. "It's not. We're part of a huge machine that needs to change, so we went international."
He said the City of Ithaca is "this close" to being recognized by the United Nations as the only city in America with a higher ambition than its state and federal governments.
"That's unique," he said. "And showing our intent in such a serious manner will attract people to the city."
Aguirre-Torres has plenty of experience internationally, as he's lived and worked all over the globe. With a PhD in the "mathematical model of the internet," Aguirre-Torres said he was a very "square-headed dude." But he eventually became an entrepreneur and started his own company and began marketing and selling technology to governments.
"I moved to Israel and worked there for a while, then I moved to Korea and worked there for a while," he said. "I was working with the governments."
Then he moved to California, where he worked with Arnold Schwarzenegger on green legislation, and said it was then he "grew a conscience."
"My wife says it was a mid-life crisis," he laughed.
He said this is when he realized he could help people in different ways, and started a think tank to assist developing countries to develop legislation. He was hired by the United States Department of State to help the Mexican, Brazilian, Colombian, Chilean and Argentinian governments to develop climate change legislation.
"I spent my time between Washington D.C., Mexico City, Bogota and Buenos Aires helping politicians see the light," he said. "'Come to the green side of the forest.' […] Latin America is very corrupt — it was a nightmare. But we did amazing things."
One of the things he accomplished was changing the constitution in Mexico to allow for the use of solar energy. He was also a presidential fellow under the Obama Administration, but said he was fired by the Trump Administration.
Then the pandemic hit and, like many, he spent some time reflecting.
"I was like 'I don't know what I'm doing with this,'" Aguirre-Torres said. "So I decided to come back home and be with my wife [who works at Cornell]."
Conveniently, the city was looking to hire a director of sustainability, though Aguirre-Torres wasn't sure if he'd be a good fit.
"My experience was at a federal level, which is different," he said. "And my ideas require $200 million."
However the city clearly disagreed, and he jumped in with both feet. 
"It's really exciting," he said. "It's a lot of fun."