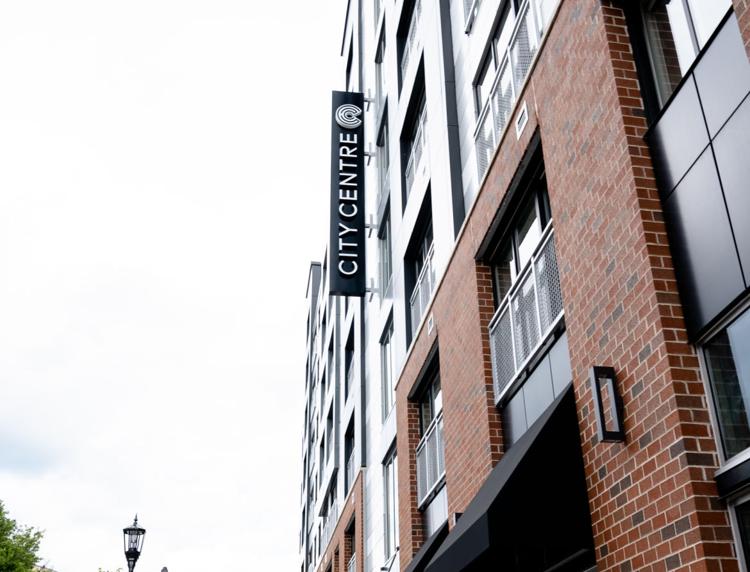 After months of construction and sidewalk closures along East State Street and South Aurora Street, City Centre has officially opened for renters. The ground floor retail spaces are open for businesses to move in, though the new tenants won't be actually moving in until later this year.
The building's exterior layout bears some resemblance to New York City's iconic Flatiron Building. Though the views facing East State Street and South Aurora Street are of the neighboring buildings, the best view is from the top, the eighth-floor terrace to be exact. It's a modestly-built enclave complete with outdoor grills, tables and chairs, and moderately scattered foliage, but this is only half the reason to visit. From there, residents can see for miles over the Ithaca skyline. There have been talks to have events there, though they would likely be for residents only. 
Marc Newman, a managing member of Newman Development Group, found the community received the project well and saw a great deal of positive feedback, particularly after the failure of the last project to gain any traction among the public. The building was always aiming for a June 1 opening, since most leases began by then. With one-bedroom apartments starting at $1,735 and two-bedrooms starting at $2,840, the building certainly was not aimed at the city's affordable housing-needy community, adding instead to the local luxury housing stock. 
Despite this, Newman found that the development had the usual assortment of challenges on the journey to its opening but he found the city was helpful in getting the building done.
"Every building always has its challenges with respect to just getting things built and approvals by the city, the fire department, and making sure everything is in compliance," Newman said. "And that all went very well. So, I wouldn't really call it a challenge, I think that's just part of the job on every project that we do."
During the project's time under review by the City's Planning and Development Board, several residents spoke against the project. Some found the project to be out of style with the surrounding neighborhood, while others weren't sure how the project would help the city reach its energy reduction goals. One resident said that while the building was well done, there were plenty of concerns about neighboring buildings ability to use solar energy. This, however, has not slowed down renters one bit. 
According to Newman, as of July 1, 90 percent of the 193 total units are rented, with some residents looking to move into the building this month. The building boasts plenty of amenities for residents, and its ground-floor will soon host Collegetown Bagels (CTB) and Ithaca Ale House. Both will be moving from their nearby locations on Aurora Street.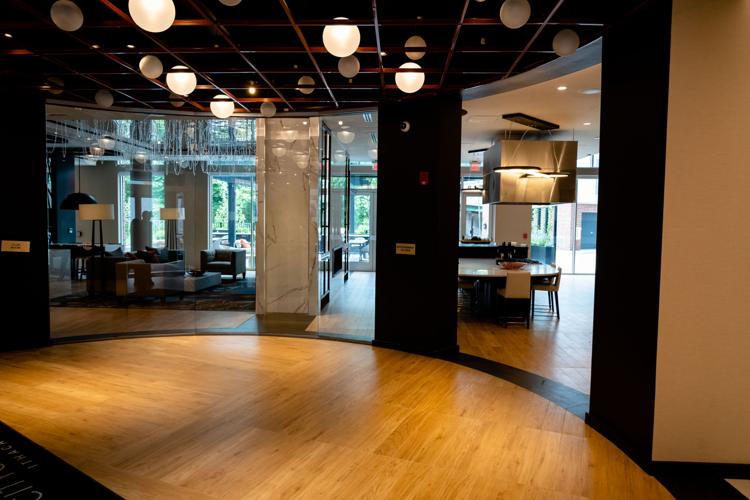 Initially, CTB was set to acquire the property in February and move into City Centre to have an opening on June 1. However, because their space wasn't ready yet, they've just recently acquired the property and won't be re-opening in the new location until Oct. 1. The Ithaca Ale House's John O'Leary was unavailble for comment, but it sounds like the new location will open new opportunities for CTB, at least according to owner Gregor Brous. 
"We'll have a bar that has beer and wine as well as numerous other beverages so that it can be a full-service bar, morning and night," Brous said. "During the day, there will be smoothies and juice drinks, and health drinks to go along with it. And then that'll transition a little bit as it gets later. We'll have a bar in the middle that has some hot and cold beverages on it as well as some hot food. And then we'll have a station to build your own salads and other like items, full service on the line."
Since the building they are currently in is looking to be redeveloped, CTB had to find a new place to go. For Brous, the best place was City Centre, since it seems primed to become a hub of action in the city. As with caterpillars, businesses have to evolve in order to survive and CTB is no different, Brous said.
"I think one of the strengths and excitement of our business is being able to evolve and change over time," Brous said. "So, sometimes we do that with small things like menu items or systems, either in front or back in the line and when it comes time to transfer locations. Then, that's just even a bigger opportunity for us to really look at ourselves and look at the market and think about what ways we can gro