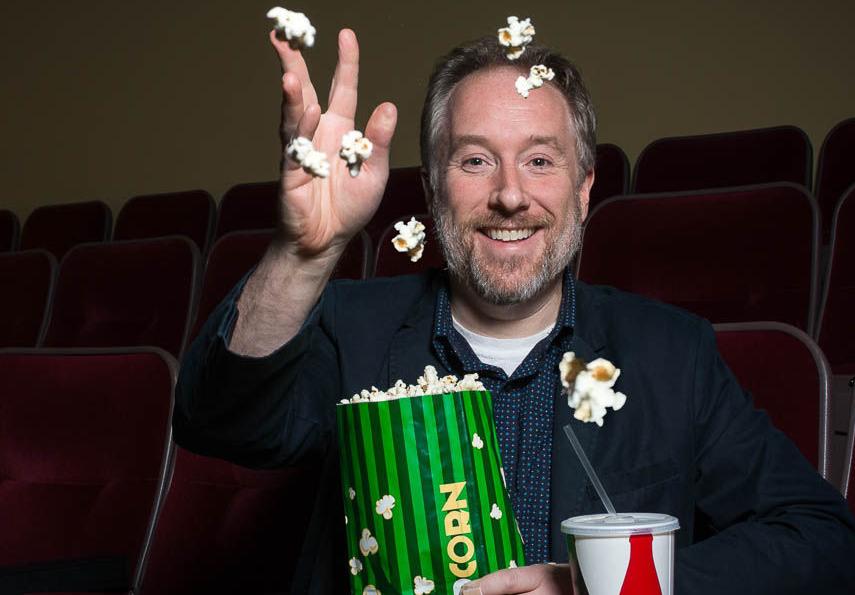 It's wall to wall humanity on the Commons at the Apple Harvest on a recent Saturday afternoon. But at Cinemapolis, one block over on East Green Street, the hour before the first matinee crowd appears seems like calm before a storm.
Posters for upcoming movies, like Kelly Reichardt's Certain Women and Jim Jarmusch's Stooges documentary, Gimme Danger, line the walls. There's a lot of anticipation about Barry Jenkins' upcoming Moonlight, opening November 18, which was the hit of the Toronto Film Festival. Getting up from one of the tables in the lobby, Cinemapolis' Executive Director Brett Bossard goes to the ticket counter, bringing back a big, heavy grey ledger–the first ledger, it turns out. Cinemapolis's founders Lynne Cohen and Richard Szanyi just gave it to Bossard.
Inside is 10 years worth of all the titles of the films and the nightly and weekly grosses. Today, all the information laboriously hand-printed on each page could fit on a flash drive, but here is this big heavy book, like a prop from a production of A Christmas Carol. Now Brossard is in charge of this thing that Cohen and Szanyi started in September of '86 that since, has seen an evolution from one screen to two screens, the acquisition of Fall Creek Pictures, becoming a non-profit organization and a move into its current location at 120 E. Green St.
Bossard looks at the ledger, this tangible proof of weeks and months of movies and screenings.
"It was so different," Bossard said. "If you look at 1986 when they opened with a single screen, in 1986 dollars, A Room With a View did as much in its opening weekend, actually more business than a big opener would for us today. Every seat was filled. The movie culture was different in '86."
If this were a movie, this would be the moment when we dissolve to the past; not Ithaca in 1986 but Santa Fe, New Mexico one decade earlier.
It all started with a 110-seat movie theater Cohen and Szanyi opened with another couple in the warehouse district of Santa Fe in 1976. Lynne had studied film, and Richard was into English. Their theater was called The Collective Fantasy, operating on one screen and alternating between old films and new films, though the Cary Grant and Greta Garbo movies were doing as well as the current fare of the day.
By the early '80s, a combination of bad blood with their partners and the influx of VCRs cutting into the appeal of the repertory business led Cohen and Szanyi to sell the theater and move to Ithaca, because it was close to New York City. They did antiquing for a year, but missed the picture business and started looking for a space.
They chose to build their own. Construction started in 1985 and Cinemapolis opened in September 1986. The Collective Fantasy in Santa Fe became the Jean Cocteau Theater and it's still up and running, now owned by "Games of Thrones" author George R.R. Martin. The last time Cohen and Szanyi visited there, Martin treated them to lunch, pumping them for their opinions about the distribution business.
The first film shown in Ithaca was Akira Kurosawa's Ran, which ran for a few weeks. The second film, Merchant-Ivory's A Room With A View, was a smash that played for weeks. In June of 1988, the pair added a second screen. Then in 1990, they acquired Fall Creek Pictures and had three rooms playing movies including Fall Creek Pictures Three, which Ithaca Journal film critic Beth Saulnier and I affectionately dubbed "the screening room." One of the great days of my life was seeing Spalding Gray's Monster in a Box in FC3, reclining on floor pillows.
This much can be said about the old Cinemapolis and Fall Creek Pictures: The seats were not that comfortable, leading to a numbing of one's posterior and two terms that I coined: "Cinemapol-Ass" and "Fall Creek Cheek". (For the record, the seats in the new Cinemapolis are very comfortable indeed.)
30 years later, Cinemapolis' biggest hit is still Quentin Tarantino's Pulp Fiction (1994), which played here for months. Such was the impact of Tarantino's time-shifting trio of crime stories that few people remember what else was playing at Cinemapolis, but Cohen does.
"We had huge lines [for Pulp Fiction ]," she recalls. "And it seemed like it was predominately college-age males. Everybody was wearing a baseball cap, either forwards or backwards. It was such a uniform. We were also finding lots of beer bottles in there."
"We were also playing David O. Russell's Spanking the Monkey at the time, and nobody had heard of David O. Russell (Three Kings, Joy). And so I would go out into the hallway and say 'Pulp Fiction is now sold out, but there are tickets available for Spanking the Monkey,'" she continued. "And these guys would all go, 'Spanking the Monkey! [laughs]' and they would all leave. They had no desire to find out what that was."
Wes Anderson usually does well here; The Grand Budapest Hotel (2014) and Moonrise Kingdom (2012) stuck around for many weeks. Cohen and Szanyi had another success with Michael Moore's Fahrenheit 9/11 in 2004.
"There are certain directors that I think will always sell a lot of tickets," says Bossard.
(At the time, I lived across the street from Cinemapolis, and every time I thought about going to see the Moore film, I would look out my window and see the line of people snaking up around Center Ithaca and down the Commons. The only other time I remember lines like that was for the opening weekend of The Blair Witch Project in 1999.)
Another Cinemapolis hallmark is their uncanny ability to find the most nominated films at the end of the year. Last Christmas, they had Spotlight, Brooklyn, Carol, and many others. Bossard said since Cinemapolis opened its new theater, they have played every Academy Award-winning picture to come out. As part of Cinemapolis' anniversary, in November they will have special screenings of the theater's biggest winners, including Pulp Fiction and The King's Speech (2010).
Cinemapolis went non-profit in 2000 at a time when art-house theaters around the country were really struggling, so the shift to being a non-profit was as much out of necessity as a mission. The Seventh Art Corporation of Ithaca was founded, Jodi Cohen serving as founding president of the board. Once construction of the new five-screen Cinemapolis on East Green Street was completed in 2009, Cohen and Szanyi stepped down, handing the keys to Scott Bliss and now Bossard.
Brett Bossard grew up in Hornell, New York, and was interested in theater, film and TV from a young age. He went to Ithaca College and studied "TV/R" (Television and Radio) at the Park School in the early '90s. From the time he arrived in Ithaca, Bossard went to Cinemapolis a lot: the first film he recalls seeing there was Richard Linklater's Slacker in 1991. After school, he worked as a program director at a couple of radio stations, doing production for cable commercials.
Bossard attended grad school at Bowling Green University and worked at a museum there. When he moved to Ithaca in 2003, he was the curator at the Cayuga Museum of Art in Auburn, including the Case research lab. (Theodore Case was the inventor of sound-on-film, which became Movietone.) Brossard then ran the ticket center at the Clinton House, then became the marketing director at the Hangar for a few seasons–Kevin Moriarty's production of Hair was a big hit at the time–and then went on to a six-year stint at the Community Arts Partnership. He's been Cinemapolis's executive director ever since.
With Regal and, to a lesser extent, Cornell Cinema, there is competition and an element of the luck of the draw. Pulp Fiction was a big hit for Cinemapolis, but Tarantino's last six pictures played at the mall. (Cinemapolis did eventually get them second-run.) And for every film that does well and hangs in there, just as many come in, play a week and go away for lack of interest.
"The distribution game is run by big companies, and it's all a matter of deciding where their product will work best," said Bossard. "We're somewhat unique in that we're serving such a small part of the population. Our films aren't gonna play at the Regal up at the mall simultaneously, or vice versa."
A great example of how that system can work in Cinemapolis' favor is Spike Jonze's Her (2013). As Bossard remembers, it played at the mall for two weeks and didn't do any business. Cinemapolis picked it up and held it for a couple of months, up through Oscar season.
"People loved it," he said.
Bossard was also pleasantly surprised by the recent response to The Lobster. "That was our hit of the summer, which was encouraging to me, because it wasn't an easy movie. It was a challenging film – dark, satirical. People kept coming; we had that for 12 weeks." The Meryl Streep film, Florence Foster Jenkins, and Ron Howard's Beatles documentary Eight Days a Week also did very well.
"It's a tricky business, and I think that's what's exciting about being a first-run business instead of a repertory business," Bossard said. "Sometimes our schedule can change on a dime. Something can pop up on a Monday, and we'll open it on Friday. Hell or High Water is a perfect example, because I assumed [the studio] would go to commercial theaters with it, because that's what they typically place their movies, And suddenly it was available to us, and I think it's a movie that belongs more in an art-house environment."
Nina Miller still remembers seeing Ingmar Bergman's The Seventh Seal with her late husband George and staying up all night talking about it. Raising a family in Ithaca, there weren't that many appealing films at the mall, and George Howell, who ran the State and the Ithaca theaters, would only occasionally play something arty like Paul Bartel's Eating Raoul or Michael Radford's 1984. Sometimes the Strand would show something good. Though she can't recall the first film she saw at Cinemapolis, she recalls she and George going often, usually on a Sunday.
"Rich and Lynn did such a phenomenal job," Miller said. "I'm amazed at what they were able to accomplish."
Shortly after retiring in 2007, she called the theater and offered her services. They quickly called her bluff, and she joined the board. It was an interesting time, because as the current site was being planned, another developer was planning on opening a downtown theater in the same neighborhood that would have shown some of the same films.
"We struggled and struggled," Miller remembers. "'Can we afford to take this chance?' Because it was a huge chance. But there was so much loyalty to the theater on behalf of our audience, people immediately began to respond, and we decided to go for it."
In the last several years, Cinemapolis has adapted more of a Cornell Cinema model, hosting local filmmakers, Hugues Barbier's ever-growing Fantastic Fest, and David Moreland and Allison Andersen's monthly Family Classics Picture Show, now in its second year.
"One of our visions was to make this theater a center for the community," Miller said. "Using cinema as a way to bring people together, to have discussions, to expand peoples' horizons, to give an opportunity to independent filmmakers to have their work shown."
Thirty years. That is a piece of time. Owners and staff come and go. People die, most notably projectionist David Huntington [see sidebar], a mainstay of the place for decades. The one 35mm projector left at Cinemapolis stands in the lobby, although it would need a platter system to make it operational. Now all the films arrive on a hard drive, and once they've been downloaded into the new projectors, they can be swapped like digital files from room to room.
"I think Brett is just amazing," says Miller. "Lynn and Rich…it took so much courage to do what they did. And there were times when there was no money, and they kept it going. Brett is an absolute jewel. He knows film, he knows people and he's very smart.
"I look around and I count heads, and as a board member, it thrills me when I see a full house." •