ITHACA, NY -- Picture yourself strolling down Cherry Street. Scenically located along the Cayuga Inlet, the street is mostly industrial — a junkyard here, an auto shop there. Blending in seamlessly among those industrial buildings, however unexpectedly, is the Cherry Artspace. Almost resembling a large metal shed or garage, you'd be forgiven if you drove right past it. However, it's proving to be the anchor of a dramatic transformation planned for Cherry Street.
For those unfamiliar, the Cherry, run by Artistic Director Sam Buggeln and General Manager Erik Lucas, is a non-profit that often focuses on more experimental theater. Its building has a large open space available for rehearsals and performances, with the sole purpose of supporting local arts organizations. However, just across the empty lot next to their building, the Cherry now has something of a second home.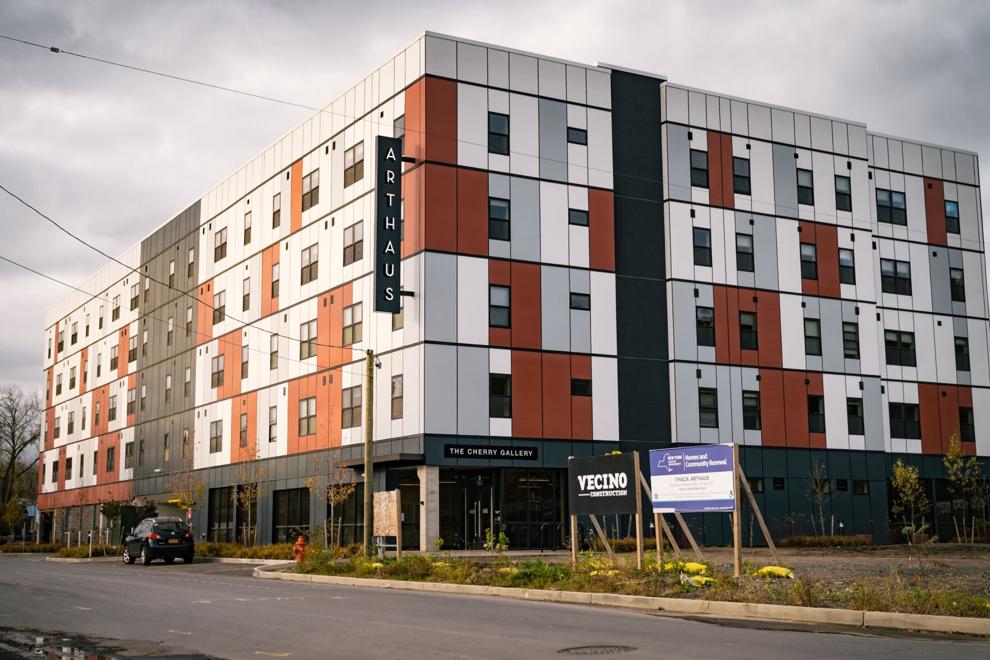 Modern in design and with bright pops of red, undoubtedly a nod to its home on Cherry Street, the Arthaus building stands at five stories. The Arthaus was built by the Vecino Group, the same developers who are currently constructing the Green Street parking garage, conference center and affordable housing building next to City Hall. There are 123 units, priced to be affordable for those making between 30% and 80% of area median income, which is currently around $60,000. This makes the 30%-80% range of area median income about $18,000-$48,000. Additionally, of those 123 units, 40 will be dedicated to housing chronically homeless youth ages 18-24, according to building manager Renee Funke.
Residents have already begun moving into the building, and Buggeln said he heard there was already a 100-person waiting list for the units.
"This building filled up quickly," he said.
On the front corner of the Arthaus building, the side facing the Cherry but still visible from the street, is a sign that says The Cherry Gallery. During the development process, developers from Vecino approached the Cherry about working with them to run arts spaces within the building.
When you walk into the Arthaus, there is a gray barn door to your right. When you slide the door to the side, you enter into the gallery space that is run by the Cherry. Empty right now, Buggeln said he and Lucas have started to put out feelers into the community to see what they'd like to see in the gallery and who wants to be involved.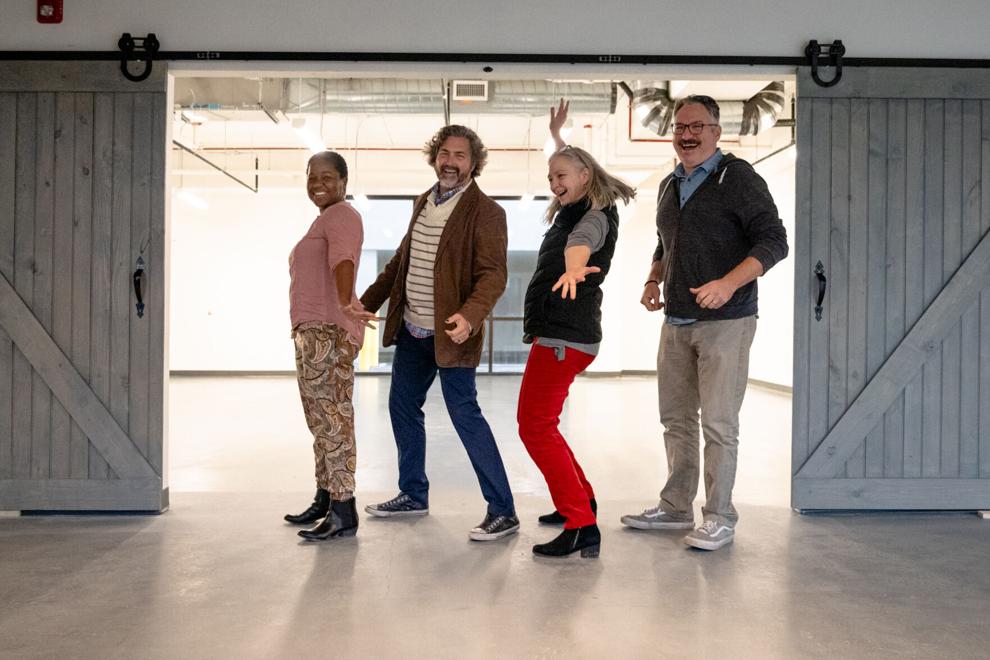 "We're talking to people with more visual arts experience since we're mainly performance arts," Lucas said. "We're calling on the community for sources."
Off of the gallery is another gray barn door, the Camilla Shade studio, named for a late actor who was prominent in the local scene. This studio is a community rehearsal space. Though Buggeln and Lucas are still working out the logistics, it will be available to anyone who wants to schedule time. And while there's no set cost, there will likely be a way for people to make a voluntary donation to use the space.
As far as the people who live above these new spaces, Buggeln said they're still exploring the different opportunities for residential programming. After speaking with the manager of a building in Troy, New York who has a similar art space in a low-income building, Buggeln said he thought they'd have the most success doing educational programming for some of the youth.
"We can help a new generation of young folks who might not have felt welcomed to art galleries and experimental theater," Buggeln said.
However, Funke said she's already gotten some phone calls from tenants who wanted to know about programming for residents, and said she plans to send around some survey questions to gather more information about their interest so she can pass it along to Buggeln and Lucas.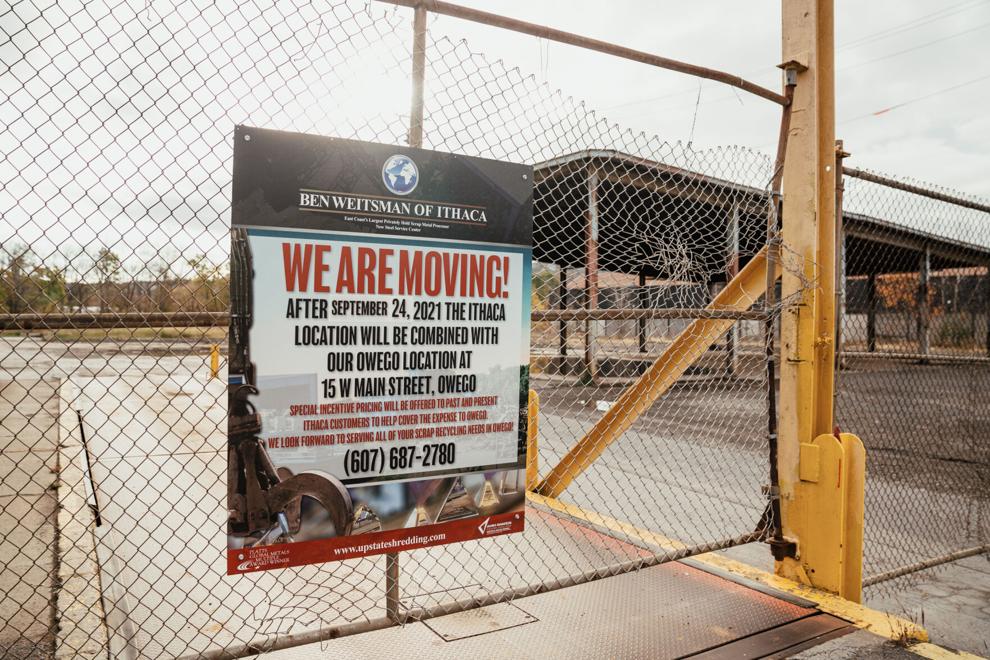 "If there's a ton of enthusiasm from tenants here then that's awesome," Buggeln said.
There's still some fundraising left to do by the Cherry to make the space perfect — adding locks on the door separating the gallery and the studio, building out a moveable wall system for the gallery and soundproofing the rehearsal space.
"We're so excited," Buggeln said.
And this is just the beginning for Cherry Street's transformation.
Currently, 110 Cherry St. LLC, is undertaking the Brownfield application process with the state so that Visum Development Group can build on it. A Brownfield site is essential property that needs to be decontaminated before it can be reused or redeveloped. According to Patrick Braga, Visum's director of development, their application for 110 Cherry Street is complete and needs to go through the public notice portion. Part of that parcel includes the lot between the Cherry Artspace and Arthaus.
The property is currently leased and operated by Upstate Shredding, Weitsman Recycling as a scrap metal collection facility. Braga said the site was originally mixed residential and industrial in the early 20th century and through the 1930s. There were a handful of houses, a flower shop, lumber storage and mills and a condensed milk factory owned by Nestle. The site was also used by Thomas-Morse Aircraft Corporation from at least 1914-1928.
"It's been industrial mixed use for over 100 years," he said. "It's the residential part that dissipated over time."

The area used to be prone to flooding before the flood control channel was built, driving people out. In the 1960s, auto-wrecking began occurring, and just south of the 110 Cherry St. site was a junkyard, and north of it was the auto-wrecking yard. By the '70s, the middle section of the site became a scrap metal yard. Braga said the breaking down of vehicles, which at the time just meant effectively smashing them up with a machine, led to a large number of contaminants leaching into the soil.
"We're talking really, really contaminated," Braga said.
Soil samples on the site found metals, polychlorinated biphenyls (PCBs), volatile organic compounds, semi-volatile organic compounds, and things like arsenic, lead, mercury, nickel, silver and zinc.
"It's unknown if it's leaking into the water right there, but it seems probable," Braga said.
Currently, Braga said, the vision is to bring the scrap metal operations on the site to an end, so that when the tenant moves to a cleaner, more modern facility, they'll be able to clean up the site to the state standard.
"I'm excited to get rid of all those toxins on that site," Braga said.
The timeline will depend on the type of remedial action the LLC ends up taking. They will look at the best way to remove the contaminated soil and then replace it with new clean soil.
"We'd like, once we choose which alternative makes sense, to do it within a year," Braga said. "I don't know if that's optimistic or realistic, but we want to transform the site as soon as possible."
And they have big plans.
On its Brownfield Cleanup Program Site application, 110 Cherry St LLC. outlines Visum's plan to build the Neighborhood of the Arts on the waterfront along Cherry Street and Cecil Malone Drive.
"This mixed-use district will be an inclusive, connected, and creative community set along Ithaca's western waterways," the application reads. "[Neighborhood of the Arts] includes the proposed [Brownfield site], as well as the parcel to the south."
The Brownfield site will comprise dense, mid-rise residential buildings in the mixed use district, as well as a parking garage to "serve the commercial activity on the adjacent non-[Brownfield] parcel."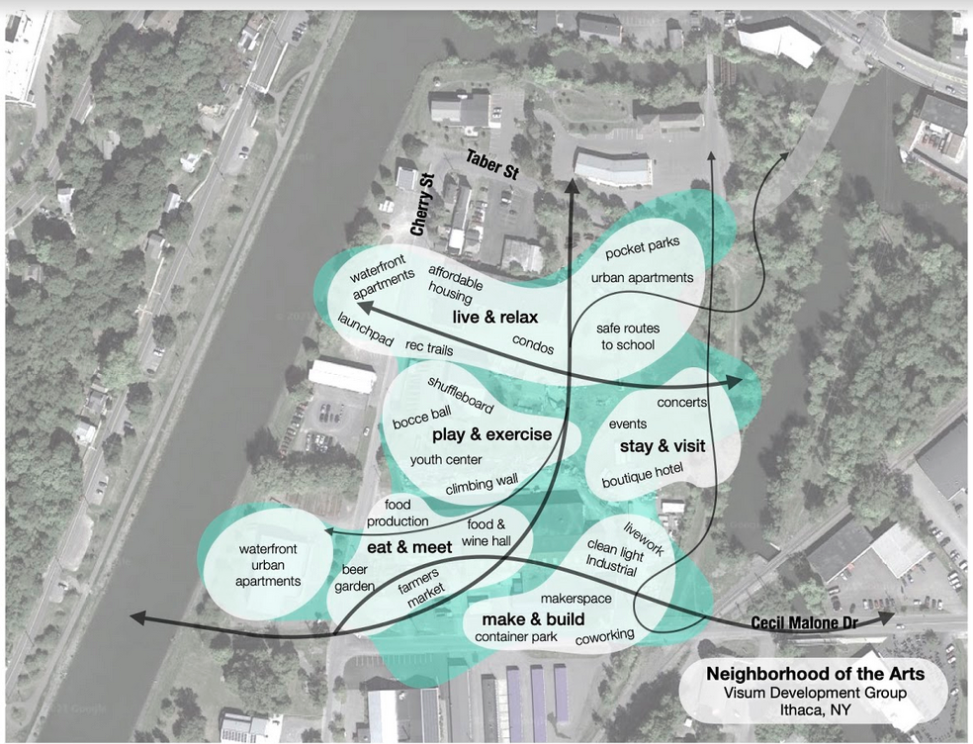 The Neighborhood of the Arts will reuse the industrial structure at the intersection of Cecil Malone Drive and Cherry Street as a mix of businesses and activities. At this stage, the application states the new businesses will generate 85-100 permanent jobs. Other plans for the Neighborhood of the Arts include a food and wine hall that promotes state agricultural business, public art, active recreation with indoor and outdoor recreation such as rock climbing, a bounce house, bocce and shuffleboard, a youth center where children can play, several public green spaces and a boutique hotel.
"Since we acquired the site in 2018 we knew we wanted to transform it into an urban neighborhood, which is also the city's vision," Braga said. "Because it's so large of a vision with so many moving parts, it's a plan that will be perpetually alive when we build the neighborhood. But the ultimate vision settled as an arts neighborhood, so we're doing different research now to look at stakeholders in the arts community and understand their needs and how we can meet them."
Currently, Visum is working on submitting plans for 132 Cherry St., which will be a five-story residential building on land that is not contaminated and doesn't need to go through the clean-up process. Overall, Braga said he's envisioning it to be an 8-10-year project, which will also add about 1,000 affordable beds.
"As soon as we have the Brownfield agreement, we want to start," Braga said. "We don't want to delay. Getting planning approvals in Ithaca is pretty tough […] What we want to add is a really high-quality neighborhood that's forward looking and integrates itself really well with the city."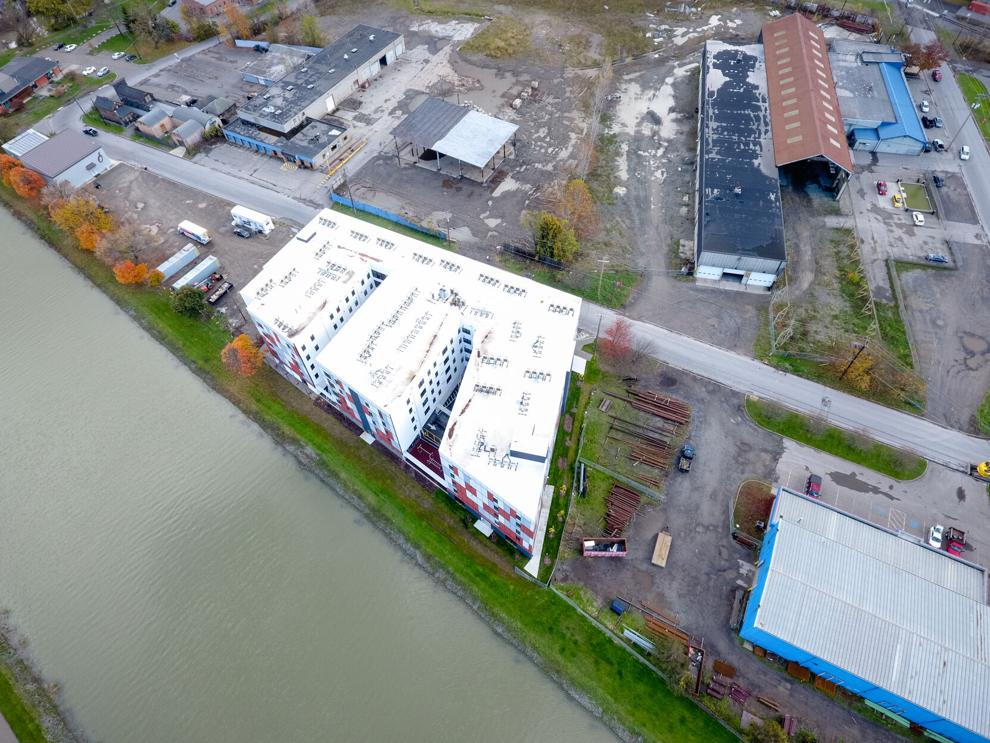 Currently, the Brownfield application is open for public comment through Nov. 26. You can view the application by visiting https://www.dec.ny.gov/data/DecDocs/C755020/ or through the document repository located at the Tompkins County Public Library.
There are several ways to comment on BCP applications. Comments can be submitted to the site project manager Christopher Mannes at 615 Erie Boulevard West, Syracuse, NY, 13204; via email at christopher.mannes@dec.ny.gov; or by calling (315) 426-7515.