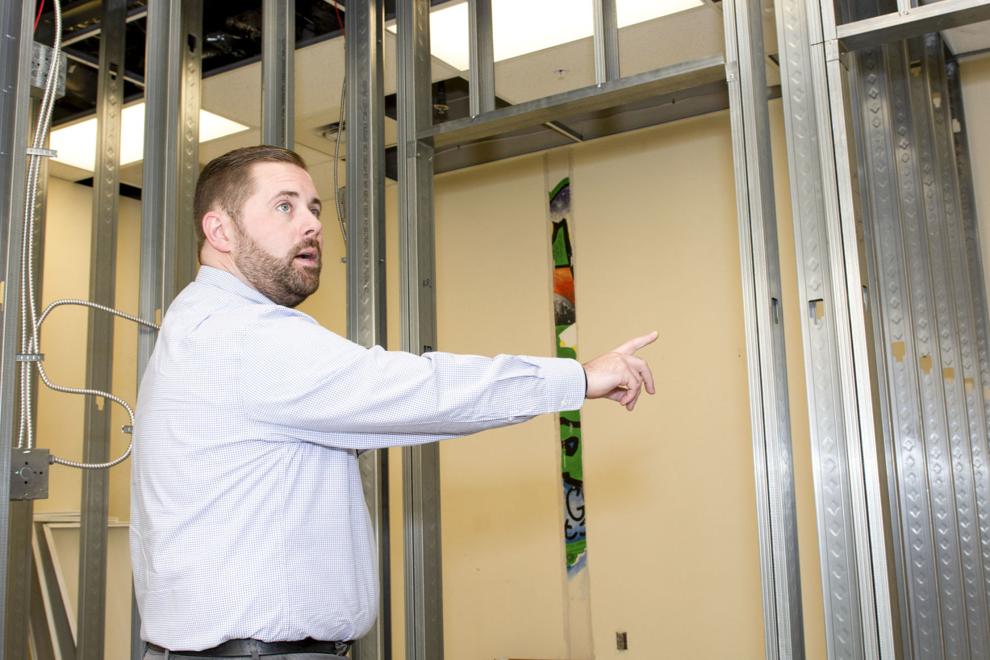 With medicine's approach to drug treatment changing, particularly over the last several years, the facilities that administer those treatments have had to quickly adapt to the shifting expectations and needs of people suffering from drug addiction. The latest example of that is ongoing renovations at Cayuga Addiction Recovery Services (CARS) which will allow the organization to conduct on-site withdrawal services and distribute opioid treatment medications.
Fueled by a grant from the Care Compass Network, CARS will now be able to provide ancillary withdrawal services on an outpatient basis for those suffering from opioid withdrawal, along with an opioid treatment program. The new programs are expected to be up and running by October. CARS does not currently offer any withdrawal services, though that will change once the renovations and hirings are complete.
The total amount awarded to CARS was $495,500, all of which will be dedicated to the new programming in some way, either via training, new staff members or the construction taking place within the building. Two licensed nurses, two practical nurses, a full-time nurse practitioner will all be hired while expanded doctor time will be added at the location. Additionally, the grant has already funded the hiring of a new outreach specialist and also two new primary counselors.
Justin Lynady, Director of Outpatient Services at CARS, said the new capabilities will focus on those suffering from opioid withdrawal, though they plan on widening that to include alcohol withdrawal in the future. It's designed for someone who might have a reason to avoid a full-on trip to an in-patient detox center, and would prefer treatment on a more flexible schedule.
"They can come to us and, for whatever reason, they might not want to go to detox," Lynady said. "Someone could come to us and say they don't have a detox option in their county, but they don't want to go away, so we could treat that on an outpatient basis."
While in-patient care is suggested for severe withdrawal symptoms, Lynady said CARS would now be able to treat mild to moderate withdrawal symptoms (what level a patient's withdrawal reaches is determined through screening).
One of the goals is to divert people from calling an ambulance or visiting the emergency room as their first resort if their experiencing those symptoms, instead positioning CARS as the first step. Along with avoiding those extremely costly medical services for the patient, the shift could reduce the burden on Cayuga Medical Center staff as well.
"We're going to be moving into a more medical-based model," Lynady said. "We do prescribe addiction medicines like suboxone and vivitrol here, but those are for people who are already stabilized. This component is going to address the destabilization of an individual."
While CARS had been able to prescribe those medications, which are commonly used to treat people addicted to opioids, the organization will now be able to distribute them on-site as well.
The need for detox centers has long been talked about, since the only organizations that currently offer detox services are in Syracuse and Binghamton, and are often at or near capacity, Lynady said. That need was first addressed in April, when the Alcohol and Drug Council of Tompkins County announced their plans for a $11 million detox facility that could contain 40 beds.
Tompkins County in general is undergoing a relative sea-change when it comes to addressing opioid addiction. Ithaca Mayor Svante Myrick has renewed his push for a safe-injection facility recently, while the REACH Clinic opened and the Southern Tier AIDS Program has seemed poised to expand its presence in the community. That, along with the A&DC's detox facility, represent the potential for quite a bit of change in the coming years, to say nothing of CARS' now-growing service list. While CARS is still under the umbrella of OASAS, Lynady said this is a way for them to operate in a more harm-reduction focused way while remaining within state guidelines.
"The treatment of substance abuse hasn't always been seen as a medical condition, and I think that this really does highlight that it is a medical condition," Lynady said. "Individuals, along with psychotherapy, need to have some addressing of medical needs depending on what they desire and what they need."