A protest outside of Ithaca Police Department turned hostile Monday afternoon when a line of protesters blocking the intersection of Cayuga Street and Clinton Street was broken by cars trying to pass. 
It doesn't appear as if there were any serious injuries, though cars did make contact with several people as they blocked the four-way intersection and two people sustained minor injuries, one who was clipped by a car and another whose foot was run over. No arrests have been made at this time, according to police. 
The protest had started around noon in Ithaca Police Department's parking lot, before moving into the street outside the department and then migrating down to the intersection. The event, held to protest racist policing and police brutality in the wake of George Floyd's killing in Minneapolis, involved about 15-20 people total and was peaceful until around 3 p.m.
One protester, a man, said at that point three or four cars broke through the line, and that he was clipped by one of them. Another protester said she was "pushed out of the way" by one of the cars, and another, Amanda Kirchgessner, said her foot was run over (and stayed on for several seconds) by one of the people driving through the line as she attempted to document the situation. 
Her video of the incident, which lasts about 90 seconds, is here: 
Kirchgessner said she was icing her foot after the incident but had not discussed pressing charges. The male protester also said he was mulling pressing charges against the woman whose car hit him, but would likely decide not to.
Other video of the incident, first obtained by the Ithaca Voice, appears to show someone exiting their vehicle and shoving one of the protesters. 
Things getting tense at Cayuga and Clinton as protesters briefly block traffic #twithaca pic.twitter.com/NkoKleG7Hi

— The Ithaca Voice (@ithacavoice) June 1, 2020
After the scene, police could be seen blocking the block of Clinton Street between Cayuga Street and Turner Place, where the Ithaca Police Department is. Videos of the incident show officers weren't at the intersection of Clinton and Cayuga Streets when it occurred. 
Ithaca Police Chief Dennis Nayor said that the officers at the scene had attempted to stop traffic but that protesters moved beyond the portion of the road that had been closed off. 
"Our attempts to stop traffic, and give them the roadway to protest in front of the station, were not working," Nayor said, expressing frustration that protesters had moved from where police were blocking. "We tried to reposition and that didn't work out. We did our best."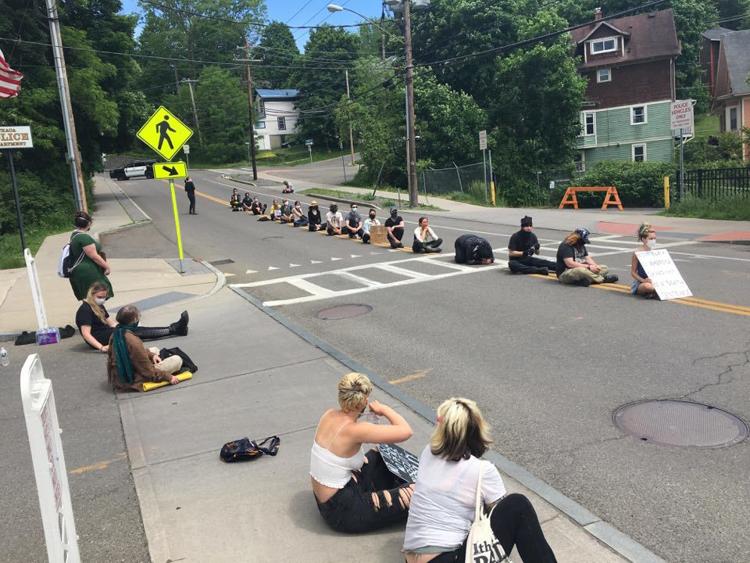 There are currently no charges pending for anyone involved, either drivers or protesters, Nayor said. 
"If someone's actually in the roadway and blocking a vehicle, and the vehicle is trying to go around it kind of puts them in a position that's not really favorable," Nayor said. "We put a lot of effort out to give the protesters their space. [...] We understand there's a lot of people that want to be heard and we were trying to give them that."
Nayor said no police reports had been filed so far regarding the incident, but that if they were the police would agree to present them to City Prosecutor Bob Sarachan. 
"There's no complaints that's come to me so far," Nayor said.