Correction: This article has been updated to more accurately describe the events in question when Ferguson and de Groat were arrested.
Activists and community members gathered on Friday afternoon to stage another rally in support of Cadji Ferguson and Rose de Groat, the two people arrested on the Commons in April during an incident that has riled tensions over police brutality towards black people. 
The crowd, which reached between 70 and 100 people, alternated between chants and speeches, before finally finishing off the rally with a die-in in the road on North Tioga Street. The rally lasted about two hours. 
Ferguson was recently acquitted of his charges, while de Groat is still scheduled to stand trial in November on her charges, which include two felonies. At one point, de Groat's lawyer, Ed Kopko, claimed that Tompkins County District Attorney Matt van Houten had agreed to drop the charges, something van Houten denied at the time; but de Groat is still scheduled for trial.
The incident in question occurred after a night of drinking, when Ferguson confronted someone on the Commons that he felt was making one of his friends uncomfortable. Ferguson ended up in an altercation with the man; when several police officers ran over, they arrested Ferguson and de Groat, who went to defend Ferguson when she saw him being arrested, tossing de Groat to the ground and kneeling on her head in the process. Mayor Svante Myrick has apologized for the conduct of the officers during the arrest, though after an internal review by IPD none of the officers involved in the incident were punished. 
Friday's gathering echoed many of the sentiments that have been expressed several times before by the group, led by Black Lives Matter Ithaca and Standing Up for Racial Justice. They want the charges against de Groat dropped, an apology from officials, and some sort of renumeration in return for the ordeal. (Editor's note: Ferguson and de Groat were both in attendance at yesterday's rally, unlike previously written.)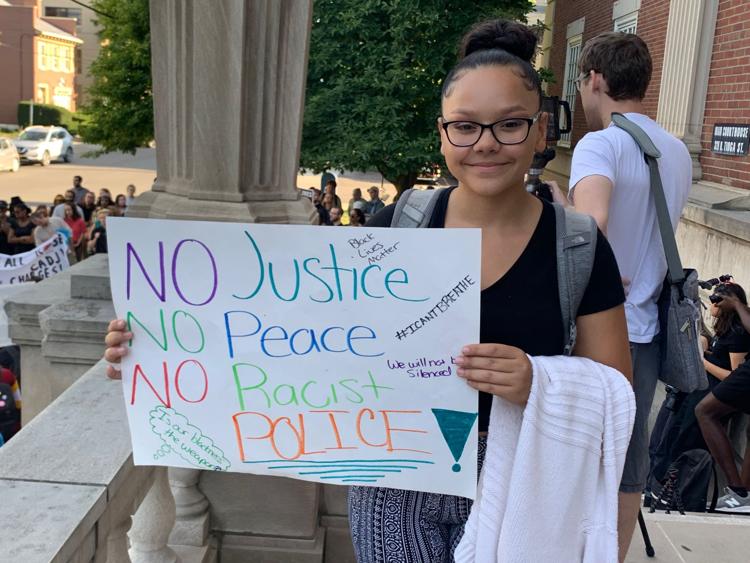 Many people spoke before the crowd, standing outside the Tompkins County Courthouse, either talking about their own experiences or voicing support and sympathy for de Groat and Ferguson. The rally's audience seemed to stretch across races and age groups as well, though the speaking was mostly led and coordinated by young black attendees. People as young as high schooler Savannah Gonzalez addressed the crowd, carrying a sign that called for an end to racist policing. 
"There's something that all of us can do," Rafael Aponte said, addressing the crowd and referencing vandalism against BLM signs earlier this year. "Even though some of us have these Black Lives Matter signs, we understand that some of those signs have been attacked and destroyed. Just putting a sign in the street that says you support Black Lives Matter puts the sign in danger. So imagine how we feel."