Laurin Ramsey is slowing down. With a daughter on the way and a global pandemic to navigate, Ramsey's work at Liontail Press has shifted to a less pressing part of her mind.
Liontail Press is a design and print shop in Ithaca that Ramsey opened in 2015, when she moved to Ithaca from Brooklyn, New York. Growing weary of the latter city, she packed her things and started a new life in a place she had only visited a few times with a former partner. Now she lives with her fiance, Justin Roeland, and spends time caring for her friend Jenny Stockdale's daughter, Gretta, three times a week.
She said that the pandemic and her pregnancy have changed her production schedule and decreased her visits as a vendor to the Ithaca Farmers Market. She has found her year, since March, to be a moment to refocus on the important things in her life, like family and friends. When she found out she was pregnant in June, this feeling was only solidified, she said.
"There's so many things besides the pandemic that have been happening this year, just regarding relationships with other people," she said. "There's so many ways that we need to support each other."
Ramsey's love for printmaking originated with her maternal grandparents, whom she said acted as a second set of parents to her while she was growing up in Atlanta, Georgia. Her grandparents owned a print shop, and in particular her grandfather, William, guided her through the press and taught her how to operate it. She then studied printmaking and art education while minoring in women's studies and psychology at the University of Georgia in Athens, Georgia.
She recalled the sharp smells of ink and rubber and the metallic clangs of her grandfather's press.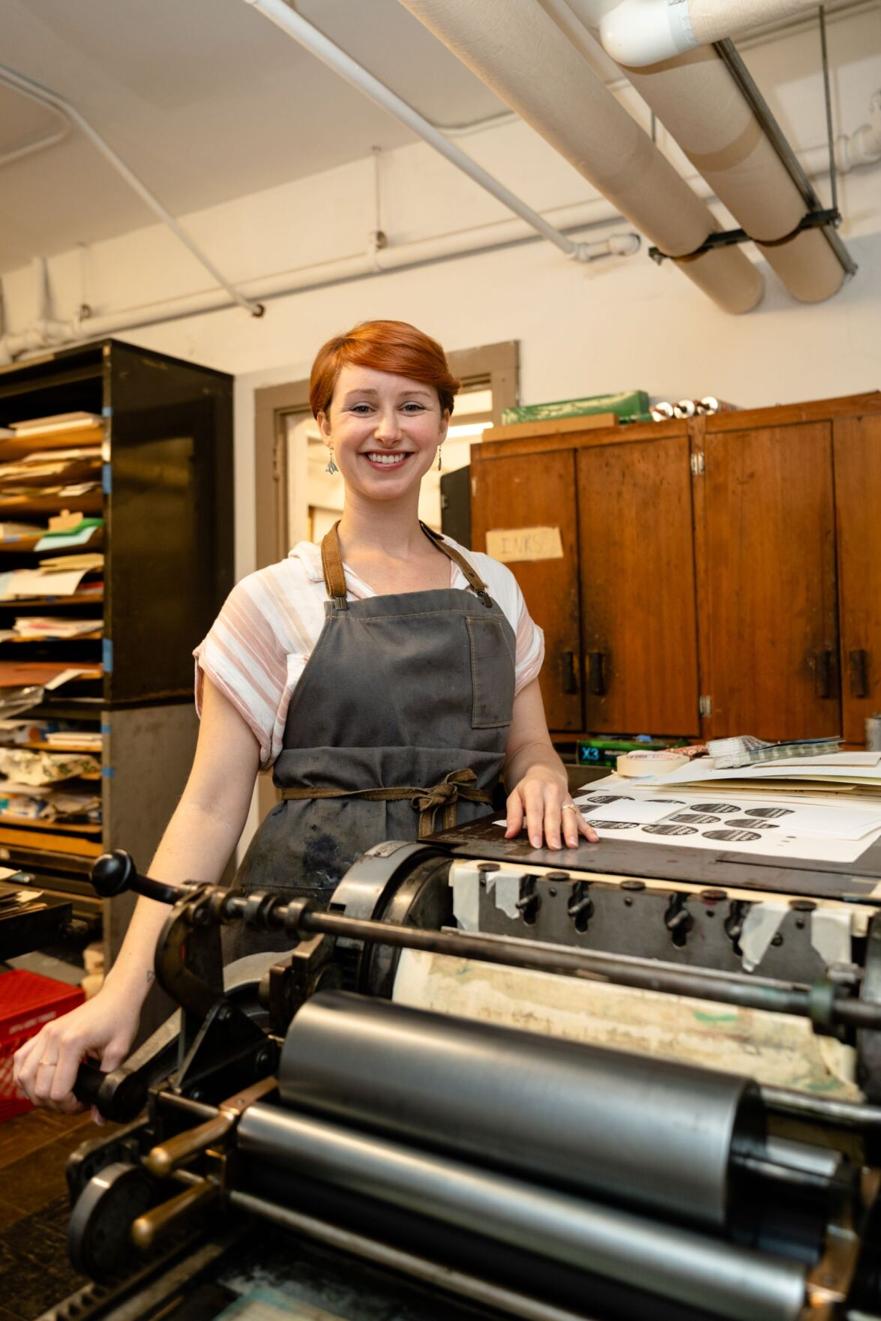 "Any kind of printmaking is such a sensory experience, and they say that scent is the strongest sense tied to memory," she said. "It's one of those acquired smells, like people who like the smell of gasoline or something like that."
Ramsey's grandfather passed away a few months ago after battling Alzheimer's. Losing someone who had a profound effect on both her life and her drive to start her own business was difficult, Ramsey said, and she felt this way when her grandmother died last year, too.
"When [my sister and I] were growing up, we spent so much time with them," she said. "I took my first steps to him when I was a baby, and he and I have always been just incredibly close, but he was 92. … It doesn't make it too much easier, but it's not a young life lost. It's not a huge tragedy. It's just sad to lose somebody that you love so much."
Ramsey's studio space is a letterpress shop on Cornell University's campus. She has only one business partner, Heidi. The two traveled from Plattsburgh, New York, to Ithaca after Ramsey met her in a garage print shop. She lifted Heidi into the back of a truck, slowly drove the five-hour trip from Plattsburgh to Ithaca and finally let Heidi rest on the Liontail Press studio floor. At 2,800 pounds, Heidi is the largest addition to Ramsey's studio — and her most useful.
Heidi, better known as a Heidelberg Windmill industrial press, emblazons the cotton paper with Ramsey's designs, ranging from lunar calendars to wedding invitations and cards. Stockdale said Ramsey made bee-inspired memory cards for her husband's father, a beekeeper who died approximately three years ago. Etched with honeycomb, the cards were mostly white space for attendees to write down a memory and share with his family. 
Stockdale is the associate director of marketing and communications at the Cornell University College of Agriculture and Life Sciences. She met Ramsey through Roeland while she and Roeland were living and playing music in California. Stockdale said Ramsey's personable touch on her projects at Liontail is similarly distinctive in her approach to childcare with Gretta.
"She has a way of bringing a lot of emotion into her work," Stockdale said. "Her work is not just graphic design. She offers that, but it's a lot more than that. … She just has a different take on what it means to be a local artist, and I think that really adds value to the entire art community here."
Aside from printing on treeless paper, Ramsey designs and prints wine bottle labels, a project she collaborated on with Scott Bronstein, the proprietor, owner and operator of Barnstormer Winery. Located on Seneca Lake, the winery offers tastings and produces approximately 3,000 cases of wine every year, Bronstein said. 
In 2016, Ramsey designed bottle labels that reflected the vintage aesthetic of Barnstormer. She also helped design some visual aspects of Barnstormer's website approximately two years ago, including a vineyard map.
"She has a style that's very visually appealing, striking," Bronstein said. "It's a very unique, clean approach, where it communicates the brand and the intent of the brand very clearly. … I think her work is her, and she is her work. I think they're very tied-in together. I think she invests a lot of her being in and a lot of her energy into her creations, and I think it's pretty obvious when you look at her work that there's a lot of care into it."
Ramsey started making masks during the pandemic, making them with a sewing machine she bought right before the pandemic-related shutdowns happened in March. She sold them on the Liontail Press website for $10. With each purchase she also donates a mask to an essential worker.
Living states away from her family in Georgia has also been difficult, but Ramsey said she has stayed in touch through the now-household virtual avenues — Facetime and Zoom — and also by writing letters. Though apart from the people she loves, she said that knowing she has a daughter coming in February has been a blissful interruption after months of isolation. 
"It's been intense, and the first few months especially were such a large transition," she said. "I do feel really lucky, though, to have a partner, and I haven't felt alone. … Ever since finding out that I'm pregnant, there's been a really welcome distraction, a positive distraction to everything else that's going on in the world."