For the first time in recent memory, all three area colleges wll have smaller freshman classes this year than in years past. Higher education enrollment has been falling for years, with New York leading the pack among states for decreasing college attendance with over 45,000 less students year over year enrolling in school, according to Inside Higher Ed. 
Many colleges and universities across the country are seeing declines in enrollment, specifically those in the Northeastern United States and a few in the Midwest. New York leads this group, with over 45,000 less residents attending college.There's a variety of factors that produce that result: lower birth rates, a shrinking middle class with less money to spend, etc. 
While Ithaca College and Tompkins Cortland Community College have both noted falling enrollment in the past, to varying degrees, the more prestigious Cornell University's student population has remained mostly steady or rising. Yet this year, some of the telltale signs of over-enrollment are less comon around Cornell's campus, like an abundance of "forced triples," the practice of wedging a third student into a dorm room designed for two. As stated, there's a nationwide trend of lower higher ed enrollment, but how are schools handling that in an area so dependent on sustained student presence?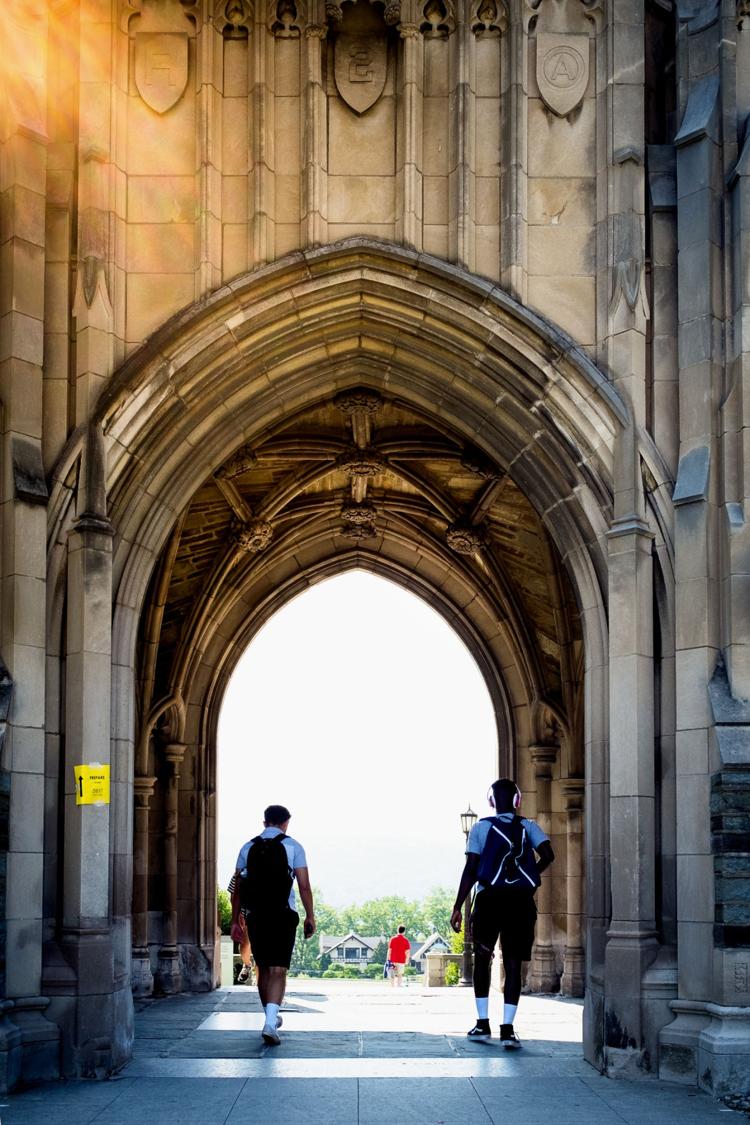 Cornell University
Cornell has the most viable claim that 2019's enrollment fall is a one-year fluke, simply because recent history shows routine increases every year (final enrollment tallies for 2019 are not yet clear). From 2011 until 2018, the undergraduate student population increased each year, from about 14,100 in 2011 to 15,100 last year. 
Jon Burdick, the school's newly hired vice provost of enrollment, said year-by-year enrollment numbers can be volatile, particularly considering the high number of applications Cornell receives as an Ivy League school. According to data published by Quartz, Cornell's applications actually fell fairly substantially from 2018 to 2019 (51,328 to 49,118), although the school still easily had the highest number of total applications received and highest acceptance rate among Ivy League schools this past year. Speaking only in terms of freshman year classes, Cornell enrolled 3,218 for the Fall 2019 semester, compared to 3,325 the year before. That's the schoo's lowest freshman enrollment since 2015; the figure usually hovers between 3,300-3,400. 
"My aim is to help keep the yield high enough that we can predict with good confidence how our final class will look each year, but also to continue making sincere offers to many of the world's best students, knowing that for many of these Cornell is the best match," Burdick said. 
Burdick acknowledged that Cornell's yield is good currently, and that he wouldn't necessarily be seeking to increase it substantially, even if it meant sometimes having a lower enrollment total. His two-pronged approach to attracting students is more or less to show the total value of a Cornell education, which he said would take more consistency in guiding students through the entire application and admission process, including getting them financial assistance, while also emphasizing Cornell's potential position to lead both Ivy League schools and private land grant universities. 
"No institution has a greater chance to lead across both sectors, and that's an authority we should be happy to exercise," he said. "President Pollack and many other leaders at Cornell seem excited to begin both kinds of work."
Ithaca College
As Ithaca College's admissions decline, so does its student population. This fall, the college is welcoming just over 1,500 first-year students and about 90 transfer students. According to Nicole Eversley-Bradwell, the interim vice president and director of admissions for Ithaca College, these numbers are significantly less than what would normally be anticipated, but in today's higher education environment they aren't totally unexpected. 
"It's an overall trend for colleges and universities in the Northeast as our college-going populations have decreased and are expected to decrease," Eversley-Bradwell said. "At Ithaca College, in terms of first-year incoming students, we've had a consistent enrollment and this is the biggest variance we've had over the past four years." 
Ithaca College took in below what was anticipated for first-year students, but was slightly ahead of what was anticipated for transfer students, Eversley-Bradwell said. One piece of good news is that this won't affect the class sizes too much.   
"The average class size for Ithaca College is 17 and the faculty ratio is 11 to 1, so we have relatively small classes already and I don't anticipate that this adjustment will make too many differences within the classroom," Eversley-Bradwell said. "The other is that students are enrolled by academic program, so in a few areas, for first-year students, we've exceeded what we had planned for in terms of enrollment, and so those classes might be slightly larger. And then there are other areas where we had anticipated a few more students and so they'll be slightly smaller."
Eversley-Bradwell does not see any surprises with the number of students who will be returning to Ithaca College. There are some challenges in enrollment management, but Eversley-Bradwell is working to ensure that any prospective students have enough time to decide on Ithaca College. 
"We're working with, for us, a majority of 17- and 18-year-olds who are making a decision, and we are trying our best to figure out how those decisions will go," Eversley-Bradwell said. "We certainly planned for a bit larger first-year class. We worked throughout the summer and beyond our deadlines to extend the application and deposit deadlines for students who are still interested in entering this fall, so we were able to add a few additional students to the incoming class. That also means we will be more encouraging for students in the spring 2020 enrollment, and so those are the areas where we make adjustments."
Local residents have seized upon the enrollment downturn to use as a weapon against student housing development. This was a slight factor in resistance to Cornell's North Campus Residential Expansion, but has taken on a much more prominent role in the debate over South Hill rental development, most notably 64 units of rental apartments at 815 S. Aurora St. which would likely cater to Ithaca College students primarily. 
With a bevy of factors to consider, particularly cost, the strength of an academic program, and proximity to home, there are numerous reasons for the recent downturn of students. 
Tompkins Cortland Community College
Tompkins Cortland Community College (TC3) serves a different purpose than the other two schools in the area, catering to a population with lower incomes and who are more likely to have life circumstances interrupt their educational endeavours. 
Vice President of Student Services Greg McCalley said since 2014, TC3 has seen steady declines in enrollment until this year, when there appears to be almost no change from last year's enrollment. According to statistics provided by the school, since 2011 the fall has been precipitous: going into that year, TC3 boasted over 4,000 students enrolled; seven years later, that number has cratered to just over 2,000. McCalley was hired in 2018 to help stem the continuing enrollment fall, so even just a leveling off is a decent start, particularly considering the aforementioned drops at Cornell and IC. 
"It sounds crazy, but I'm glad to even see it staying even at this point," McCalley said. "We had this big peak, and maybe some decisions were made like building a few too many dorms thinking that would go on forever, but I think we're coming back to our normal."
McCalley said that in 2008, enrollment skyrocketed as a result of the economic crash at the time; with more people out of work, they were forced to come back to school, and TC3 served as a reliable and less expensive alternative than other higher education options. The odd reality is that, for TC3, the economic problems of the country usually end up boosting enrollment as people seek further education or another degree to open more professional opportunities. 
The school's strategy for attracting more students has been to localize their focus, reducing recruiting efforts in farther reaches of upstate New York like Buffalo in favor of students in and around Tompkins County. 
"We pulled back our efforts and [now] we're just kind of refocusing where we get our students from and building relationships again with the high schools," McCalley said. "No criticism of the past—I just think we expected them to come. Now we have to build it, and we have to work a little bit harder, so that's what I'm here to do."
McCalley said over the last several years, the school's adult-focused initiatives (as opposed to high school student) have been reined in a bit at its locations in Ithaca and Cortland, but he plans on gradually expanding them again. That decision is partially motivated by the possibility of an impending recession on the horizon that could mean another influx of students who lose jobs and go back to school. 
TC3 is preparing to start running micro-credential classes, which would provide students with classes giving them six to nine hours of training in specific certification areas. McCalley said they've instituted this after finding a demand for it among local businesses, who can hire the students once they've gone through the proper training at TC3 through the micro-credential courses. That initiative is indicative of both TC3's mission and a near-term strategy: adding educational options that prioritize trades training, and making sure it's better prepared this time if it experiences a jump in students. It fits with McCalley's main goals of avoiding another overextension of resources while still maximizing the breadth of opportunities the school can provide students in the community. 
"We're a community college, so we're here to serve the community," McCalley said. "I think we have a lot of opportunity there [...] We've got to go out in the community and find out what's needed and see what we can do here."