You have seen them along the road and in hedgerows near old orchards. A lot of them look like abandoned, misused straw brooms pointed at the sky. The crowns are thick and their branches head in all directions. They are seedling apple trees. They have sprung from fruit that has been thrown out the window of passing cars, carried some distance by an animal, or otherwise transported some distance from the varietal apple tree where pollination produced them.
Apples — both the ones you eat and most of those made into cider — are kept true to type by grafting shoots onto rootstock. But those varietal trees are fertile. Which is to say, their fruits have seeds and the seeds can and do grow into the new generation. Of course, the genome of the new tree is entirely dependent on the whims of a single bee as it transported pollen from one blossom to another, often enough between trees of different varieties.
The apples from trees that grow from seed — seedling trees — are small, misshapen, and usually very strong tasting. And some of them are perfect for making cider.
"The whole thing that started me on this," said Eric Shatt of Redbyrd Orchard Cider, "is that we were living in Burdett and there was an abandoned orchard down the road. There were wild seedlings all over the place." Shatt moved to the Finger Lakes over 15 years ago to work with grapes, not apples. While he was out pruning vines, he began to notice seedling apple trees around the edges of the vineyards.
In 2004 Shatt worked for Herman Wiemer, a winemaker who also ran a nursery business. It was there he was taught the craft of grafting. While he learned on grapes, the skill translated easily to apples.
Soon after moving there he began planting his Burdett orchard, which initially included all manner of heirloom varieties. Some of his favorites are Newtown Pippin, which originated in the eponymous Long Island town in 1750, and Roxbury Russet, which was first identified in the mid-17th century in what is now part of Boston. In addition to these colonial apples, Shatt has also planted many old French and Spanish varieties. There are 150 different types of apple in the Redbyrd orchard.
With the new season about to begin Redbyrd has eight ciders available, one aged for three years. They are described at the website in lengthy tasting notes. An example: Cloudsplitter '19 lists 36 varieties of apple in this still cider, and it was "pressed : October, November 2019, rack and cloth, fermented : stainless steel, bone dry finished : unfined and unfiltered. Still aromas : clementine, beeswax, red raspberry, smoky bittersweet apple notes. Taste : dense fruit, earthy, complex, structured [with] 0.0% RS [residual sugar], 8.3% alcohol/volume. 30 cases produced."
"Blending is the art of it," Shatt said. "It's never an exact blend [from year to year], but it's the same intention. It's not mathematical. Instead, you highlight certain characteristics."
Steve Selin of South Hill Cider described his introduction to seedling apples as a "happy accident." Like Shatt, he noticed them on the landscape in the national forest and along the edges of farm fields. "When I first started making cider, these trees were available," he said, "and they had really great fruit." He began blending them with fruit picked in abandoned orchards.
In the early 2000s he was spending a lot of time with winemakers because, as an old-time musician, he was playing a lot of winery gigs. Selin, who has an academic background in ecology and chemistry, noticed parallels between cider making and winemaking. With their many ancient varieties, cider apples, he decided, were analogous to vinifera grapes. And the steps in the production process were identical; you were just starting with different fruits.
Selin began sharing his cider with winemakers, and they liked it. He decided to go commercial. He and his family lived on the Danby/Ithaca line next to a 26-acre parcel of farmland the rest of which had been sold off in pieces for development. Over the years Selin and his wife had sent the farmer, who had retired to Florida, regular postcards, offering to buy the lot.
"When we decided to do cider," he recalled, "I wrote him a one-page letter and described what we wanted to do." The landowner responded immediately and offered to sell the land to them. Selin put a conservation easement on the property and planted 1,500 semi-dwarf apple trees. Many of them were scarce "bittersweet" varieties especially developed for cider-making in the English and French styles.
Five years ago he began taking cuttings from the wild seedling trees. Now he has over 200. Like Shatt, he knows how to graft. "It's like making sushi," he said. "If you don't know how to do it, it seems complicated. Then you do it, and it becomes just what you do."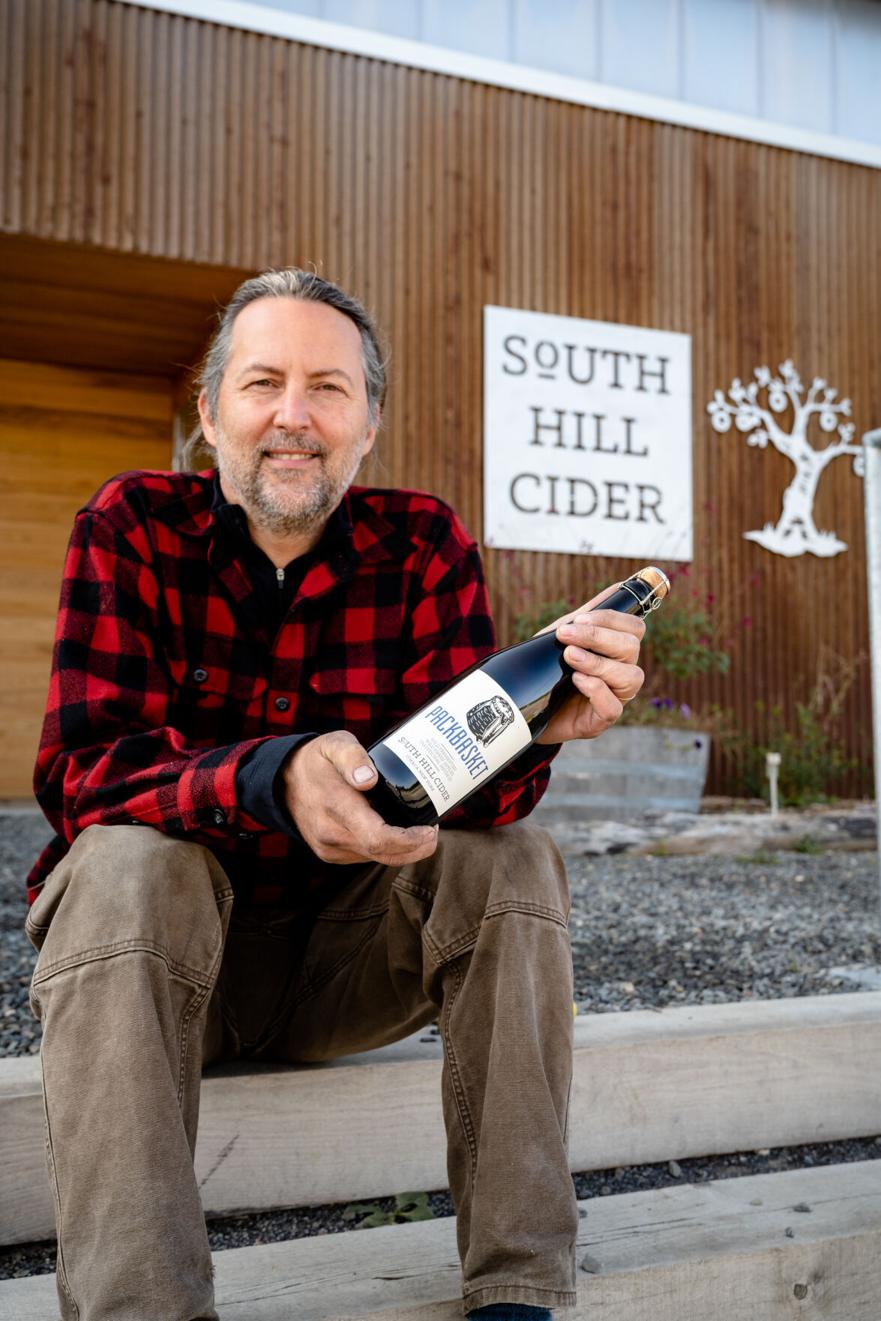 He uses the same kind of press as Redbyrd. "The rack and cloth press was the most common type used in North America and Europe from the 1800s to the mid-1900s," Selin said. The crushed apples are pressed through muslin (or polypropylene in the modern incarnation). He likened it to cheese making, but reversed; in cider making the liquid is retained, while in cheese making the whey is discarded.
Both Redbyrd and South Hill are just beginning their cider making season and will continue until just shy of Christmas. Selin said he will be working 10-hour days and producing about 400 gallons per day. At the start of the season cider makers press quickly because it is warmer and the apples are softer and do not keep. Later in the season, the apples may be stored for several weeks before pressing.
Both makers produce still and sparkling ciders. Selin said that some varieties lend themselves better to sparkling. There is more structure in the acidity, he explained, while flavors that emerge from tannin-rich apples work better in still ciders.
Sparkling ciders are produced either by fermentation in the tank (Charmat method) or by secondary fermentation in the bottle (Champagne method) or by carbonation, forcing carbon dioxide into the cider. Shatt, who uses all the methods, defends the latter: "It sounds aggressive, but it's still very pure; we're not adding sugar or yeast. The cider is still transparent of the terroir and that's my focus."
The pandemic has had both positive and negative effects on Redbyrd and South Hill. Shatt noted that it had forced him to focus on online sales and look toward Zoom tastings. On the other hand, a planned expansion to sales at New York City green markets has been postponed.
South Hill saw an increase in online sales, but Selin wonders how the coming winter will affect the culture of his tasting room. While visitors have enjoyed cider and live music outside during the warmer months, there won't be live music indoors this winter, but cider tasting will continue.
For more information see redbyrdorchardcider.com and southhillcider.com.