It is a presidential election year, but do not expect that candidates will come a-wooing to Ithaca this fall. For decades, ours has been a reliably Democratic city in a reliably Democratic state. What that has meant is that candidate visits to our city in a general election have been scarcer than Trump supporters in a GreenStar checkout line. The joke has always been that Ithaca is "centrally isolated." We are not really on the way to anywhere else, and candidates in the heat of battle put their time and money into swing communities in swing counties in swing states. It was not always so, though, and Ithaca has seen its share of supplicants over the years.
Presidential election campaigning—as we have known it since the beginning of the 20th century—was not the norm for much of American history. For one thing, it was not until the late 1800s that there was a railroad infrastructure that would have made personal candidate appearances practical. More important than that though, were the social conventions of the times. A candidate appearing on his own behalf would have been considered unseemly before the turn of the 20th century. Tradition held that a candidate should be above the fray, ideally letting others do the dirty work of glad-handing and dealmaking.
This began to change with William Jennings Bryan's 18,000-mile, 52-day stumping tour in 1896, during his first bid as the Democratic candidate for president. In what came to be popularized as the first big whistle-stop tour, Bryan was able to reach thousands of people by train, sometimes stopping to give speeches in as many as twenty towns in a day. Though he didn't win, the fact that personal appearances could resonate with voters was a lesson not lost on either party.
It was a turning point in presidential politics, and ever after candidates have waded into the fray without reservation. The change was apparent in the very next presidential election year, 1900, when, in the weeks before the election, both Republican vice presidential candidate Teddy Roosevelt and Democratic presidential candidate William Jennings Bryan visited Ithaca.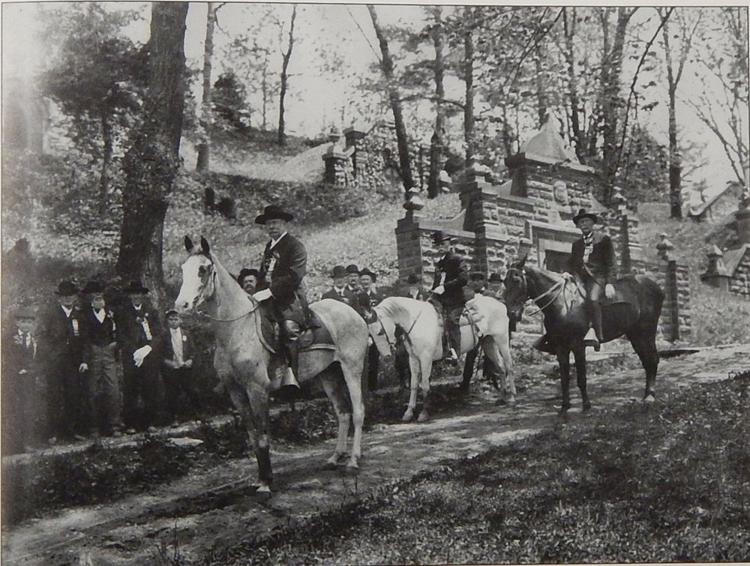 1900 Campaign
This having been a Republican city in those days, the more enthusiastic welcome was reserved for Roosevelt's visit on Oct. 29, just eight days before the election. He arrived at the East Ithaca Station (near where the Coal Yard Café is on Maple Avenue) to a boisterous welcome. Carriages from all over the county began arriving to await his train as early as 7 a.m. that day. He arrived at 1 p.m. Roosevelt and his entourage traveled by streetcar from the station down the hill on Oak Street through Collegetown, past Cascadilla Hall, over Eddy Street, down State Street, to the Ithaca Hotel at the corner of State and Aurora. Progress slowed to a crawl, as a crowd of at least 10,000 packed the road from Spring Street (now Schuyler Place) all the way down to the hotel.
Though only a three-hour visit, it was the biggest event of the year. There was a parade through downtown, a speech, dignitaries to meet, and a return trip back up the hill to the station. Business in the city came to a complete standstill. The city schools were closed.
The pro-G.O.P. Ithaca Daily Journal gushed for two days with coverage of the visit. By contrast, William Jennings Bryan, the Democratic presidential candidate again that year, who had come to Ithaca just 10 days earlier, had barely garnered a mention in the same paper. Bryan's visit, the only one by a major party presidential candidate late in an election campaign in Ithaca's history, was also brief. He attracted a respectable crowd of "5,000 to 8,000" to welcome him at the Lehigh Valley Station. A parade took him to the Clinton House, where he changed his clothes, after which he addressed the crowd in Dewitt Park from a specially-erected stand in front of the high school (now Dewitt Mall) on the corner of Cayuga and Buffalo.
His speech was characterized, at least in the beginning, by a certain amount of political heckling by (presumably Republican) Cornell students. And, in an incident that made national news, a hundred or so young women who were stationed in the upstairs windows of the high school behind Bryan's platform unfurled posters of his opponent William McKinley as he started to address the crowd. By all accounts, he handled the disruptions with aplomb and was able to conclude his speech without further incident. The modern age of political campaigning had come to Ithaca.
The national population shifts to the South and West lay in the future. As the nation's most populous state at the time (and until the 1970 census), New York was certainly important. Though nobody knew the term at the time, it was a perennial swing state in those days, which meant upstate was also important. Still, visits to Ithaca itself during presidential campaign seasons after 1900 were rare indeed, until the 1950s.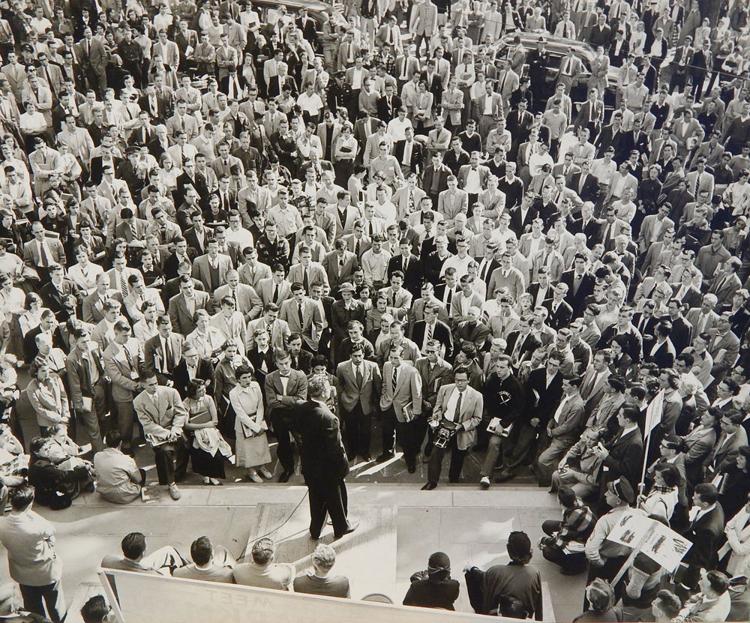 1952 Campaign
In October 1952, it suddenly seemed like our city mattered again. Both major party running mates came to Ithaca in the weeks before Election Day. Democrats had controlled the White House since 1932, but with President Truman stepping down, the contest seemed wide open that year. The issues then had to do with the Cold War: McCarthyism was in the air, and the nation was polarized over the stalemated Korean War. 
First to come was Democratic candidate Adlai Stevenson's running mate and U.S. senator from Alabama John Sparkman. Arriving by train the afternoon of Sept. 29, he, his wife, and their daughter made their way without undue fanfare to the Ithaca Hotel. That evening, he spoke at a $10-a-plate Democratic fundraising dinner at the hotel before giving a radio interview on WHCU. He spent the night in Ithaca, gave an address in the morning from the steps of Willard Straight Hall on the Cornell campus, and left immediately thereafter.
Three weeks later (Oct. 18), in true whistle-stop fashion, 39-year-old Republican vice presidential candidate Richard Nixon stopped for a little over an hour at the Lehigh Valley station on a 14-car campaign special train. Accompanied by wife Pat, he addressed a crowd of 3,500 on the Ithaca Youth Bureau's 'Red Wagon' platform on the flats west of the station (where Island Fitness is now). Speaking extemporaneously, he invoked the golden years of Cornell football under Gil Dobie and Carl Snavely, before blasting the foreign policy of Harry Truman. Somehow, he was able to calculate that Truman had "dissipated 9 to 1 odds against communism to a point where the odds against the U.S. today are 5 to 3."
"He seemed very relaxed and easy-going," recalled then-Cornell-student Ed Hanley. "Not like the Nixon of later years."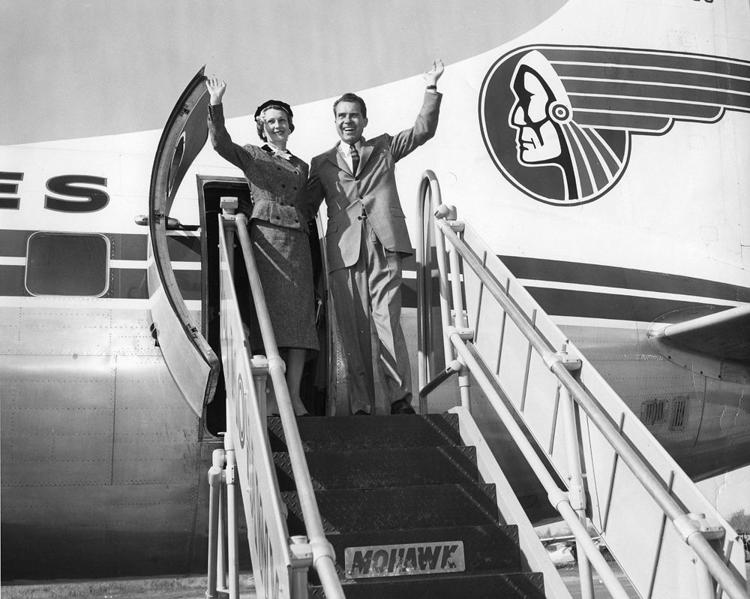 Nixon in 1956
Probably the highest-profile general campaign visit to Ithaca, though, was Richard Nixon's visit on Oct. 17, 1956. This time, he and wife Pat arrived by airplane. 2,500 people greeted them at the Mohawk Airlines gate at 2:30 p.m. at the new Tompkins County Airport on East Hill. They were taken to the Statler Hotel on the Cornell campus, where he spent the afternoon preparing for the main event of his visit: an appearance, in the format of a 'press conference,' at Bailey Hall that evening, that was televised nationally on CBS Television.
While waiting to appear on TV, Nixon made a surprise visit to the Tompkins County Republican Dinner, which was being held that evening in his honor at the Statler. 2,200 Cornell students were allowed to attend the Bailey Hall event (proof of registration had to be presented at the door), along with 42 college newspaper editors, primarily from Northeast colleges and universities. The topics? The nuclear arms race, the communist menace, and the mounting Suez Crisis.
Following the telecast, Nixon took a few minutes to talk to students on the steps of Bailey Hall. When asked about Senator Estes Kefauver's claim that hydrogen bombs were going to affect global weather patterns, he replied, "That's news to me." After having spent 8 hours in Ithaca, the Nixons took off by plane at 11 p.m. for New England.
The televised press conference was not without controversy. New York Gov. Averell Harriman (a Democrat) wrote a letter to Cornell President Deane W. Malott complaining of the partisan nature of the campus appearance. 
Television made its presence known in that year as a factor in presidential campaigns. And as television—which could bring a candidate into everyone's living room—became more important, the less important appearing in person became.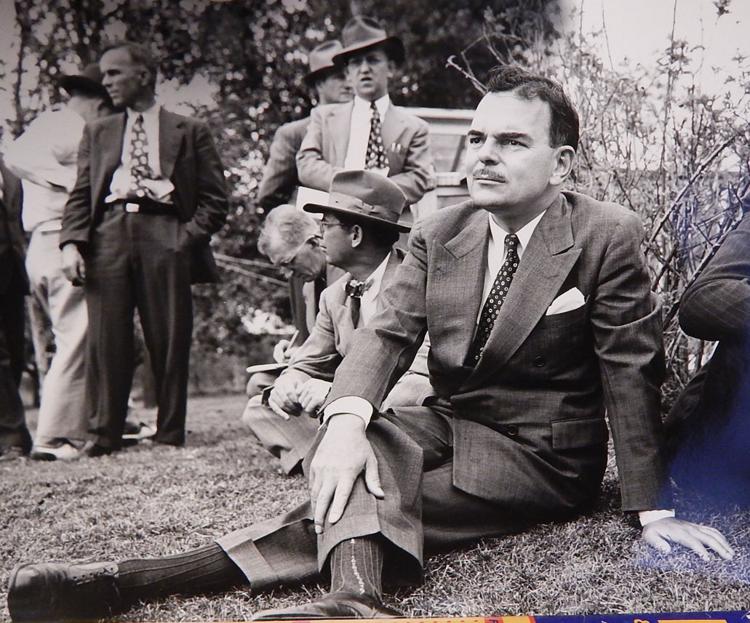 New York State Politics
Tompkins County used to be a solidly Republican County. From 1916 to 1984, Lyndon Johnson was the only Democrat to carry it (in 1964). However, Democrats have won the county in every presidential race since 1988. Similarly, New York State has voted Democratic since 1988. Most of the other upstate urban areas, like Albany, Rochester, Buffalo and Syracuse, are reliably Democratic. 
Historically, the rest of upstate New York, especially rural areas, is generally more conservative and has tended to vote Republican, although Democrats have made significant gains upstate in the last 25 years, and today the region is much more evenly split. The ebb and flow of major party politics is reflected in the nature of the campaign visits to Ithaca.
Sometimes we have seen candidates very early in their national campaigns. From Teddy Roosevelt in October 1910 to Franklin Roosevelt in March 1932, and Dr. Ben Carson in April of last year, candidates have seen fit to stop in Ithaca as they test the waters around the country.
We have also seen the Don Quixote candidates. In 1980, third-party candidate John Anderson's support seemed to be strongest in the cities of the still-industrial states of the Northeast. Six days before Election Day, his running mate Patrick Lucey spoke at Anabel Taylor Hall at Cornell about student loans and the future of the two-party system. Anderson went on to get 7 percent of the popular vote in an election that Ronald Reagan won in a landslide.
In July 2004, Green Party candidate David Cobb made Ithaca a stop on his campaign trail, stating that he was actively campaigning only in "safe" states—places where George W. Bush or John Kerry were sure to win the electoral votes—so that he wouldn't siphon any votes away from the Democrats.
In recent general elections, however, the major party presidential candidates have mostly skipped campaigning in New York State, with Republicans effectively ceding New York to the Democrats and deciding to concentrate on important swing states. The last Republican candidate to make a serious effort in New York State during the general election was George H.W. Bush in 1988.
Our state has had its share of contenders—both Roosevelts, Al Smith, Thomas E. Dewey, Geraldine Ferraro, Hillary Clinton, Nelson Rockefeller, Bobby Kennedy—all of whom had New York connections and all of whom passed through Ithaca numerous times, though not while actively campaigning for president. Already enjoying name recognition and a history of personal appearances, many of them have chosen to focus their campaign energies in less familiar precincts in election years. This year, Hillary Clinton, Donald Trump, and Bernie Sanders all have New York ties.
So, while appearances by candidates during a general election in upstate New York have been increasingly rare, visits to Western New York in the primaries still happen every four years and have become our best shot at seeing a candidate up close in an election year.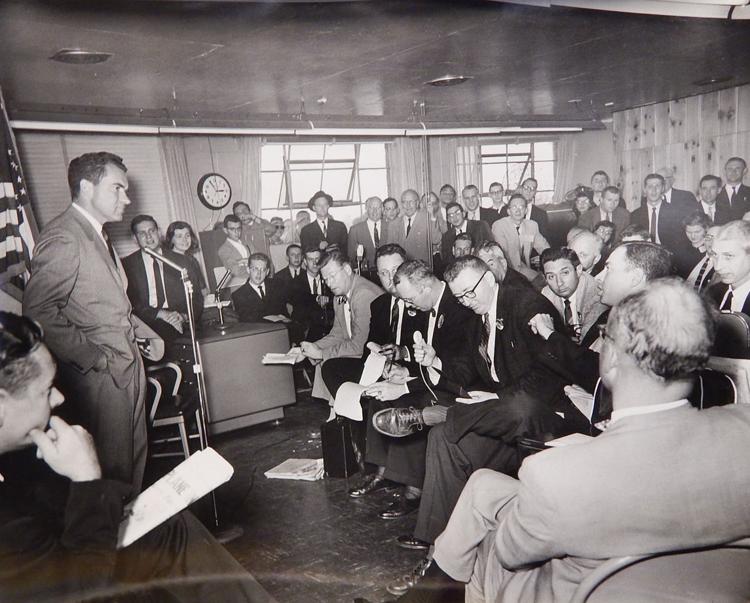 The Primary
The advent of the primary system, as we know it today, is generally traced back to the 1972 presidential election. After the chaotic and contentious Democratic National Convention of 1968, at which Vice President Hubert Humphrey won the nomination after not running in a single primary, the national Democratic Party sought to reform its nomination process. It began to develop an increasingly standardized set of rules that each state party had to obey. Thus the first campaign of the "modern" era of presidential politics was born, as it was the first to feature many of these rules.
It was supposed to be the end of the era of the smoke-filled room, in which candidates were selected by the party elders. It had the effect of extending the campaign season and making almost all the states battleground states for party nominations. 
In fact, upstate New York has seen its share of primary candidates in the past 40 years, and this year is is no exception. Hillary Clinton was in Syracuse earlier this month; Bernie Sanders was in Binghamton on Monday, April 11; and Donald Trump will be in Syracuse this Saturday, April 16. Visits to Western New York usually mean the Albany-Utica-Syracuse-Rochester-Buffalo corridor, where the votes and the cameras are. Primary campaign sweeps are typically whirlwind affairs, and time is a precious commodity to a candidate. The road to victory does not often include a side trip to a small, out-of-the-way city like Ithaca. Even gubernatorial candidates have been known to ignore the smaller cities in the state.
The primary calendar matters, too. Being the first state in the primary season, Iowa gets a lot more primary love than New York. According to the 2010 census, Manchester, Iowa and Newfield, New York both have the exact same population—5,179. Yet, between January 25 and February 1 of this year, Manchester was visited by three Republican presidential candidates and one Democratic candidate. On January 30, both Carly Fiorina and Bernie Sanders were in town. The next day, Ben Carson showed up. Five days earlier, Ted Cruz had been there. In primary politics, as in real estate, location is everything.
That is not to say visits to Ithaca never happen. In late March 1984, a week before the New York primary, Jesse Jackson appeared in a packed State Theater to promote his candidacy. "I remember that the energy was intense," said former Ithaca resident Dave Rapp. "He talked about cutting down our nuclear arsenal and putting the money into social programs." Republican hopeful Ron Paul filled Cornell's Lynah Rink with 4,400 supporters five days before the 2012 New York primary.
These days, in general, we are ignored. In a tight primary, upstate cities might get a visit, but it has been a long time since the City of Ithaca had a heavy hitter late in a general election campaign. Conventional Wisdom would suggest that we would not get a visit this year, either. Of course, one never knows. Conventional Wisdom has not exactly had a good track record so far in the election of 2016 •