A panel of volunteers and nonprofit workers who help people experiencing homelessness brought more than 100 people to the Greater Ithaca Activities Center this weekend to discuss a growing homelessness crisis in the City of Ithaca.
According to point-in-time counts of previous years, in which agencies and officials drive around the city one night of the year surveying who is experiencing homelessness, the number of individuals sleeping outside has worsened over the years. Last year's count was just under 80 people, but the point-in-time count can be skewed because it only accounts for those sleeping outside on one night of the year during winter, when temperatures are usually below freezing.
Speaking to the crowd, the panel of self-identified Christians, organized by Community Faith Partners, said they were drawn to this work through their religion. During the discussion, they advocated for policy change and affordable housing, not just charity work, as ways to address the homelessness crisis.
It is difficult to discuss homelessness in Ithaca without bringing up the Jungle, a homeless camp with around 20 or 30 residents sleeping in tents and huts.
"I didn't think there were any homeless people in Ithaca," said panelist Carmen Guidi. "Then I heard about the Jungle and was told not to go there. I went there anyways with a bunch of pizza and water one afternoon and the rest is history."
"Our whole family went down there and we were just shocked at what we saw, so close in proximity to the big box stores in the area," added panelist Deb Wilke, who volunteers to assist people experiencing homelessness.
Some Jungle residents have been there for years and, according to Guidi, the population continues to grow. Wilke, Guidi and others have volunteered their time and resources to assist those living in the Jungle by providing them with food and supplies. They do not visit the Jungle to proselytize or to shame the people living there.
"When engaging with somebody that is experiencing poverty and homelessness, the worst thing we can do is walk up to them to evangelize them," said panelist Mike Foster, who spent 10 years homeless before becoming the program manager at the Ithaca Rescue Mission, which provides emergency shelter for those experiencing homelessness. 
Indeed, the majority of the public blames homelessness on the person, said panelist Mark Horvath, who experienced homelessness himself before launching the nationally-known nonprofit Invisible People, which creates and circulates videos of homeless experiences in an effort to raise awareness.
"They say, 'you drug addict, you're lazy, get a job,'" Horvath said.
With stagnant wages and a tough job market, getting a job will not always lift someone out of homelessness said Horvath, and besides, the real source of homelessness has to do with lack of housing, not the lack of a work ethic.
"The number one cause of homelessness is lack of affordable housing," Horvath said. "You add in childhood trauma, mental illness, hurricanes—there are a lot of causes, but as humans, we blame the individual."
The cost of rent in Ithaca has doubled since 2000 according to U.S. Census data, and it is continuing to climb. Additionally, there is fewer than one percent rental vacancies in Ithaca according to the Ithaca Urban Renewal Agency. (Though this number has been disputed.)
"The apartments that are available, the prices are ludicrous," Foster said. "You can't work a full-time minimum wage job and afford housing."
The minimum wage in Ithaca is $10.40, but according to research from the Washington Post, a person would need to make $18.13 an hour working a full-time job to afford a "decent" one-bedroom apartment in Tompkins County.
With this disparity between the ideal and the reality, it is no wonder why Ithaca's homeless camp is growing.
After visiting the Jungle for the first time and talking with the men there, Guidi decided to take matters into his own hands. He invited men from the Jungle into his home by housing them in campers in his backyard in Newfield.
"I knew these people needed places to go," Guidi said.
Unlike agencies and other formal emergency and transitional housing programs, there were no contracts. Guidi only asked that the men respect his property. Once the men had secured stable housing, Guidi saw vast improvements in their lives. They started rebuilding relationships with their family members, securing jobs, working on their addictions and more.
"People say 'we can't give those people a house, they don't deserve it,'" Guidi said. "It's pure ignorance. These men all improved in every area of their life."
According to the National Alliance to End Homelessness, "Housing First does not require people experiencing homelessness to address all of their problems including behavioral health problems, or to graduate through a series of services to programs before they can access housing."
In other words, this model emphasizes that people need basic necessities like food and a safe place to live before they can address larger problems in their life like health disorders.
Guidi continued to see a need for permanent housing solutions for men living in the Jungle, so he launched Second Wind Cottages, a community of energy-efficient cottages in Newfield. Twelve cottages have been built so far as permanent housing for these men, and ultimately 18 or 19 cottages will be built at a cost of $12,000-$15,000 each.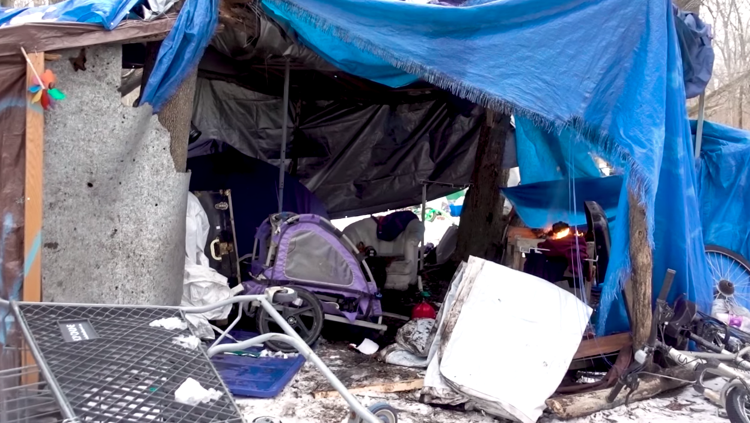 Working to permanently house people, rather than rely on emergency shelters, can save money in the long-run. The Rescue Mission can house 12 people in their shelter, but 60, 70 sometimes as many as 90 people come to them every night seeking shelter from the bitter cold, Foster said, so they spend money on putting people up in hotel rooms, and these costs can add up. According to Foster, the Rescue Mission is spending a quarter million dollars a month on emergency shelter this winter.
The Housing First model will need to be implemented through policy, but as one audience member noted, there were people missing from this discussion.
"There's no political presence here," said Denise Katzman, who has experienced homelessness first-hand. "There's no one here from the mayor's office, no one here from the legislature office, and that's how change happens. It happens from the bottom up and it happens from a policy level."
The panelists also noted all of the resources and agencies in Tompkins County intended to help people experiencing poverty and homelessness, but according to Guidi they sometimes lack long-term solutions.
"We're a community rich in services, but we're poor in housing," Guidi said. "What can we do other than put a bandaid on it? What we can do is build affordable housing. We need something permanent."