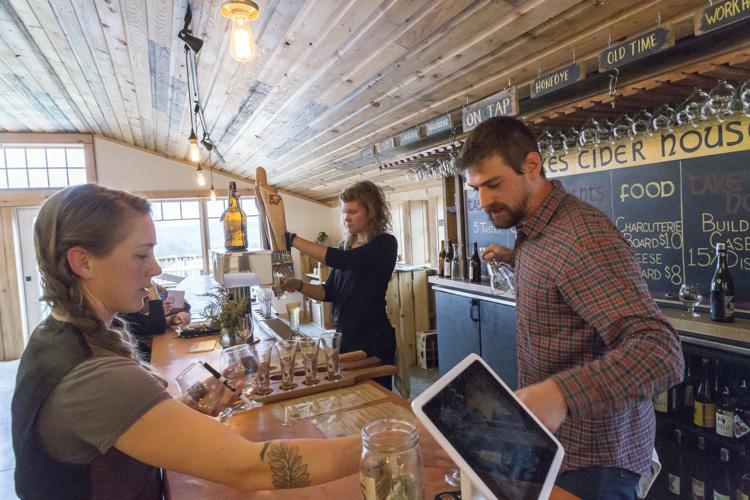 Our second POTUS, John Adams, is said to have downed a daily glug or two of hard cider with breakfast as preventative and curative. Thomas Jefferson, too, was a cider fan and swelled his fortunes by shipping cider apples to England. Ever practical, George Washington concentrated his wealth by distilling his cider into brandy. In 1767, the average Joe in Massachusetts drank 35 gallons of cider. And Cornell University's early students were known to raid the cider mill in Forest Home as a Saturday night prank, when they had run out of outhouses to tip over.
If you hadn't noticed, hard cider is back again, everywhere in the Finger Lakes region. And it's not only happening around here; it's a national, even international, phenomenon. With New York State's Farm Winery Act of 1976 providing an opening for the state's grape growers to make and sell their own wine, followed by the craft brewing boom, then the distillery boom, it was inevitable that somebody would realize that, indeed, hard cider would be a value-added product for growers in the second-largest apple-producing state in the union.
In fact, with the wheels greased by the wine and beer folks, cider has taken off in the last three years, since the Andrew Cuomo administration paved the way for less-cumbersome hard-cider licensing. Compare that with advance of the Farm Winery Act, which the elder Gov. Mario Cuomo signed into existence. It wasn't until sixteen years later, in 1992, that New York State could boast 75 wineries; there are already about 75 registered cideries in the state – it took sixteen years for the wineries to achieve what the cideries have achieved in three.
Why the Finger Lakes?
The Finger Lakes' cider industry has boomed into existence around its perfect combination of climate and soils, orchard experience, the cooperative approach of local farmers, the ongoing success of farm-based wineries, breweries, and distilleries, and the ever-blooming search for something new and different, or, in this case, old and lovely.
Excellent paired with local artisanal cheeses, cider has a culinary affinity to nearly anything porcine, and will happily wash down a warm crepe or two. Compared to wine, its slightly lower alcohol content (under 8.5 percent) means that a bottle is just about right for two, and cider-based cocktails range from the traditional, such as the Stone Fence (dry cider and rum) and the Snakebite (hard cider and lager beer reportedly favored by Bill Clinton in his years at Oxford), to the Young Buck (cider, ginger beer, hibiscus syrup) and the Cider Spritz (cider, Aperol, club soda, and a muddled orange) served up by today's mustachioed mixologists.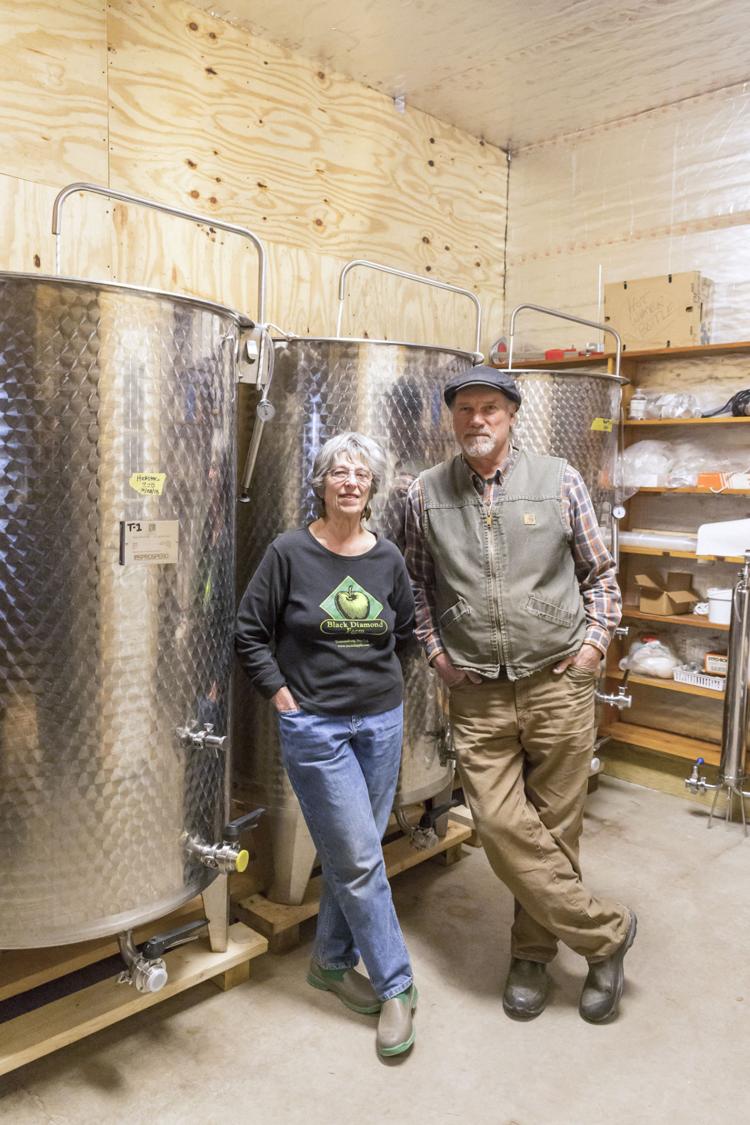 Cider can be made from any apple, sometimes combined with other fruit, and more recent experiments have sharpened it with hops or other flavoring elements. But this is where things begin to get complicated. Local cider makers agree that eating apples, so-called "dessert" apples, don't have the necessary flavor elements required to make good hard cider, and look to apples specifically bred for the purpose, or gathered from abandoned orchards or wild hedgerows.
Cider apples are classified as "sharps," with plenty of acidity, such as Bramley's Seedling, Ashmead's Kernel; "bittersharps," with high tannins and acids, such as Kingston Black (hailed as "spitters," take one bite, and "ptui!"); "bittersweets," with high tannins and sugars as well as flowery-fruity perfumes, such as Porter's Perfection, Dabinett, Brown Snout, Chisel Jersey; and heirlooms, good for eating too, with intense aroma, ,such as Golden Russet, Newtown Pippin, Northern Spy, and Tompkins King, many of them developed right here in upstate New York.
New York ciders come in a range of styles, from a champagne-style bubbly, to minerally and austere, or dry and tannic ciders meant to be paired with foods, to sweet dessert ciders. Like wine, good cider reflects the fruit it was made from, the soils in which it was grown, and weather conditions.
The Growers
There has been a rush to plant cider apples, which take three to five years to produce. Locally, the go-to grower is Steve Cummins of Cummins Nursery at Indian Creek Farm, a fifth-generation producer who, with a production of 30,000 to 35,000 trees a year, considers himself a small player in the fruit-tree industry. To put things in perspective, Wafler Nurseries in Wolcott sells three quarters of a million trees a year. Cummins' business, which he started in 1995 with his father, pomology researcher Dr. Jim Cummins, caters to organic growers, cider orchardists, and, oddly, hunters, who, he said, might drop fifty grand on a truck and a bass boat "to catch a fish" and who also want to buy trees from the experts to help them attract wild game.
While in years past orchardists planted full-sized trees 20 or more feet apart, many of today's orchardists prefer a trellised orchard with as many as 1,000 or more dwarf trees per acre.
He recalls working with his siblings to help his father develop hardy rootstocks, which determine the ultimate size of the tree. "We kids would take pollen from a tree and put it on another tree, say a cold-hardy variety crossed with a dwarf," said Cummins. "Then in the fall we would take the fruit, mash it up, take the seeds and grow them. And [my father] would inject them with fire-blight venom, which would kill 99.9 percent, then inject others with other diseases. You'd start with 10,000 seeds and end up with 10, and you'd have no idea how they'd behave. So you'd take those 10 and graft on Mutsu rootstock. If it didn't produce apples until year four, he would throw it out. If it leaned, he would throw it out. He was left with four or five. Then he'd take the original mother plant, take buds off of it and graft it, and from that you'd get 1,000 trees." Complicated. Torturous. "Dad started a breeding project in 1968 and released his first rootstock in 1991." Nowadays that's all done via tissue culture.
Cidermaking Pioneers
In 1996 Bill Barton's Bellwether Cider, now on Route 89 just north of Trumansburg, was the first hard-cider producer in the Finger Lakes to be licensed. More recently, he also co-wrote the legislation allowing cider makers to increase their alcohol content to 8.5 percent.
He and his wife Cheryl had sampled cider in France and wondered why there wasn't any here. He'd had enough of his job in software, and decided it was time to remedy both situations. He learned more about cider from members of a brewers' group that met at Collegetown's once-and-possibly-future Chapter House, and rolled up his sleeves.
He experimented with marketing, selling his ciders both in 750 ml wine bottles and in six-packs like beer, but found the competition with the powerful beer industry for shelf space in supermarkets made it unprofitable. He considers this still cider's big issue. "There's total chaos in the market," he said. "There's a fairly big camp that wants it to be beer and wants it to be inexpensive and not high quality. That's hurting people who would prefer to make higher end products. I'm just not sure that the market place is ready. We're getting some appreciation for it locally, but outside of the area, not so much."
Autumn Stoscheck, of Eve's Cidery, took a different marketing approach. With her partners Ezra Sherman, who is also her husband, and James Cummins, who grew up in the apple business and owns orchards, she started in 2002, driving down to New York City every weekend, to sell at the Union Square Farmers Market, sleeping overnight in the van. There, she and Sherman introduced Big Apple residents to the virtues and delights of cider.
"During that time that we had to explain that, yes, it had alcohol," she recalled, "and, no, it wasn't sweet, and, yes, you could enjoy it with food. It was such a wonderful thing to watch somebody try something they've never had it before, and like it, and buy a bottle. We converted one person at a time over those 11 years that we were in NYC." Fortunately, many of those first converts are now famous Big Apple chefs, and Eve's Cider is happily ensconced on their wine lists. Eve's Cidery has been written up in Vogue, Wine Enthusiast, Saveur, Martha Stewart Magazine, the Village Voice, and the New York Times.
Autumn started out as a star-struck kid, enamored of farming, and, through a series of odd jobs and chance encounters realized she wanted to make the world better through agriculture, selling a high-quality product from her own land. James Cummins introduced her to the world of orcharding, and, she said, she first tasted cider, a Golden Russet bubbly made by a local cider maker, which she described as a revelation.
In 1999 pioneering New Hampshire cider maker Steve Wood appeared on the cover of Fruit Growers News. "I was working on a farm during the day, waiting tables at night," said Stoscheck. "I was on a leave of absence from Cornell. I was totally blown away because [Wood] had 30 acres of apples I'd never heard of, and a real business, with bottles and labels. I was 19. I got into my car and drove up there. He actually gave me the time of day, talked to me about varieties, and how I could make a living from farming, and gave me a bunch of scion wood from his orchard. I was hooked."
Eve's Cidery has orchards in Newfield on Cummins's farm, where, she says, their fertile glacial till soils are deeply graveled and well drained, and on the farm which once belonged to her grandmother, where they do their cider making in a 1950s converted dairy barn. "I've planted orchards that are way too close and others that are way too thin," she said. "We're not growing like a commercial orchard. We believe passionately that, almost as important as the varieties you grow, it's how you're growing fruit that matters.
Ian and Jackie Merwin started their Black Diamond Farm as an offshoot of Ian's work as a Cornell pomology professor, recently emeritus. The Merwins have fenced acres of cider and other heirloom apple trees and fruit that Jackie sells at the Ithaca Farmers Market. They sell quite a bit of their Black Diamond Cider through Greenstar, and on tap or by the bottle at the Rongovian Embassy, Atlas Bowl, Hazelnut Kitchen, Moosewood Restaurant, at a couple of places in Geneva, as well as at the cider-only restaurant, Wassail, in New York City.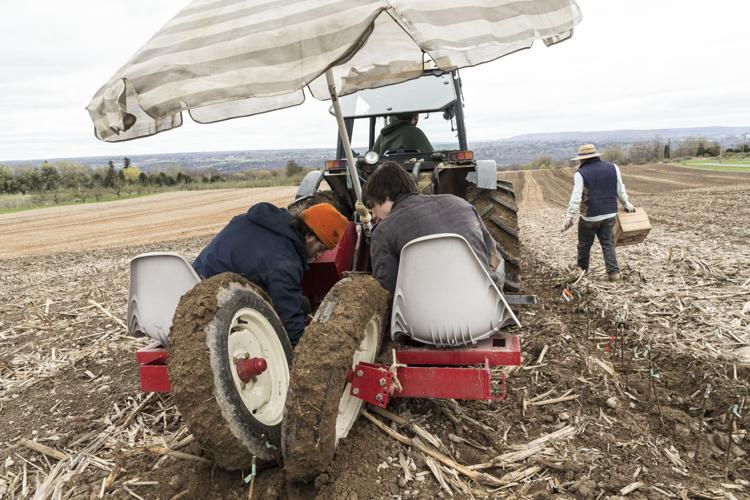 "It's happening all up and down the west coast, in Michigan, Minnesota—the Trump crowd has not discovered the drink yet, but everywhere else in the country, it's booming," Ian Merwin said. "If we don't f*** it up, we're going to be the major cider producer in the country, and we're near one of the major markets," he added. While he claims concern with the recent slowdown of mass-market ciders (only 11 percent increase last year, following on the heels of annual 50 percent increases), he applauds New York State's encouragement of cidery growth with regulations that eliminate much of the previous red tape.
As an authority on apples and cider, he travels to China to work with the government and growers there, and with Angry Orchards, a large commercial cider operation on the Hudson.
Cidermaking Blossoms
Eric Shatt and Deva Maas of Redbyrd Orchard Cider came to cider through Eric's experience as a Finger Lakes vineyard manager and winemaker, and he is now Cornell's horticulture research farms manager.
The couple owned four acres of abandoned orchard in Burdett, and began to collect and harvest those apples for cider. "I was immediately blown away by the complexity and flavor I was getting from those mostly hedgerow and heirloom apples," he said." We planted three quarters of an acre of 60 different varieties, definitely an experimental orchard. We grafted a lot of the wild apples, and planted a bunch of bittersweets, as well as other heirlooms. In five years we had the quintessential cider orchard." In 2011 they bought 10 acres closer to Trumansburg and this year finished planting nearly four and a half acres with about 2,000 trees, the varieties based on what they liked in their Burdett orchard. With three children, aged 11, 9, and an infant, "Deva and I are definitely busy," he said. "We were forced into incredibly efficient management of our farm."
Shatt and Maas also operate a small cider CSA (community-supported agriculture), which they hope will become a larger part of their business. Their customers pay for a number of refillable bottles of cider.
He looks to the metropolitan New York market, which, he said, is one of the fastest growing regions in the world for cider appreciation, and credits Finger Lakes pioneers Ian Merwin, Autumn Stoscheck, Bill Barton, and Peter Hoover. "They've all done a great job getting us going," he said, "and we're all really appreciative."
Another cider-making wiz, Steve Selin, is also an old-timey fiddler and luthier. His fiddle-neck cider bar pulls are distinctive. Selin started making cider in 2003, then met local cider-maker and musician Peter Hoover through music and worked with him for a couple of years on his cider crew. Connections with winemaker Daniel Sweeney and Eric Shatt helped him educate his palate. "I started realizing that the ciders I was making were as good as any I could buy in the store," he said. "The ciders all of us were making around here were as good as any—they were world-class ciders." Local orchardists, cider makers, and winemakers were happy to teach. "I felt," said Selin, "that my chances of making a world-class product here were better than my opportunities as a luthier."
An organic grower, he notes that peer-reviewed articles show that organic apples and apples with scab, unsalable as eating apples, have higher levels of tannins and other flavor compounds in them. "We talk about how the way you manage soil and trees affects the flavor, which is why we're struggling with weeds instead of using Roundup. And it's better for our kids playing in the orchard."
In 2015 Selin made 3,500 gallons of his South Hill Cider. He distributes his cider to wine shops, restaurants, bars, and via direct sales at farmers market-type events. He also has a wine distributor in New York City who sells his ciders to restaurants like Hearth, Reynard, OWO (at the top of the World Trade Center), Wassail, and, in Brooklyn at Roberta's. "But most of my cider that gets sold goes through the Finger Lakes Cider House," he said. "We all host events there, participate in some of their events, and help train their staff. Sometimes I play music there."
A Cooperative Approach
Melissa Madden and Garrett Miller started Good Life Farm in 2008, and then, having begun making cider with Stoscheck as their guide, they converted their barn into a spiffy cider house, and invited the other cider makers to join them in their tasting and sales room.
Good Life Farm has become the hub of the hard-cider renaissance in New York apple country, featuring the artisanal ciders of Eve's Cidery, Black Diamond Cider, Redbyrd Orchard Cider, South Hill Cider, and their own Good Life Cider, produced by cider-making brothers James and Garrett Miller.
They offer flights of cider, along with cheese, charcuterie, and bread-and-pickle boards, and crêpes, soups, sandwiches and salads on Friday nights and, beginning June 9, all day Saturday and Sunday too. Coming up, the Cider House celebrates its first anniversary on May 28 with the farm's fifth annual Asparaganza, a festival of food, drink, games, and music for people of all ages. For weekly cider updates, check out local blogger Meredith Collins' "AlongCameACider.blogspot.com."
Here's to our forefathers' wisdom in choosing cider, and to Finger Lakes cider makers in bringing it back, beautifully, to quench today's thirst. Cheers! •