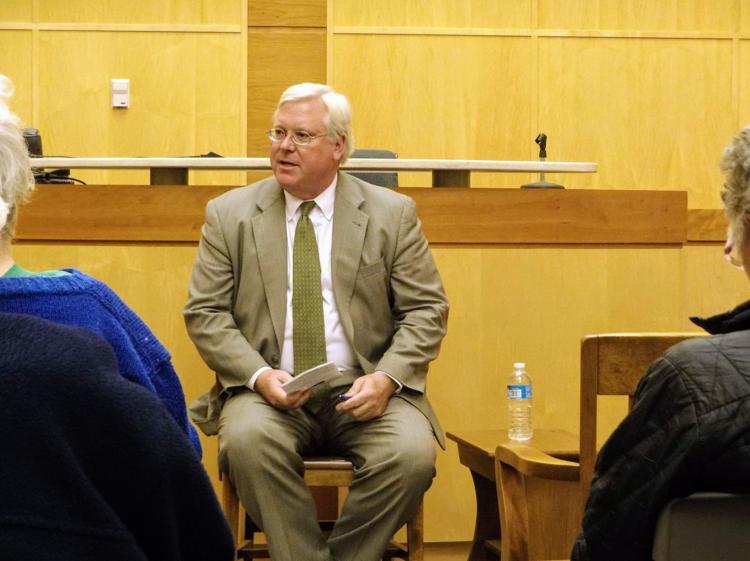 With the New York State Legislature still in recess, State Senator Tom O'Mara made a trip out to Ithaca on Thursday evening to meet with constituents, chat about policy and give locals a chance to voice their "concerns – and problems with state government."
Running about an hour, the small crowd of a little more than three dozen at Ithaca Town Hall brought up an array of issues throughout the evening, covering everything from library funding to rural transportation and water quality. But the brunt of conversation – taking about half of the forum's running time – focused on what O'Mara characterized as the  "two top issues of our time:" Healthcare and energy, particularly where we get it.
Waiting outside the doors before the meeting, two independent activists distributed pamphlets to each attendee of the meeting lobbying for the passage of the single payer New York Health Act, a 25-year-old piece of legislation that has appeared before the state legislature in various forms over the past three decades. The measure – especially in the tumultuous marketplaces created by the federally-run Affordable Care Act and the property tax-funded New York State Medicaid system paid for, in part, by taxes levied at the local level – has gained momentum in recent months, even making it through the Democratic-controlled New York State Assembly.
O'Mara – a Republican – currently opposes the bill, which is still working its way through the State Senate.
"I have grave concerns of what the impact would be," said O'Mara, who said the plan – if enacted – would come at the cost of numerous business owners already having difficulties keeping pace with a lofty cost of doing business in the state.
The reason why, he says, comes through the high payroll taxes employers would be facing as a result of the plan. Estimated by opponents of the bill, some have theorized the legislation will increase healthcare costs in New York by $92 billion – the state's share after federal funding – leading to overall costs across the state could increase somewhere in the neighborhood of $226 billion annually. Proponents of the bill, however, estimate that a graduated payroll deduction based on income would completely remove the question of property taxes from the healthcare equation in New York State and, with a waiver from the federal government, would be able to lump in the federal Medicare funding into the spending pool of the state healthcare system.
Though, when prompted, every person in the room raised their hand in support of the single payer system, O'Mara remained wary: noting that the state of Vermont had considered – and abandoned – a similar plan, he called for a solution to the issue of healthcare as something to be addressed at the federal level. This is because, with already high employer expenses, he said he believed it would not be advantageous for the state economy to put yet another expense on the already-strained coffers of New York State's businesses.
"We're not cost-competitive in a variety of areas already," said O'Mara, "and we're already competing with a number of states around the country."
The chairman of the State Senate's Environmental Conservation Committee, O'Mara – who has historically supported the use of natural gas as a transition fuel between coal and greener energy sources – weighed the trade-off between economic development and clean energy at one point in the evening when questioned on his opinion of the expansion of natural gas production in the Hudson Valley region of the state.
Noting these plants often rely on fracked gas from Pennsylvania and their approval subject to the nonpartisan State Public Service Commission, O'Mara pointed out that both the state's power plants and its transmission lines, as they are right now, are currently insufficient to meet the demands of markets downstate. With natural gas taking the place of the coal-fired plants once the signature of New York State's energy grid (and, in the case of a new plant in Dover, an aversion to nuclear energy by the governor), O'Mara argued that natural gas was the cleanest option available to maintain the state economy and foster continued development while greener, higher-capacity options were pursued.
Without natural gas usage from Pennsylvania, "we don't have the energy we need," O'Mara said. "I'm supportive of power plants, because we need the power and we need it to be low-cost power."
Not to let the past go quietly, one member of the audience raised a question which led to a spirited conversation around his "no" vote several years ago on the New York State SAFE Act, a wide-ranging gun control measure issued by governor Andrew Cuomo in the wake of the Sandy Hook massacre, which claimed the lives of 26 people at an elementary school in Connecticut.
Like many who have opposed the bill, O'Mara said it was rushed through as a political point by the governor just to "be first" on a hot button topic, and that it was a little-vetted addition to some of the nation's strictest gun laws. O'Mara said the legislation was based largely on the aesthetics of a gun, rather than its function, and that it infringes on the rights of the mentally ill due to the forfeiture of due process for people placed on a watchlist to challenge the validity of their designation.
He added, on the topic, that the number one issue surrounding gun violence in America are mental health issues, but said at the same time the governor is pushing for greater gun laws, the state appears to be working against this, closing psychiatric facilities like has been attempted in Elmira and successfully done in Binghamton.
"I believe in the second amendment as much as I believe in the first amendment," O'Mara said. "I believe in it as much as I believe in all of the amendments."
Thank you to everyone attending tonight's meeting. https://t.co/kaN4rmgnyA

— Tom O'Mara (@SenatorOMara) October 12, 2017
Other Topics Of Note:
On Manufacturing: Someone in attendance asked O'Mara about his ideas to return manufacturing in the district to where it once was. While O'Mara said, due to globalization and better interstate competition, we likely won't ever get back to the state's heyday of the mid-20th century but said, as a region, manufacturing is still strong in the Southern Tier, the region claiming has a higher proportion of manufacturing jobs than anywhere in the state even though we have still been "devastated."
To improve manufacturing prospects, a number of reforms to the state's corporate franchise tax were implemented in 2014. However, the exemptions written under the law as they stand only help corporate entities –– not independent groups – and now, at the state level, legislators are "working on that," O'Mara said. But that's only one piece of the equation: property tax reduction across the board (which the governor is currently addressing through encouraging shared services and government consolidation) and cheaper energy costs are also key to returning what is considered one of the least-affordable states in the nation back to equilibrium.
"Manufacturing needs to be the base of our economy, which everything else will grow off of," O'Mara said.
But how do you ensure these corporations make up for their subsidies? That's tricky business, the policing of which largely falls on local governments and their industrial development agencies. (IDAs)
"The goal of every economic developer is jobs," O'Mara said. "And having job retention, as well as growth, is what they look at behind offering incentives. There's always a grey area where an IDA has discussions on 'well, what if we don't give the incentive they're looking for? What if we give less of one?' They might threaten to leave, they might shut down… it's risky business, and nobody wants to make that bet and lose."
The frustration with this is typically, there are no ironclad guarantees in economic development (the massive state investment and shrinking promises of Elon Musk's SolarCity factory, in Buffalo, was an example of one of them) but, O'Mara said, there has been "significant improvement" and local IDAs across the state now have avenues of getting back abatements they granted that were never earned by the firms that received them.
There are also the state regional economic councils to stoke economic development but, O'Mara said, that system has problems of their own: particularly, little proof they actually create jobs.
On The Constitutional Convention: In November, there will be two ballot initiatives on the backside of the ballot, including a measure to hold a New York State Constitutional Convention and another to mandate the forfeiture of state pensions to any politician prosecuted for the violation of state ethics laws, corruption and other crimes, which O'Mara said he would be "shocked" if it were not ratified.
On the question of a Constitutional Convention, O'Mara held back from taking a stance on the issue, only advising the crowd to pay attention as to where the messaging was coming from, particularly from those opposed to a convention.
"You're going to see a lot of advertising on this issue from a variety of special interest groups of all types," O'Mara said. "It's not a straight liberal/conservative divide; there are groups that have traditionally opposed each other that are aligning in opposition of the constitutional convention."
On Environmental Issues: Currently being considered in the senate committee he chairs are grocery shopping bags, their environmental impacts and effectively dealing with that problem as well as continued efforts to address flooding issues up in the Lake Ontario watershed, which was heavily impacted by flooding earlier in the year and has not qualified for FEMA disaster relief funding.
In controlling the influx of plastic bags, O'Mara said the committee is currently looking to improve on a grocery bag recycling law passed in 2009 to mandate recycling of bags and offer receptacles at grocery stores. That idea, so far, has "not been effective," O'Mara said, adding there is a one percent return on those. The ideas floating around the legislature now include implementing deposits on grocery bags or a one-time surcharge that would go toward offsetting the environmental concerns that can arise from them. There are also proposals to move to a permanent switch to paper bags or more durable plastic bags. Most in the room, when prompted, raised their hands to show support to ban all plastic bags, with a majority in favor of fees on paper bags.
One woman in attendance thanked him for getting a lead testing bill approved to mandate water quality testing in public schools but since, "nothing has happened," correctly stating thousands of children in the local school district still can't drink the water in the school system. O'Mara said the resources are there and at this point, it's up to the districts to apply for funding on top of their capital resources to address the problem individually.
On Federal Tax Reforms: A member of the audience questioning O'Mara's relationship with the 23rd District's Congressman, Tom Reed, O'Mara was asked on whether or not he has lobbied Reed on the income tax cuts proposed under the budget presented by President Donald Trump that would disproportionately benefit the wealthy, and whether or not opposes it.
So far, he does. Both the property tax and real estate reduction in the Trump budget, O'Mara said will "devastate" our economy. Reed, he added, shares these concerns yet still hasn't come out against it: O'Mara said he's waiting to see the details, including whether or not someone comes up with a replacement for those cuts.
"I think we're a long way from tax reform," O'Mara said. 
 Follow Nick Reynolds on Twitter @Nickthaca