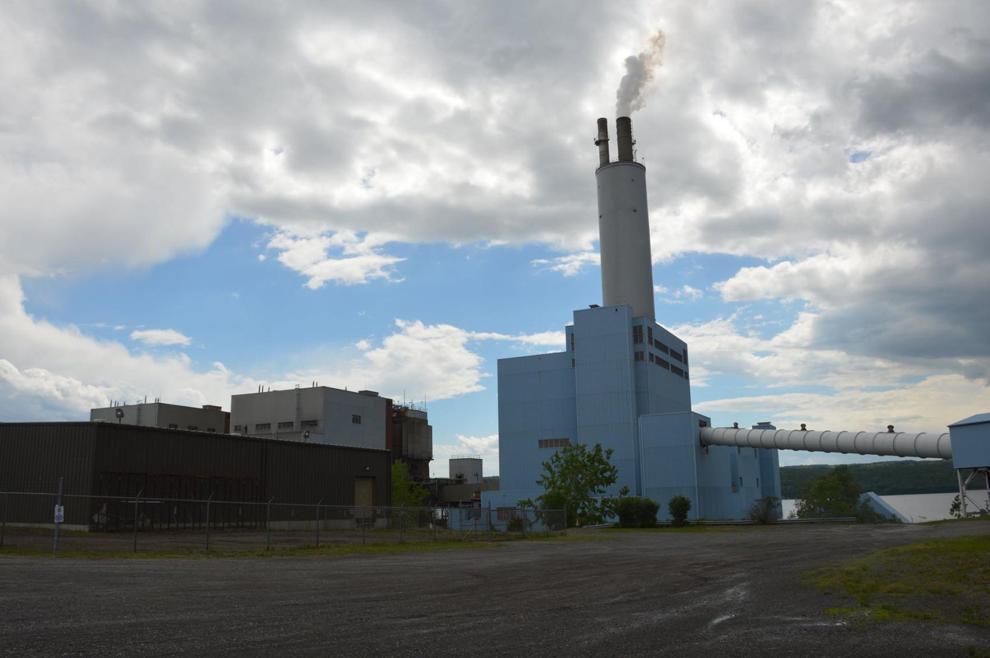 More than one month after a ratepayer subsidy to the power plant ended, anti-fracking activists at both the local and national level are decrying a plan for the more than 60-year-old Cayuga Power Plant to continue burning coal on the  site, a model that, since 2012, was believed to be unprofitable.
In a teleconference hosted by the environmentalist group Sierra Club on Thursday, activists from Fossil Free Tompkins, the local chapter of Mothers Out Front and water protection group Seneca Lake Guardian called on Governor Andrew Cuomo to derail a plan by Cayuga Power to continue burning coal on the site as it progresses toward a conversion to natural gas, raising the question of whether or not the alleged $4 million per month ratepayer subsidy was ever actually necessary or, if it was, at what point during the subsidies service life the plant began to operate profitably on coal.
Back in early 2012, the Cayuga Power Plant announced it was no longer profitable to operate and that it would be "mothballed," or shut down temporarily to gauge the direction of the market, waiting to see whether the plant could be economically viable again. At the state level, New York State began the process of evaluating what would happen to the local energy grid if the plant were to shut down, finding in its review that on hot summer days, the transmission lines in Auburn would overheat if the plant did not exist to provide power through a "back door" from the south on hot summer days.
To address this concern, the state instituted a surcharge on NYSEG customer's electric bills – called a Reliability Support Surcharge (RSS) – in order to support and finance the ongoing operation of the plant while a decision was made on whether or not NYSEG customers should pay to convert the plant to gas or upgrade the transmission lines between the plant and Auburn. Ongoing since the summer of 2012, the surcharge was intended to buy some time to keep the plant operating in its needed capacity while a permanent solution to the reliability problem was figured out.
That subsidy ended on June 30 yet, despite plans to eventually convert the property to an "energy park" consisting of 18 megawatts of solar power and an undetermined amount of natural gas power by the state-imposed 2020 deadline, plant leadership recently announced it would continue to burn coal "as long as it is profitable." Advocates claim this statement indicates that the ratepayer subsidy might not have been necessary.
"Despite their claim the power plant is unprofitable, it still remains open and continues to burn coal," said David Alicea, Senior Organizing Representative for the Sierra Club's Beyond Coal Campaign. "The owners say they will continue burning coal as long as it's economical, and they're exploring their options to repower the plant to burn fracked gas."
"It really begs the question 'if the plant is profitable now, what were NYSEG customers paying for over the last few years?'" he added. "Have we simply been padding the profits of this coal plant?"
Plant leadership did not deny it had received the subsidy, only hinting that the plant was in the midst of a "dramatic transition."
"As of June 30, Cayuga Operating Company is not operating with any subsidy from NYSEG and is current on all its environmental permits," plant operator Jerry Goodenough wrote in an emailed statement. "We are proud of its operational and public safety record and the 70 IBEW employees who every day ensure there is enough power and grid reliability for our region and the State of New York. Our state and our country are going through a dramatic transition to a better energy future we all want. Cayuga will play an integral role in this transition."
Conversion, Rather Than Closure
About a year ago, a decision was made that the transmission upgrades, not conversion to natural gas, made much more sense: it would cost less, cut costs for customers and, with plans for additional improvements to the transmission lines north of Auburn in the works, be a permanent solution to the reliability problem. But, the PSC noted, a conversion to natural gas would also be inefficient, the carbon reduction benefits of a coal-gas conversion ultimately not being worth the trouble or the cost: according to a 2015 study by the Institute For Energy Economics and Financial Analysis, a repowered Cayuga plant would require ongoing ratepayer-supplied subsidies totaling more than $265 million over the next decade and, beyond the 2027 end date of the proposed subsidy, could potentially require further subsidies.
The effort, while largely pursued to save the jobs of 70 employees and millions of dollars in taxes to both the town and local school district, was eventually shot down; the justification being it would put an undue and nonsensical burden on the ratepayers.
"We are very cognizant of the potential local economic effects of retiring power plants," said Public Service Commission Chair Audrey Zibelman in a statement last February. "However, in this instance, the power plant itself does not solve our reliability concerns. Moreover, when we considered the combined lack of benefit to the power grid with the significantly higher costs of the refueling option,we determined it would simply be unfair to ask NYSEG consumers to shoulder both the transmission and refueling expense."
While the PSC has yet to weigh in on this decision to work toward continued coal power, what's happening now is that Cayuga Power has decided it will continue to burn coal for as long as it is economically feasible to do so, eventually converting to natural gas on their own dime.
This raises the question of whether or not the ratepayer subsidy – once considered crucial to the health of the plant – was ever actually necessary, the plant clearly on the financial footing to pursue a conversion once estimated to cost approximately $102 million.
"This subsidy was under the premise that if they did not get this money, the plant would close down," Alicea said. "So now that subsidy is over, the fact the plant is still running really brings up the question of if they were making money in April, if they turned a profit in May… how far back do we go? How long can we tell if this was even needed? We just don't know that. We want the governor and state officials to take a look at the books, whether they were making money, to find out if they really needed this or if they were using this subsidy to try and pad their profit line."
"This is Cayuga's new owners, new investors, who believe there is money in converting the plant to natural gas on their own nickel to build a pipeline and add the new burner heads to allow them to burn natural gas… but now, they're not even going to spend that money: they want to see if they can make this fly on coal."
Riesling Power, a large Maryland-based subsidiary of Bicent Power, purchased the plant just as the state made the decision to deny the plant's natural gas retrofit.
"We were all baffled," state Assemblywoman Barbara Lifton told the Ithaca Journal at the time. "I didn't talk to anyone who really understood (why Riesling would purchase Cayuga)."
In May, it became clear: the company had created a new group, Cayuga Solar, that would bring 18 MW of solar energy production to the site, seizing on the upswing of an industry which was finally beginning to become profitable. According to Goodenough, Cayuga Solar made its first required filing with NYSERDA for Cayuga Solar earlier this week, adding that leadership continues to pursue a plan to repower Cayuga from coal to cleaner natural gas without a public subsidy.  
"We were heartened by a recent poll showing that by a margin of 6 to 1, Tompkins County residents supported the vision of a new Cayuga powered by renewables and natural gas," Goodenough wrote in a statement. (Weiser contested this, saying that the results could have been misleading and that people who support solar may not support natural gas) "Cayuga will be a model for the transition to a better energy future."
The logistics of the natural gas conversion are still uncertain: how long something remains "profitable" really is an arbitrary length of time which, now, is surrounded by its own set of questions: coal prices are generally low at present, and while there is no plan for any pipeline to supply the plant (or an idea of who would supply it), all that is known is that something has to take place before 2020.
Activists want something to happen quicker, and recently announced it would be appealing the governor to stick to that 2020 deadline in a postcard and activism campaign to appeal to expedient action on coal.
"Continued operation of the plant puts our environment and public health at risk," a statement by the Sierra Club said. "Not only does it fly in the face of Governor Cuomo's commitment to retire coal burning power plants in New York by 2020 and generate 50 percent of our electricity from renewable resources, it also poses continued harm to local air and waterways. Information from the Department of Environmental Conservation (DEC) shows that for five months last year (from April to December) following a major fire at the plant, the plant discharged mercury pollution at up to 20 times the permitted limit into Cayuga Lake."
 Follow Nick Reynolds on Twitter @Nickthaca