Multiple Groton residents have reported over the past two weeks that someone shot and injured their pets with a pellet gun. Julie Reeves and Dominic Barillaro both filed reports with the state police after discovering their cat and dog, respectively, had been shot with either a BB or airsoft gun.
Reeves' cat was shot behind one of her ears, which required stitches to repair, on Jan. 31 on her property located on Spring Street Extension. Reeves declined to be interviewed for the article. Barillaro, who also lives on Spring Street Extension, said one of his family's dogs, a husky named Chevy, was shot and sustained a deep wound on the right side of her chest the morning of Feb. 1. Neither he or his wife saw the incident occur.
"I didn't even know it happened until late morning," Barillaro said. "I wake up around 7:30…I let them both out like going through a normal day, and let them in, fed them and was just hanging out. The night before, my wife saw an article on the Groton Facebook page about a cat getting shot on our road, and I was like, 'Man, that sucks.' Then she had to go pick up our son from her mom's house and saw that our husky was bleeding, and as soon as I saw it I knew exactly what it was as far as it being that she got shot."
Barillaro said he had only let both the dogs out for about 20 minutes and was surprised that something like that could happen that fast.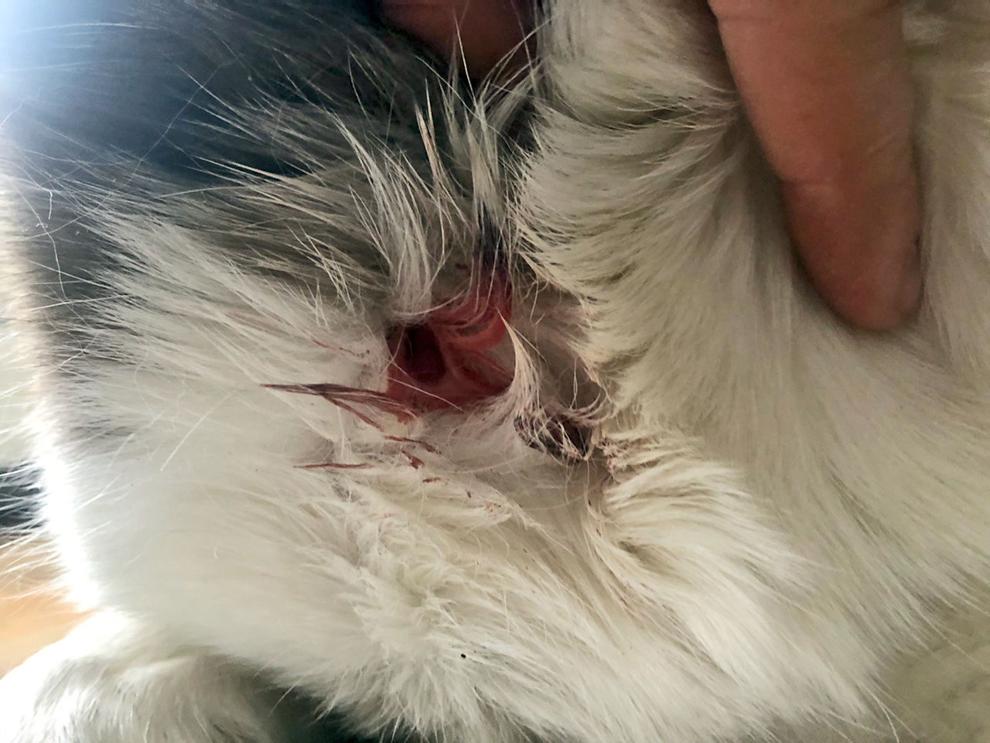 "This is my dog. I've had her since she was five weeks old," he said. "We got her from a family friend…When she was first born, I was there within 24 hours and she was the only one of 17 that survived. She's kind of like a child to me. When I saw the blood, I instantly got extremely agitated. I started shaking."
Barillaro's wife took Chevy to a veterinarian while he called the police between 10 and 10:30 a.m. State Trooper Ryan Ostolski showed up to his house within 20 minutes and took a statement from Barillaro before heading up and down the road and talked to all of our neighbors and everybody that lives on the street. According to the police report, Ostolski found no new information from the interviews he conducted with the residents living on that street.
The doctor was unable to find a pellet around the entry wound, which Barillaro said was quite gruesome.
"It went two inches up into her," Barillaro said. "I could see muscle tissue through the wound. It was pretty gnarly. It's healing up very well."
He believes that Chevy was shot with a weapon that is much stronger than the average pellet gun.
"I'm in the National Guard, so I kind of have an idea what they could've used," he said. "It probably was a pellet gun that's got compressed air to push it. Those things can kill a squirrel if you hit it right. They have some power behind them, and it's a metal pellet so that obviously adds to it."
According to the report, no charges have been issued at this moment. Barillaro urged neighbors to keep their cool and be vigilant.
"I'm very protective of my animals and I'm just thankful that she's okay," he said. "I've got two young boys and I'm happy that it's cold out so they weren't outside with her and what not. Just watch them; watch your dogs when they're outside and make sure anything sketchy doesn't happen."