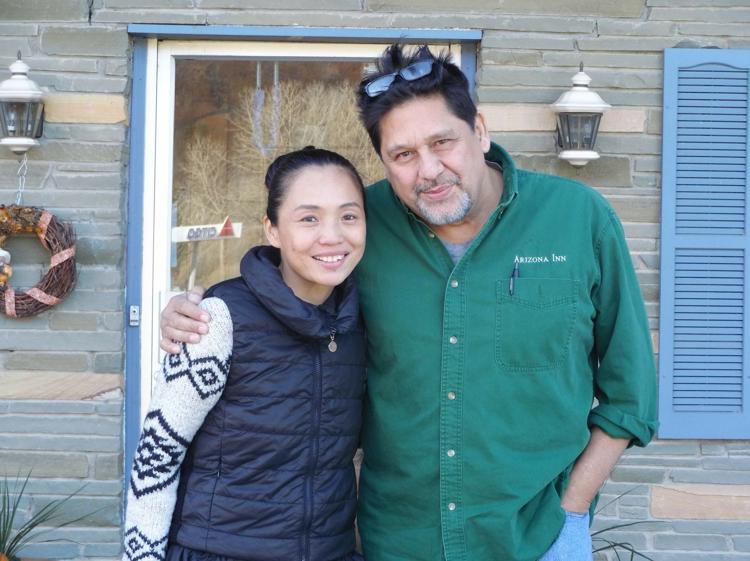 Marko Hansen just couldn't take the heat anymore.
October 27, 2016: another broiling fall day in the sprawling Sonoran city of Tucson, Arizona. Hansen had just dropped his 89-year-old father into hospice care, less than a month after his mother. He was exhausted, the heat having drained him of all energy and desire as he baked in the constant stop-start of red lights on the city's broad boulevards and construction that never seemed to cease.
He'd been accustomed to freedom, having lived in a number of places in his life – Los Angeles; Portland, Oregon; even upstate New York – but Tucson had become a place he couldn't seem to get away from. He was intellectually deprived, politically out-of-place in a red state and spiritually, exhausted.
He drove to a local bar and ordered a double Hornitos Margarita – one of the worst drinks he'd ever had – and drove himself home, feeling bad. He made another Margarita – this one much better than the first – and sat under the air conditioning, deep in thought.
"It was rock-bottom, all across," he said. "I was depressed with Tucson, depressed with both my parents in hospice… you can't just live in a place because you like Wildcat sports."
It was that day, he said, when he decided it was time for him to go.
"My wife and I, knowing that my folk's time was on the planet was entering their twilight months, began reassessing our future," Hansen said. "Tucson and the 350 days of hot sun and eleven-month summers were clearly not part of our plans. There is a reason that Tucson consistently ranks in the top three in suicides per capita."
Feeling sentimental, he went on the real estate site, Zillow, and began looking at real estate in Brockport – a place where he'd spent one of three summers selling books door-to-door in the early '80s. And that's when he saw it: a dirt-cheap fixer-upper home in Alpine Junction, just south of Newfield. It had it all, he said, from quick access to everything he'd been looking for: a vibrant retail scene in Ithaca to open a boutique with his wife, a tech-forward gym to peddle his invention, the CycleClimber (think an elliptical with pedals for your hands) and a place known for a population sharing in his brand of liberal politics, far-removed from Pima County: one of the blue spots in the otherwise Trump-favoring sea of red across Arizona.
Without even looking at the house, Hansen – who'd married his wife of nine years just seven days after meeting her for the first time – placed an offer. After his parents were laid to rest last April, the couple bought a pair of plane tickets and flew out to New York, where they were to see the place where they would start their new life.
What they found when they got there was hardly the foundation they expected for their otherwise idealistic dream: the place, they found, was an absolute money pit, and needed thousands of dollars of work in order to become livable.
"Despite the threads of destiny that were seemingly being woven together, our friends and family in Tucson thought we lost our mind, moving to a place where we know nary a soul," Hansen said. "To ward off the invidious negativity from well-meaning friends and family,  I simply recited my favorite Wayne Dyer quote from some audio tapes I heard in 1979, from my bookselling days."
"People who operate from outer signals will never understand those people who operate from inner signals."
Needing cash and looking to leave nothing behind, they began looking for buyers for their properties in Tucson and loaded up their vehicles for the 2,400 mile journey. They left on a Friday night and, traveling in separate vehicles, Hansen had to break his 1992 New Year's resolution to own a cell phone to keep the two from getting lost on the road. Hansen drove their old Cadillac Escalade, copiloted by a 25 pound, three-legged cat in the back seat and five other felines crated up in the back. His wife took their 2006 Prius, that vehicle packed with their 11-year-old dog in the front seat and three feral cats in the back. In tow: a the 25-foot travel trailer the couple bought for $1,700, which they intended to live in once they reached Alpine.
"Everything seemed to fall into place from there," he said. "We spoke to a guy named Mike (who owns Pete's Cayuga Bar on Cayuga Street) and we wrote him a check for $875 deposit and he gave us a three-year lease on this 8-foot by 60-foot space on Cayuga Street to look over. It looked great!"
But the trailer was leaky and the houses weren't selling. And then, the day before they were to sign the lease, their dog had eaten some grass and fallen sick, requiring $3,000 in veterinary expenses from a specialist in Fairport. With the house still needing work and the weather turning cold, they found themselves looking for alternative arrangements, and booked themselves in a room at the nearby Redwood Motel, about one mile down the road from the house.
Over the years, the couple who owned it – in their seventies and now ready to retire – had tried selling the property. Hansen, seeing an opportunity, made an offer on what otherwise was a near-impossible opportunity: a turnkey motel on three acres, for the unheard-of low price of $205,000: about as much as you'd find a home selling for around these parts. He began to frantically make calls, expecting to close on the motel in November and, helped by a small loan from his wife Yihua's family in China, Hansen bet their house in Tucson on a secured home loan. Just days before the deal was to close and with no money to pay, Hansen was handed a gift.
"Think about this, for two weeks I'm calling every cash for your house person in Tucson," Hansen said. "I'm showing them the house, I'm doing everything. And this guy from Meridian Trust, in eight minutes we get a contract via email with the perfect closing date, the perfect amount, the perfect everything. Too weird."
Today, the couple is living in a room in the motel while the cats occupy both of the bedrooms in their new house. Yihua's boutique, Pretty Sister, is expected to open in that Cayuga Street storefront between the bar and Lot 10 some time in the coming months. And Marco is setting to work fixing up the motel into the "Green Sartori Inn," a bed and breakfast based partly on a sitcom pilot he wrote several years ago about a newspaper copy editor who loses everything and makes a drastic life change.
"I'd like to make this a place for city slickers to rusticate," he said, sitting on his bed in the motel on a recent afternoon. "When I was living in Tucson, I was becoming a real asshole. Everyday, sweat pouring down my face, 110 degrees, red light, construction, construction, red light… once I hit 56, Tucson's heat just got to me and I didn't like who I was becoming."
Instead, he became just another dreamer making his own way in Upstate New York.
Follow Nick Reynolds on Twitter @Nickthaca