FINAL VERSION: 3:30 p.m. Friday 3/30
Image added: 6:37 p.m. Friday 3/30, with additional context and two additional statements.
Video added: 8:34 a.m. Thursday, 4/5.
The former digital director for Congressional candidate Ian Golden is claiming he was the victim of a cyber attack following news he was being dropped from the campaign.
Stephen Carpineta, an early Golden volunteer and Communications Director for the New York Progressive Action Network, was let go by the Golden Campaign on Thursday based on unnamed allegations of harassment by individuals unrelated to the campaign and chose to let him go.
"Although we do not have the capacity to verify the accuracy of these allegations, we take the issue very seriously and have acted accordingly," the statement, attributed to Golden, read. "Harassment has too frequently and for too long been a part of many people's daily lives, especially women. We are long overdue for people feeling and being empowered to speak out and hold others accountable. I hope that in doing so, healing and change can begin."
The campaign further announced it would be making a donation to the Time's Up Legal Defense Fund to "further empower people everywhere to realize the right to live free from harassment and violence."
According to a member of Golden's campaign team, the information received was from "multiple sources" and through "multiple channels," including phone calls, emails and social media messages.
"Based on the information we received, we made the decision to remove Stephen from the campaign team," the source, Bob Lingle, wrote in an email. "We can't give specifics in terms of who the accusers are, for the sake of their privacy."
"We never made a judgement on the accuracy of the claims," he added. "The allegations were enough to part ways."
Carpineta, reached by the Ithaca Times shortly after the release first came out, said the claims were fake and that he, himself, was the target of cyberattacks in which the claims against him, made over Facebook, were deemed to be false by the website. According to emails obtained by the Ithaca Times, the individual – identified only as 'Jack' – had also been contacting the Golden campaign directly.
Numerous women claiming former relationships with Carpineta contacted the Ithaca Times on Thursday evening, providing a number of screenshots of various Facebook chats and text messages. In an interview Friday, Carpineta claimed the relationships claimed by several were from years ago and the screenshots were faked.
Screenshots shared by Carpineta, which he said prompted the attacks, included a thread of the accused harasser mocking a gun control rally; another showed the individual pointing out Carpineta's hosting of Bernie Sanders campaign events at his home and later, Carpineta said he was harassed in-person.
Upon the receipt of the material in question, Carpineta's attorney, Arthur Schwartz, responded, with this email:
"Jack: I looked at the fake material you sent, and checked in with Steve. I understand that you are trolling him, sending phony materials out about him, trying to get him fired (You asked me to fire him), and then I came across your disgusting post, which Steve called you out on, and it all became clear."
An email fielded by the Ithaca Times from 'Jack' on Thursday evening appeared to coincide with a long-running account on YouTube with hundreds of followers, including name and a similar profile image, which featured a number of videos recorded at local events in the Southern Tier as well as an additional video depicting an unnamed individual eating gold coins labeled with Yiddish characters, adding, "I wish I could eat six million of these."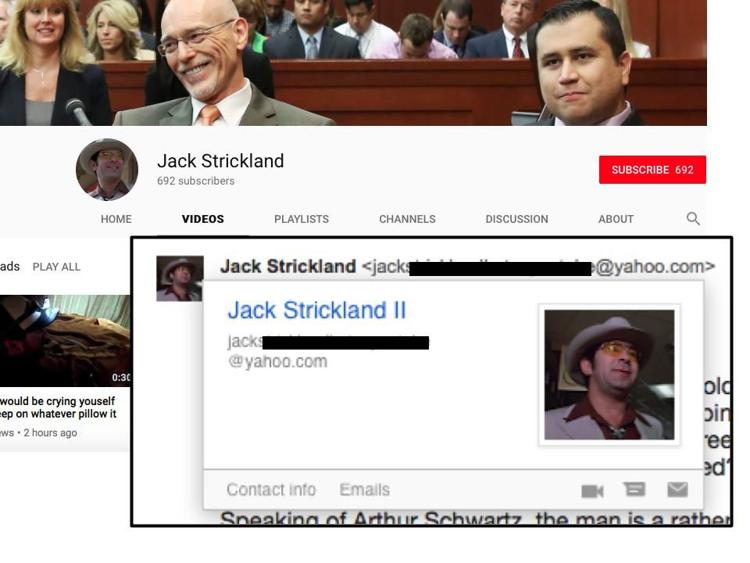 The Ithaca Times reviewed several other videos on the account, including one where another person pictured says "f*** the Jews."
Paragraph added 4/5: However, one of those videos on the account apparently shows Carpineta also making a disparaging comment toward an unnamed woman, saying she would be "crying yourself to sleep into whatever pillow it is you lay on at night, lady."
Carpineta's attorney said he had recently issued a cease and desist order against 'Jack,' pointing out a number of inconsistencies in the posts he had shared.
Carpineta said he was blocked and could not view or report the ensuing posts.
In a statement to The Ithaca Times, Carpineta denied the allegations and said he would be distancing himself from the campaign.
"These allegations are false, and have been proven to be masterminded and encouraged by people who are unhappy with my political activity," he wrote. "I deny these allegations completely. I am currently distancing myself from the Golden campaign, because i don't want them to be unfairly weighed down by a political sideshow at a crucial point in the campaign. If the perpetrators were looking to smear a good person's name, they have succeeded. Unfortunately due to pending legal matters, I can comment no further on this issue at present."
Furthermore, an additional ex-girlfriend of Carpineta's, who provided a photo of them together and mentioning she had lived with him for a year, reached out to local media Friday afternoon, providing this statement:
"Stephen and I dated for the greater part of two and a half years, and I can tell you that the allegations put forth by the individuals couldn't be farther from the truth. Stephen and I lived together for most of the time that which we dated, and I feel that I can make an accurate assessment of his character, having known him on such a personal level. It also helps that I am not exclusively a band groupie scorned that she didn't land the "hot band guy"- who also happens to be funny, charming, extremely intelligent, and handsome (now understand why those girls are upset, I would be too, had Stephen and I not remained close friends). I've witnessed Stephen firsthand demonstrate not only compassion and love for all those he surrounds himself with, but a true and genuine passion to work toward making a difference in today's society, and it's truly a shame that people would take the time to try to make him look like a bad person."
Carpineta's current girlfriend followed up with a similar response.
"He is a sweet, respectful and hard working person who is truly passionate about making a difference in society and wanting our country to be a better place. The claims these ladies are making for their chance in the spotlight are just saddening. We were friends on various forms of social media for years before we began spending time together and he has never been anything but respectful to me and a complete gentleman. Even offering me a ride to work a few years back when I was struggling with transportation."
"It shows a lot about these people's character that this smear campaign is their reaction to being addressed for the awful statements they made, directed towards a victim giving a speech at a gun control rally," she added. 
Paragraph added 4/5/18: Yet, screenshots shared with the Ithaca Times via Twitter and through email in the ensuing days showed different perspectives. A screenshot shared by one woman via Twitter direct message showed Carpineta bragging about the perspectives he had presented on Ithaca.com and, this week, one of the women who accused him of harassment shared evidence of since-deleted social media interactions by Carpineta.
Reached by email, Schwartz told The Ithaca Times that the individual in question who contacted the Golden campaign would be sued, sharing the last email sent by the individual exulting in Carpineta's removal from the campaign.
"By the way, your boy just got fired from the Golden Campaign," the email, sent in response to Schwartz's cease and disorder, said. "I couldn't care less how 'nasty' you are, because you haven't got a leg to stand on in court. I have a lawyer myself, so do your worst. Can you prove anything I have said is false? Trust me bud, I would LOVE to see these women come into a courtroom and furnish the evidence they have on their iPhones. So no, Stephen isn't getting an apology. In fact, tell the pathetic "man" that he can go f*** himself. He was the one who decided to engage in "trolling," now he's suffering the consequences. Have a lovely day you miserable c***."
An investigation is ongoing.
Follow Nick Reynolds on Twitter @Nickthaca
Correction: an earlier version of this story indicated one of the Facebook posts was removed. It was not – an account of one of the accusers was suspended.