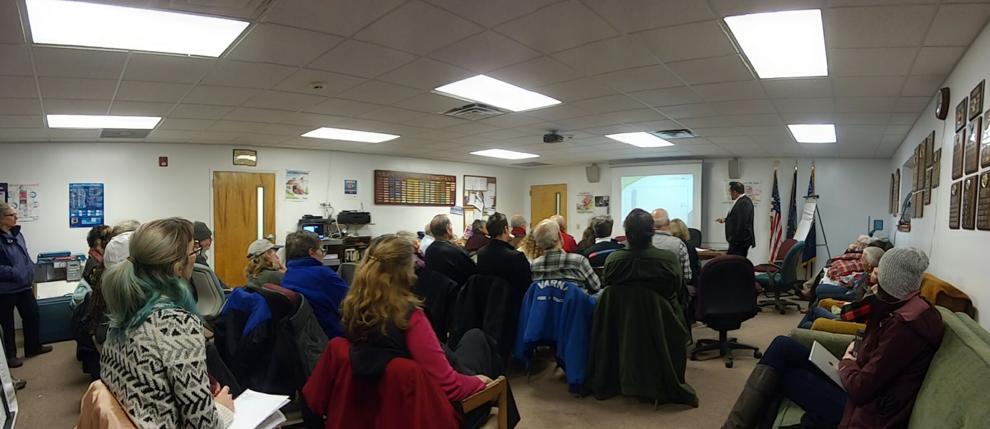 Dryden residents living in the vicinity of a Dominion Energy-owned transmission station in Ellis Hollow are exposed to dozens of toxic chemicals on a daily basis, findings by an environmental health research firm show.
Joined by researchers from the Southwest Pennsylvania Environmental Health Project, a nonprofit public health organization that has conducted research on the impacts of fracking and natural gas infrastructure in Southwestern Pennsylvania, the local chapter of environmental group Mothers Out Front addressed a crowd of about 40 activists and homeowners at the Varna Fire Hall last week to discuss the health risks posed by the expansion of a natural gas compressor station in the neighborhood. The project, part of a plan to increase the flow of natural gas from sources in Pennsylvania to the capital region of New York State, has long been a point of focus of the group, who since its announcement have lobbied the multi-billion dollar corporation behind it for "cleaner" upgrades to the facility to mitigate what they see as a risk to public health.
But with no data to work with, the group had no means of proving whether or not there was an impact to public health directly tied to emissions coming from the compressor station. That is, until last week, when EHP released its study of the 18-highest emitting compressor stations in the state (one of which is the Dominion-owned Borger Station in the Town of Dryden) which, they say, is the​ ​first ​​time these facilities'​ emissions​ ​data​ ​and ​their​ ​health​ ​effects​ ​have​ ​been compiled ​side-by-side.
And though the results revealed conditions were not as severe as those monitored by EHP in the natural gas-rich landscape of Southwestern Pennsylvania, emissions monitored around a number of compressor stations across New York State – including in Dryden – were found to contain a similar slew of toxic compounds to higher polluting facilities across the border.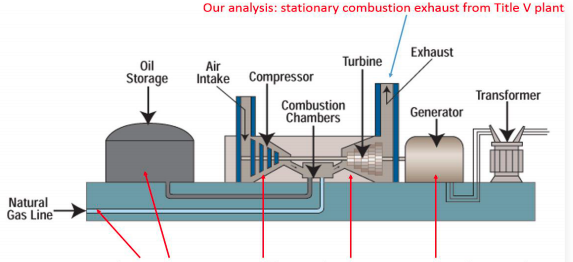 What Did They Find?
Using a mix of emissions data, residential health surveys and several different monitoring methods at 25 locations around the compressor station, EHP attempted to determine not only what chemicals were being put in the air by this facility, but to establish a baseline picture of resident's health in order to compare data several years out to prove whether or not the toxic compounds had any demonstrable effects on the neighborhood following a period of heightened exposure.
Though the Borger Compressor Station – ranked 14th out of the 18 stations monitored as far as its annual emissions go – produces just a fraction of the emissions released by facilities in Herkimer and Schoharie Counties, toxins found at other, higher-producing sites around the state were detected in the same air breathed by residents in Ellis Hollow. According to EHP, dozens of chemicals – including several known carcinogens – were detected in the air around the facility and, even though they were detected in quantities far below action levels, experts warned the compounded effects of these chemicals combined could have severe impacts to one's personal health.
According to Dr. David Brown, EHP's Public Health Toxicologist and Director of Public Health Toxicology, 95 percent of all emissions detected around the state involve seven chemical classes found to have potential negative effects on one's respiratory system, nervous system and respiratory system as well as, in some cases, potential impacts on reproductive health or cancer. Not only can these various chemicals, even in trace amounts, interact with each other, Brown said, but they can also accumulate in the body: something Brown said the Environmental Protection Agency does not take into account when it sets its safe levels for exposure.
This, he said, is a problem: 31 chemicals in the cocktail discovered around Ellis Hollow, he noted, are associated with circulatory diseases like heart attacks and strokes. An additional 59 of those chemicals are carcinogens, including 23 classified as "known human carcinogens."
Surveying 142 separate individuals along the route of the entire pipeline, Dr. Sujit Joginpally – another member of EHP to speak on Friday night – said there already was a demonstrable difference between those living near in-operation compressor stations along the pipeline's route. Using a 36 item, self-reporting quality of life survey on emotional and physical health crafted by the Rand Corporation (and used by the staff for Medicare and Medicaid), researchers relied on a widely used to monitor health impacts called the SF36, using age-specific questions to isolate symptoms and maintain tight control on the data along the route to observe who was healthy where, and to correlate what toxins they were exposed to.
And what did they find? Symptoms like eye irritation, vision problems, ringing in the ear, joint pain, runny noses, headaches, sinus problems, weakness, fatigue and nausea were typically reported at higher levels where a compressor station exists than at sites where compressor stations are proposed.
Despite the circumstantial evidence, however, the research team left the audience with a few caveats to the data: no direct conclusions can be drawn about the local health impacts of the compressor station until another survey can be completed a year from now and, due to geographical anomalies like a nearby quarry that could produce other toxins not related to the compressor station, it's hard to prove definitively what pollution is coming from where.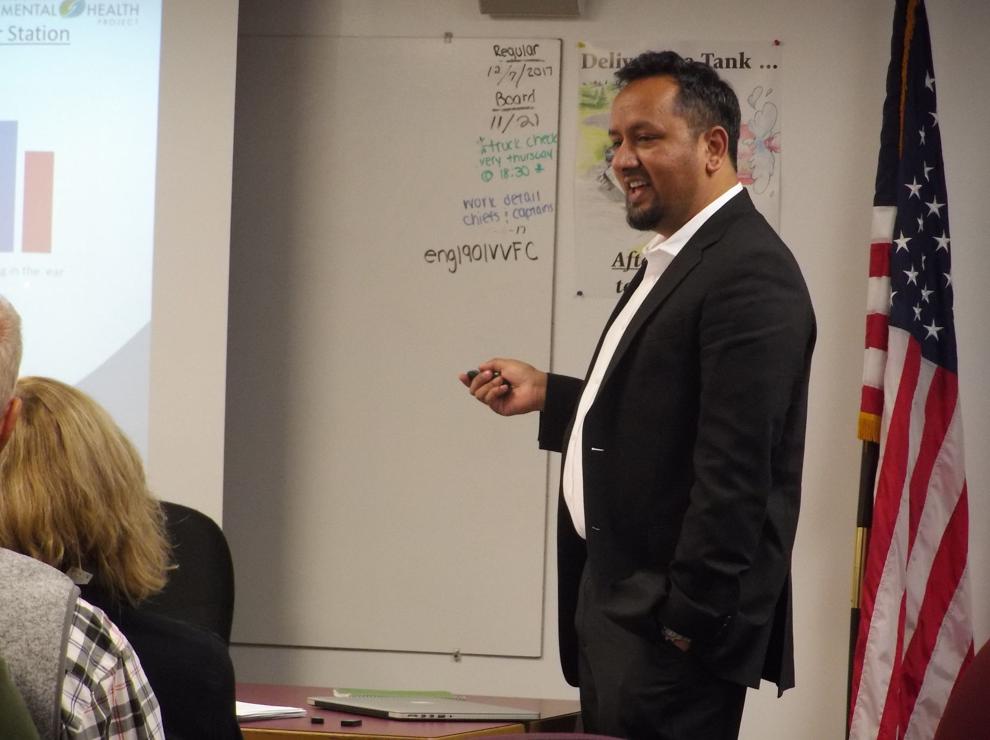 What's Being Done About It?
In New York, Mothers Out Front – as a group – are generally against any expansion of natural gas infrastructure in New York State. Over the past year, the group has lobbied heavily against a number of upgrades underway along the New Market Pipeline, which runs through ten different counties from northwestern Pennsylvania into Albany and eventually connecting with another pipeline, this one running from New York City to sources of natural gas in Canada. With the New Market Project already under construction in most places, the group's focus is now on documenting the negative health impacts created by these pipelines on their surrounding communities in order to force Dominion to take the health of the public into account.
For the past several months, the organization has been fighting to convince Dominion to spend money on creating a cleaner compressor station in Ellis Hollow – which currently contributes an excess of 12,000 tons of pollutants per year, according to 2015 emissions data from the DEC – through a number of upgrades to its systems that would emit fewer pollutants into the air. Dominion, however, has not expressed interest in doing so; at least until its current project is completed.
Moving forward, Mothers Out Front is now working on several initiatives surrounding the project, including building a coalition of all the town supervisors along the pipeline to fight for cleaner improvements to each facility. Locally, the group wants to create a public notification system for high-emissions periods at Ellis Hollow, commonly referred to as "blowdowns," in order to alert neighbors of when the air will be most toxic. In the more immediate timeframe, the group hopes to get the Tompkins County Health Department to pay for the continued monitoring of people's health in the neighborhood similar to what other county health departments have done for those living around natural gas infrastructure.
Phase 1, which was organized primarily by Mothers Out Front, was wholly self-funded.
Follow Nick Reynolds on Twitter @Nickthaca